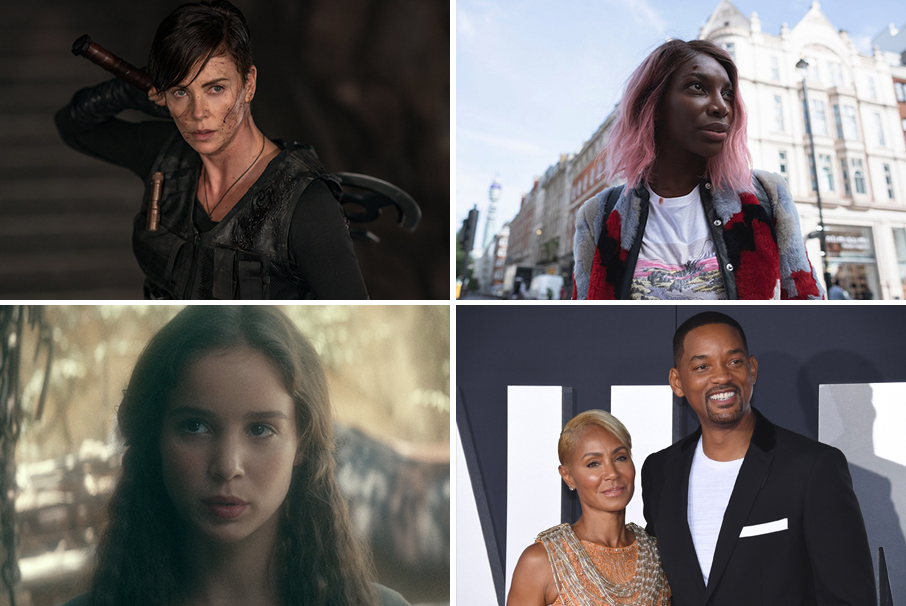 Clockwise from top left: The Old Guard (photo: Aimee Spinks/Netflix) // I May Destroy You 
(photo via BBC) // Will & Jada Smith (photo: Phil Mccarten / AP file) // Warrior Nun (photo: Netflix © 2020) 
Geek Girl Riot shows some love to The Old Guard and I May Destroy You…before digging into the latest pop culture trainwrecks.
The Old Guard vs. Warrior Nun (and there's no contest)
We have so much love for Netflix's badass new action film The Old Guard. Sherin, Philip, Alex, and Monique get into just some of the reasons they need you to watch it the second after you're done listening here. Our Rioters then get into Warrior Nun's disability dismissal and just plain silly issues.
I May Destroy You's Brilliance vs. "Who Asked For This?"
Sherin breaks down Michaela Coel's new HBO show I May Destroy You and why it is a brilliant and heartbreaking watch. Then our Rioters discuss Coel's recent interview on Vulture which sheds some light on why Chewing Gum S3 never happened. They also talk about the new casting of The CW's Batwoman, which is great…except for the new lead character's description. It's gonna make you mad, y'all. And to get you even more heated up, our hosts dig into the recent name changes of Lady A and The Chicks (and just how performative that is).
Trainwrecks (because…2020)
From playing the Black national anthem before games to changing the Washtington Redskins' name (FINALLY!), the NFL are doing…something…to show support of the Black Lives Matter movement (except for re-signing Colin Kaepernick). Speaking of things that are all for show, our Rioters tell you why voting for Kanye is just one big NOPE. Then they move into "why is this our business?" territory to talk about the Will & Jada & August entanglement, before closing out with Harper's Magazine's "cancel cancel culture" letter that might be the most privileged and overblown piece of junk we've had to read.

Caliper (photos via trycaliper.com) - keep scrolling for a sweet deal!
We always want you to take care of your best self, which is why we've teamed up with Caliper to help make that happen. Caliper CBD powder is a new way to absorb CBD (and it's completely tasteless so you can add it to your morning smoothie!). It has all the goodness of CBD with no high—and we're down for that. Go to trycaliper.com/ggriot to get 20% off your first order when you use promo code ggriot.
Tune in to Geek Girl Riot on idobi Radio every Tuesday at 11pm ET / 8pm PT for your dose of late-night geekery from our team of rioters. 'Til next time, see a list of everything our Rioters talked about below:
LINKS:
 – The Old Guard (read our review)
 – Warrior Nun (read our review)
 – The Old Guard comic – Greg Rucka, Leandro Fernández
 – Stumptown (read our review)
 – Warrior Nun Areala comic – Ben Dunn
 – Buffy the Vampire Slayer
 – Kill Bill
 – I May Destroy You
 – 'Michaela the Destroyer' – Vulture
 – Chewing Gum
 – Batwoman
 – 'Javicia Leslie Makes History as the First Black Batwoman' – idobi.com
 – Lady Antebellum vs. Lady A
 – The Chicks
 – The NFL to play the black national anthem
 – 'NFL's Washington Redskins will change name and logo, team says' – CNN
 – Kanye running for President
 – Puffy talking about voting
 – Will & Jada Smith's "entanglement" breakdown
 – 'A Letter on Justice and Open Debate' – Harper's Magazine
 – Jaya Sundaresh makes fun of the Harper's letter signees (Twitter thread)
And if you're wondering what the song at the start of the episode is (and feeling the same way), hit play below on "F2020" by Avenue Beat. You're welcome.
Podcast: Play in new window | Download