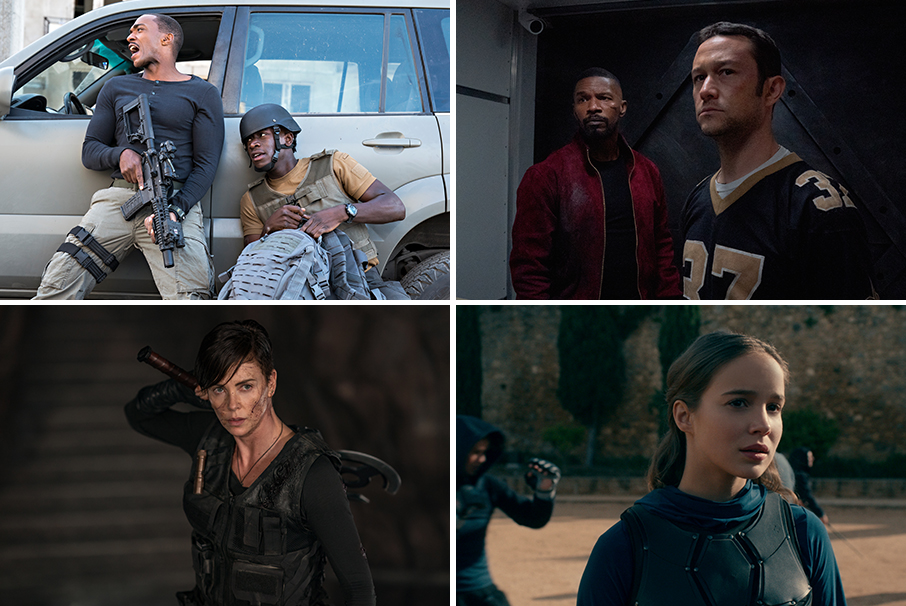 CW from top left: Outside the Wire (photo: Jonathan Prime /Netflix © 2020) // Project Power (photo: 
Skip Bolen/Netflix © 2020) // Warrior Nun (photo courtesy of Netflix © 2020) // The Old Guard 
(photo: Aimee Spinks/Netflix) 
Geek Girl Riot is all about the action this week (and always). We get you ready & fired up for Outside the Wire before throwing it back to some other action movie picks.
Outside the Wire
Netflix has been killing it with action movies and they're dropping a fired up addition tomorrow. Outside the Wire takes us to the near future where US drone pilot Lieutenant Harp (Damson Idris) is sent to a high-conflict military outpost to serve under Captain Leo (Anthony Mackie) who's an AI super-soldier. Sherin says: "Mackie and Idris play well off each other. The characters are well defined, which makes you feel good about taking this frenetic journey with them." While Julian calls it: "A fun ride for two hours—with a nice mystery to it." Our Rioters get you hyped for this thrill-ride with a teaser of what to expect.
Discovering New Music + Project Power
Our dynamic duo show some love to the YouTube series Twins Reacts, where two brothers listen to some old school music for the first time. Then our Rioters dive into Project Power, Netflix's action/superhero movie about a new drug that grants each user a different superpower for five minutes of fiery chaos. They tell you why this movie needs to be on your binge-list. (read Julian's review) 
The Old Guard vs. Warrior Nun (and there's no contest)
There's really no excuse if you haven't seen The Old Guard on Netflix yet (we won't tell…but we're gonna need you to go watch it now). Sherin, Philip, Alex, and Monique jump on to break down the characters, the storytelling, and the fantastic action scenes. Our Rioters then take a breath and sigh, loudly, because they have to talk about Warrior Nun's disability dismissal and it's often ridiculous issues.
Tune in to Geek Girl Riot on idobi Radio every Tuesday at 11pm ET / 8pm PT for your dose of late-night geekery from our team of rioters. 'Til next time, see a list of everything our Rioters talked about below:
LINKS:
 – Falcon and the Winter Soldier
 – Snowfall
 – Training Day
 – Terminator
 – Project Power
 – The Old Guard
 – Bad Boys
 – Blade Runner
 – Mobile Suit Gundam
 – Bubblegum Crisis
 – Dominion
 – Ghost in the Shell
 – Appleseed Ex Machina
 – Twins Reacts
 – Batman
 – Robin
 – Nightwing
 – Hourman
 – Stargirl
 – Upcoming Batman movie
 – Hobbs & Shaw
 – The Old Guard (read our review)
 – Warrior Nun (read our review)
 – The Old Guard comic – Greg Rucka, Leandro Fernández
 – Stumptown (read our review)
 – Warrior Nun Areala comic – Ben Dunn
 – Buffy the Vampire Slayer
 – Kill Bill
Podcast: Play in new window | Download