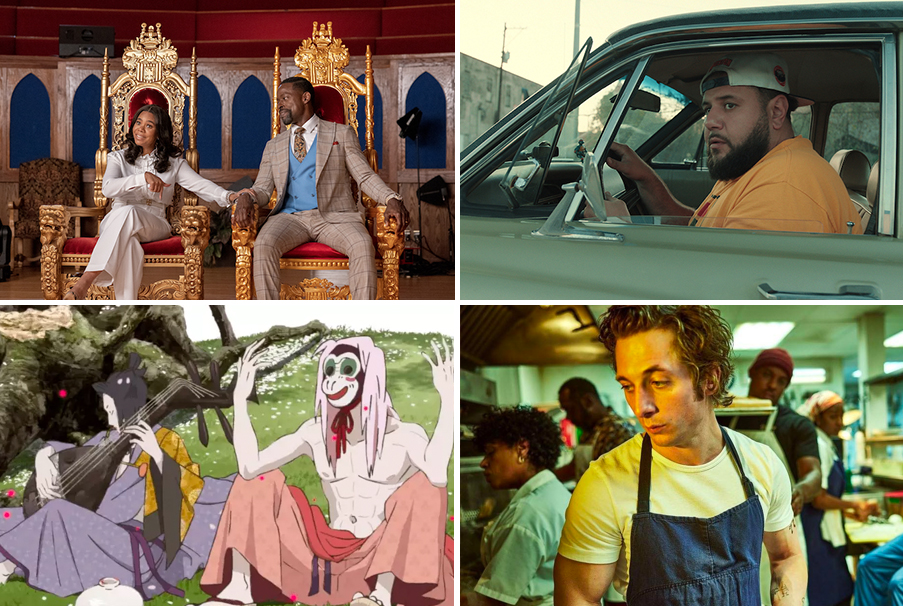 Geek Girl Riot's serving up the good stuff this week, we're talking Honk for Jesus. Save Your Soul. and MO, before throwing it back to our chats about The Bear and Inu-Oh.
Honk for Jesus. Save Your Soul.
Honk for Jesus. Save Your Soul. has our Rioters talking. Sherin, Julian, and Monique have a whole lotta different opinions about the film—they get into their favorite scenes, the stellar performances, and what they took from the story.
MO
Our Rioters switch to MO, the new Netflix series starring Mo Amer about a Palestinian refugee who's on his own path to US citizenship. They talk about why it's an incredible series, dive into the wonderful mix of cultures, and share some of the scenes to watch out for. Sherin says, "The truth in MO is combined with comedy and a genuine love of Houston. Rap culture, Palestinian culture,  Black culture, Mexican culture—all of that is brought together in a really dope cocktail. We need y'all to watch it. We need a season two because we gotta know what happens."
The Bear + Inu-Oh
We throw it back to our conversation about The Bear, the FX on Hulu series about a Chicago chef who takes over his family's sandwich shop. Sherin and Julian chat about what drew them to the series and why you'll be hooked. Sherin closes out the show with Inu-Oh, the animated rock opera set in 14th century Japan that she can't wait for you to watch. 

Gaming just got a whole lot better thanks to Backbone—the PlayStation Edition of their Backbone One means you can play hundreds of PlayStation games on the go! Turn your phone into a console with the Backbone One, giving you entertainment & flexibility all in a sleek setup. Play console games via Remote Play or Cloud Streaming Services, and App Store games, all in one! Get FREE access to over 350 console games AND $10 of Diablo® Immortal™️ in-game perks at playbackbone.com/ggriot
—
Tune in to Geek Girl Riot on idobi Radio every Tuesday at 11pm ET / 8pm PT for your dose of late-night geekery. 'Til next time, see a list of everything our Rioters talked about below:
LINKS:
 – Honk for Jesus. Save Your Soul. (read Julian's review)
 – MO (read Julian's review)
 – Game of Thrones
 – Peter Pan
 – Ramy
 – The Bear
 – She-Hulk: Attorney at Law
Podcast: Play in new window | Download