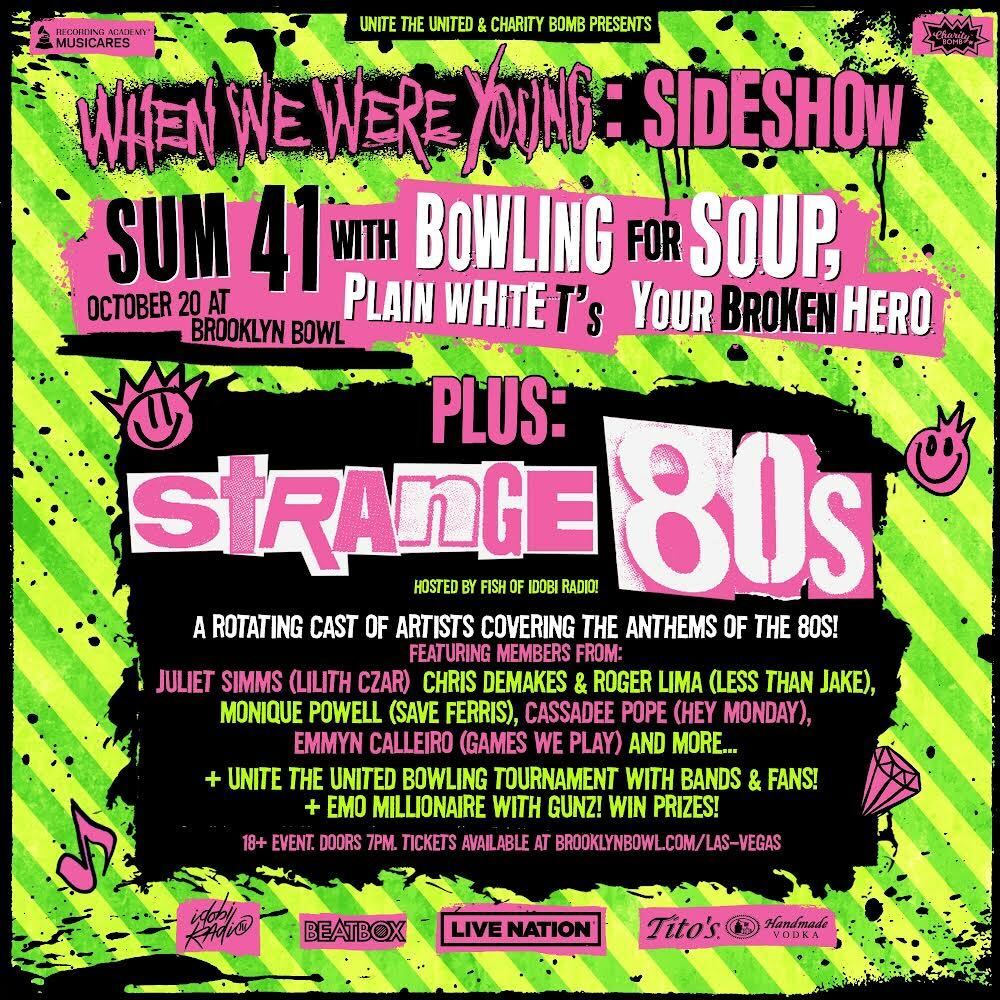 As the summer draws to a close, we only have one thing on our minds: When We Were Young Fest 2023. And not just When We Were Young, but all of the music, camaraderie, and more that come with the eventful weekend. As the pop-punk-filled weekend approaches, with eagerly-anticipated performances from Green Day, blink-182, Simple Plan, and more, the festival along with Charity Bomb and Unite The United Foundation, have announced the Strange 80s benefit concert and bowling tournament. 
Kicking off the weekend's events for the second year in a row on Friday, October 20 at Brooklyn Bowl Las Vegas, this year's Strange 80s rendition promises to be an unforgettable evening for fans and musicians alike. The event will feature live performances from the likes of Sum 41, Bowling For Soup, Plain White T's, and Your Broken Hero. Who else is ready to scream-sing to "1985" alongside BFS frontman and host of idobi's Rockstar Dad Show, Jaret Reddick?!
Additionally, your friends from idobi won't just be in attendance for all the fun and games! Our very own Fish of Gone Fishkin will be DJing the best of emo, pop-punk, and more (but let's be honest, it'll probably just a ton of Shania Twain) during each performance intermission, while Gunz of The Gunz Show hosts fan trivia in the form of Who Wants To Be An Emo Millionaire. As well, a rotating cast of musicians performing 80s anthems will feature appearances from Cassadee Pope (Hey Monday), Lilith Czar (Juliet Simms/Automatic Loveletter), Monique Powell (Save Ferris), Chris DeMakes and Roger Lima (Less Than Jake), and Emmyn Calleiro (Games We Play). 
Charity Bomb founder Matthew Leone shares in a press release, "Strange 80s is a one-of-a-kind fundraising event, uniting musicians and music industry vets to help children grow mental muscle in the wake of disrupted schooling, lockdowns & suspended extracurriculars."
Tickets for this year's Strange 80s event are extremely limited, so don't wait before deciding to pick yours up this Friday, August 18 when they officially go on sale! Additionally, all proceeds from the event will be split between Charity Bomb and MusiCares, providing children with EQ education as well as supporting musicians in need. You can secure your tickets to the Strange 80s event here!