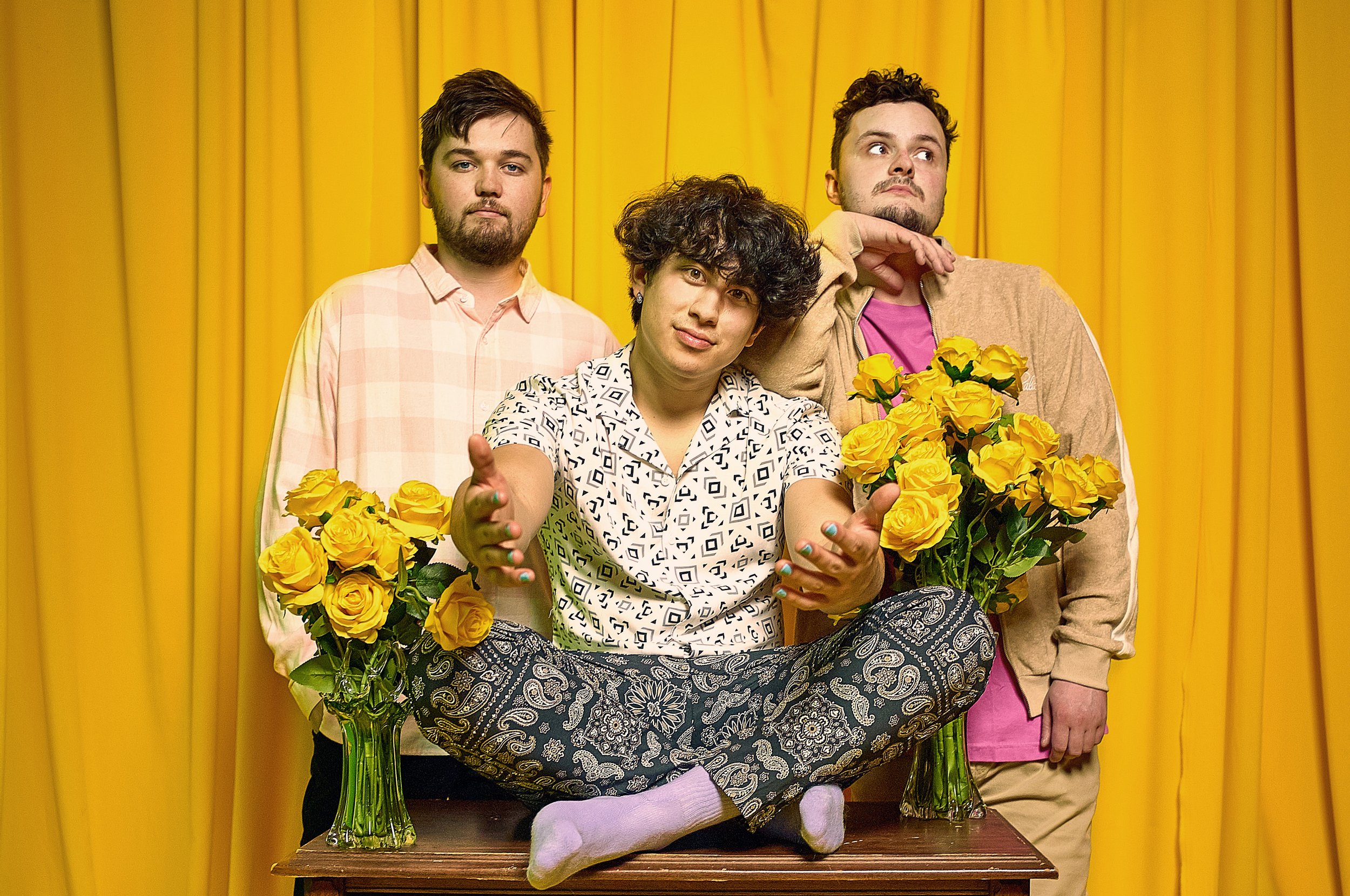 It was past midnight after an incredible but long day of music at The Gathering. The Happy Fits were set to go on and I knew there was no way I could pass up the opportunity to talk to them beforehand. 
Whenever I'm listening to an album on Spotify, when it wraps up, The Happy Fits always plays next. I'll be dancing and jamming out, just to look down and see it's who I should have suspected all along. The Happy Fits' music is exactly what you would expect with a name like that. They're energetic and fill your veins with joy. Want to know what's even better? Band members Ross, Calvin, and Luke are the exact same way.
With their first EP dropping in 2016. I wondered if the band realized how far they had come in just 6 years. We went back in time for a moment and talked about the early years of The Happy Fits and that first EP. Calvin said "We released it literally a week before going to college and then I was going to Georgia, Ross was going to Delaware in September, and Luke was going to Willie P in New Jersey, and Spotify put us on the Fresh Finds playlist—one of the tracks and one day it's got like 30,000 streams in a day. I just remember being so jazzed. I called Ross and was like, 'this is crazy.'"
Ross chimed in saying, "He called me in the middle of my class. I did pick up the phone."
Calvin continued saying, "I remember there was one time we got an email. Because it was Georgia, I was in an Old Testament class (we had to take a Bible class). I got an email that was like, 'Hey, I shared this with the drummer of Dr. Dog and they into it,' and I literally just left the room and called Ross."
What they didn't know at the time, was that Luke was there for the long haul—at the time, he was just filling in for a few songs. He remembered that time in the band and said, "Which was funny because I was just a hired guy at the time too. So the communication was kind of interesting. Like I would get a weekly update from Ross. I didn't know Calvin at all at the time but I'm good friends with his brother. I'm like waking up for interval training in the morning at like 8 a.m. He was like, 'the song got on Fresh Finds. It's doing really well.' I just called my parents and I was like, 'would it be crazy to leave school?'."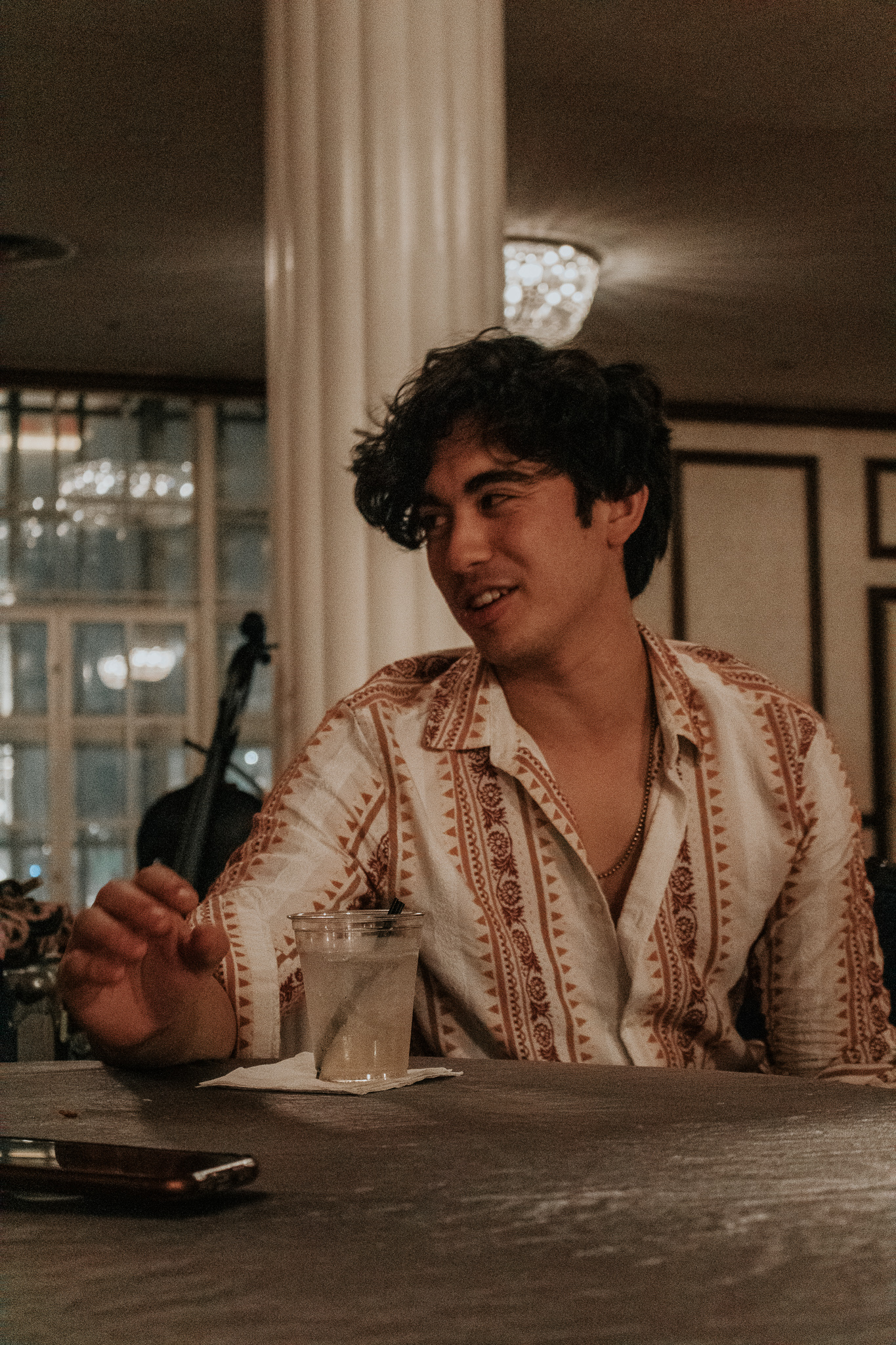 If they only knew what was in store for the band. That was only the beginning and reaching that level of success just as you're starting college is insane. However, as cool as it was, it wasn't until after the pandemic that things really started to hit them. Prior to closures, they were playing smaller venues. Afterward, their managers decided they would book them bigger spaces. They weren't so sure it was the right move but then they found out how loved they are.
Ross says, "I think just very recently we feel like we're an "established" band." He then went on to say, "We went on our tour and sold out 16–18 shows of the 30-show tour in these 500–700 cap [venues]."
Then he moved on to a moment they all agree is the one and said, "We flew out two weeks ago to a festival called BottleRock Napa Valley in California, the opposite coast from where we live. We were expecting like maybe 500 people to show up and we walked on stage and the crowd was farther than our eyes could view. It was just incredible. For that many people to come out on the opposite sides of the country. They were giving us the most amazing energy."
They weren't the only ones to recognize how big this moment was. Luke remembers, "The crew too was like, 'this the biggest crowd we've seen at this stage.'"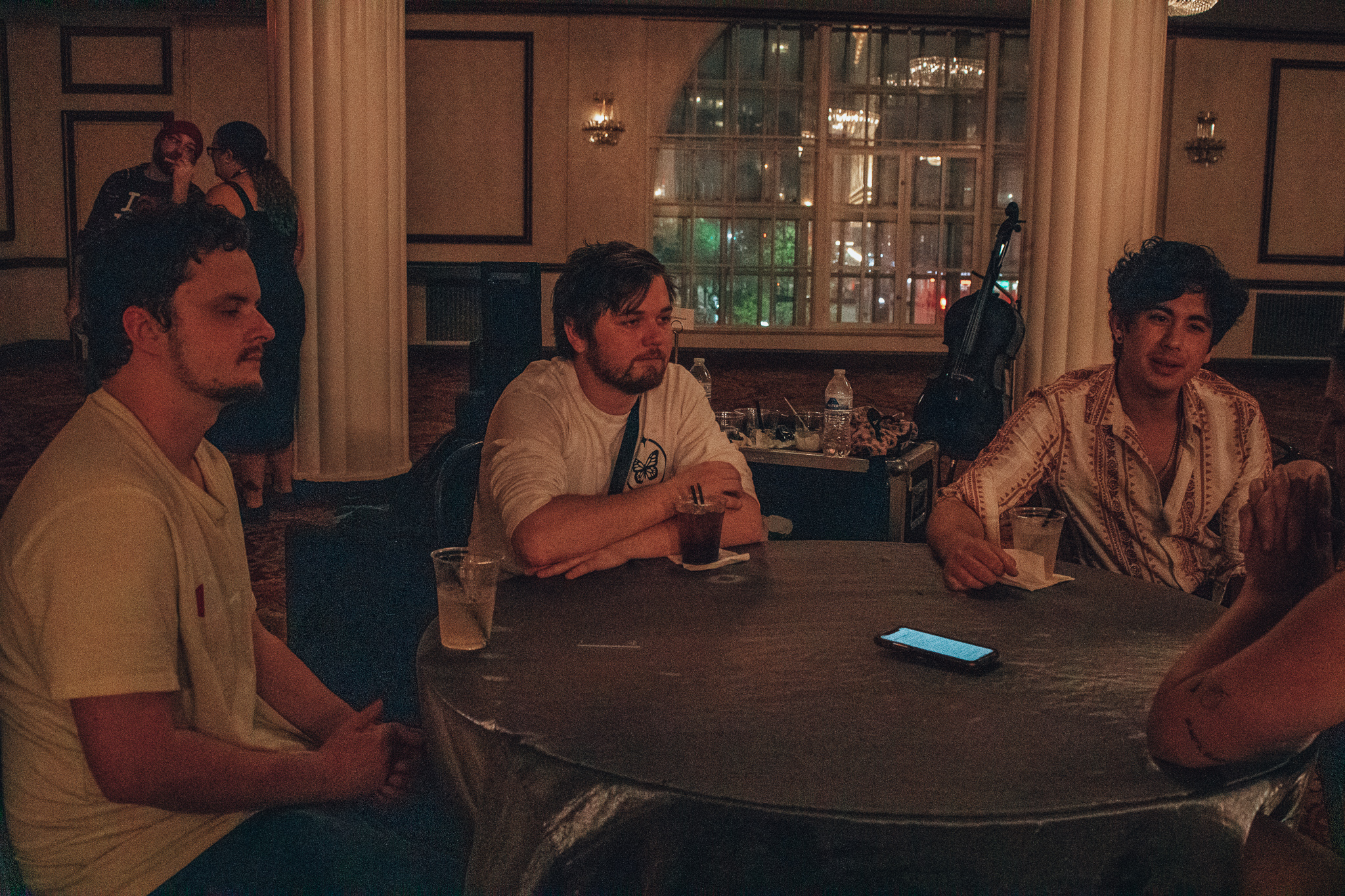 The Happy Fits have such an incredible sound that you want to take it and throw it onto a movie screen. The pictures they paint and the stories they tell would be perfect for theaters. The question is, what kind of movie is it?
"It's a rom-com", says Calvin.
Luke added, "If it was Wes Anderson…Fantastic Mr. Fox is one of my favorite movies of all time. I just love his style. If he could do anything with our music, or we could just let him take the direction."
Calvin thought of a specific, "We have this one song "She Wants Me (To Be Loved)". It's about unrequited love… this girl, she's my friend, she doesn't love me back, I'm okay with it. It's turned into this kinda lesbian anthem. We get all these comments on YouTube like, 'I'm in love with my best friend who's a girl and I get it.' It's awesome how the song you can write with a totally different meeting can be totally different for someone else."
Luke tells us someone has already beat us to the punch, saying, "This person just chose our song for this animated video that they made and it got like 2 mil views. They are basing, kinda like, I guess it matches well with this person [who] wants to be loved by this other person but they don't feel the same way."
Somehow we landed on a rom-com, directed by Wes Anderson, starring Nic Cage and Harry Styles (thanks to Ross). We kept chatting and it was nice to hear about their own passions, both musically and outside of music. Ross threw me for a loop and brought up an unexpected passion, "My personal passion is hot sauce and buffalo wings. I've seen every episode of Hot Ones. I would love to be on there one day." Calvin is not so passionate about hot sauce and added, "We attempted to do it once by ourselves and it went very badly. Luke and I threw up."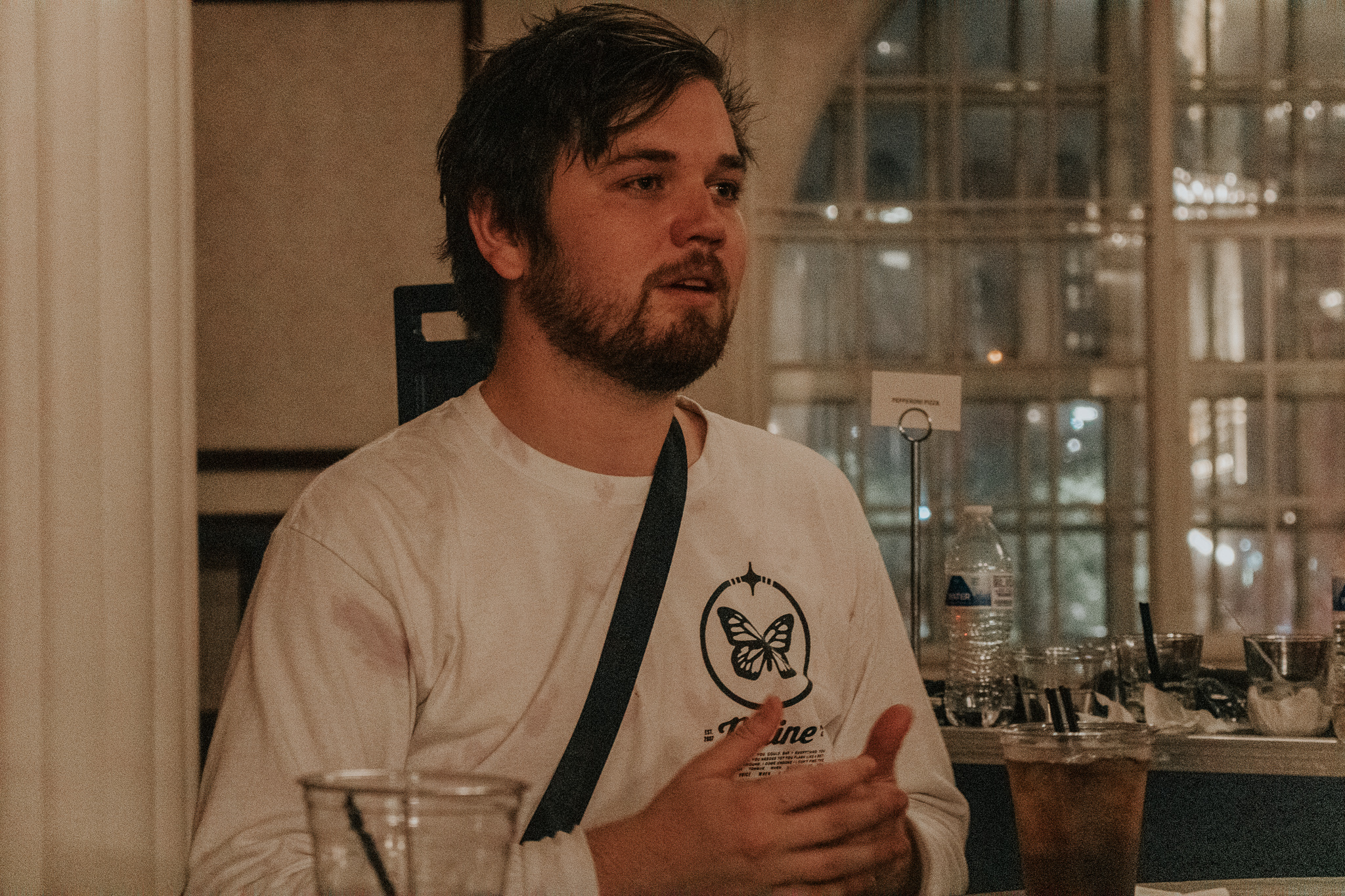 Luke took something that a lot of us have all loved (playing video games) at some point and made a career out of it. He said, "I started playing drums because of Rock Band [the video game]. I auditioned for percussion class and I didn't know how to read. I had never really played a kit. I played "Maps" by the Yeah Yeah Yeahs. It translated the best. They were like, 'how do you know how to play that?' and I was like, 'I play expert on Rock Band.'"
It's clear these three fit like a puzzle. Their passions and personalities mold together and they gift us with great music. As far as their musical journey goes, they can see a difference between that first EP and where they are now. "We had 6 months to record it so we really took our time and there's just way more layers." Calvin says. "I think when we started our first and second album, we were like 'how do we make this practical, where we can play it live, just the 3 of us, no backing tracks or anything?' Now that we know our budget's a little more lenient and we'll be playing bigger stages, we know we can have a few more layers."
While the logistics of creating their sound has grown, they've stuck to who they are in making music. Ross continued the thought saying, "Every song we've written is true to ourselves. It's very personal… We just threw caution to the wind. We just decided to make the song sound exactly how we wanted to make it sound. Our goal with each song is to make it sound like there's more than 3 of us."
Luke added, "I think an important thing is, Calvin writes a lot of lyrics, but over the years the gears shifting to less like 'I' or 'I'm' with lyrics and more of a general feeling of like a state of stuff."
Calvin made an important point, saying, "A lot of our first two records is coming of age. Then with the pandemic and all the traumatic things people went through. BLM. The election. You have to take a step back from yourself that there's a lot more going on in the world." While listening to their music, you can feel the growth. They are an incredible example of being exactly who you are but expanding on who that is while the world around you changes and you learn more about the things outside of yourself.
Luke wants their fans to know, "Our name is The Happy Fits but everyone goes through shit. I think a lot of our writing is coping with that and connecting. People should never feel uncomfortable. We are just three goofballs from New Jersey that are so grateful to be doing this. So for people to be connecting to what we're creating is something that means more than they'll understand. So don't be afraid to come up to us or even that we aren't any different."
"We've tried many approaches to social media. We've tried the 'cool band thing.' We were trying to do it when we first started and we are really bad at this. So instead of trying to put up an image we just try to make it as ridiculous as possible. We try to be as transparent as possible," Ross added.
I can assure you, Ross, Calvin, and Luke are as authentic and relatable as they come. Their music is a reflection of that and as far as they've come, you can tell they still have so much to give their fans. Luckily for all of us, they don't seem to be slowing down anytime soon. Under the Shade of Green, their third studio album, dropped this past summer and it's everything they described. The Happy Fits just keep getting better and we can't wait to see what comes next. These are the kind of musicians you want to support.