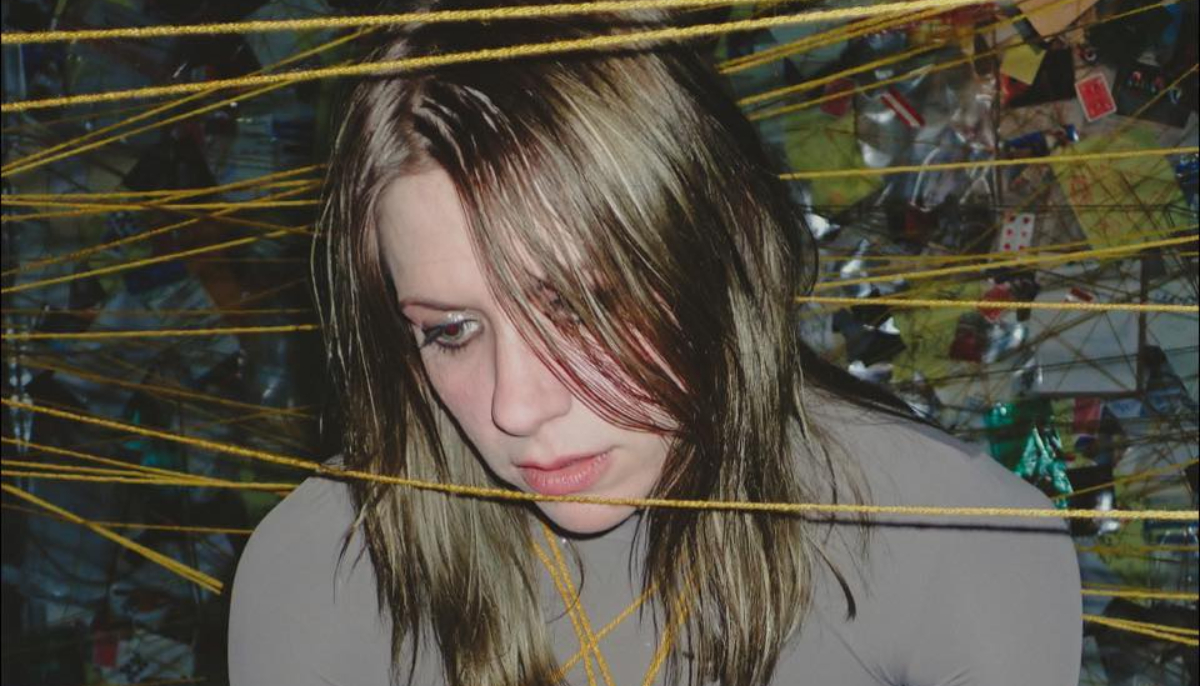 When idobi connects with singer-songwriter K.Flay on an early Friday morning in the bustling and smoke-filled casino floor of the Downtown Grand Hotel in Las Vegas, NV, the multi-platinum artist is all smiles and ready to put everything on the table to discuss the last six months of her life. She headlined the final event of this year's The Gathering Music Conference at Hard Rock Live in the epicenter of the infamous strip. The performance also marked K.Flay's first time hitting the stage in months following a lengthy hiatus since going completely deaf in her right ear this past fall.
Partial hearing loss aside, she has miraculously bounced back, more reinvigorated than ever with a newfound perspective on vulnerability and channeling her pain into stunning perseverance and forward-thinking art. Now gearing up for the release of her long-awaited fifth studio album she has already dubbed her "best material to date," K.Flay is hyper-focused on creating guitar-driven music that will ultimately launch her definition of rock and roll into the realm of the future.

The first taste of the yet-to-be-announced album is out now in the form of "Raw Raw". A triumphant track that proves that not only has K.Flay not skipped a beat during her brief hiatus from music due to her hearing loss, but she has also tapped into what is undoubtedly her most fierce and confident era ever. Capturing the essence of vulnerability sonically with abrasive instrumentation and loud guitars alongside lyrics that stare her deepest fears directly in the face, it's the perfect track to kick off this new chapter for the genre-fluid artist. And while she has always been no stranger to sonic experimentation and fearless lyricism, it is only a matter of time before we witness the rawest and most exposed version of K.Flay we have ever seen.
With the release of your latest single, "Raw Raw," you have been open about wanting this to signal a new era for you musically. Where are you heading next in this new chapter?

This next chapter is about future-oriented rock. I'm interested in guitar-forward music and the quintessentially rock and roll elements. But I also want to fuse that with unexpected arrangements and surprising lyrics. More than anything, [this new era] is about fully inhabiting myself and, strangely, not doing much thinking. I want to inhabit my creativity without judgment and push it as far as it goes and not let expectations get in the way.
On "Raw Raw," you worked with producers Jason Suwito (Imagine Dragons) and Brad Hale (Now Now), which feels like a match made in heaven. What was the writing and recording process like for this track with your collaborators, and what was the overall message you wanted to convey?

We all felt like we knew each other, even having not met, and all came in with our own projects. I played the bassline, and [from there] we started generating ideas around it. I was starting a new relationship after a bad breakup and thinking about this new idea of vulnerability. We often conceptualize vulnerability as soft and tender in its essence, but the experience of being vulnerable is visceral, gruesome, and it just hurts. Exposing yourself to somebody else is hard, so I liked the idea of juxtaposing vulnerability with the sound of vulnerability, which to me, is heavy guitars and a gnarly feeling.
[Shortly after], I climbed Mount Kilimanjaro randomly, and two weeks later, I lost my hearing in my right ear, and everything got thrown into a chaotic place. Once I got my bearings back, went through PT, and figured out that I wanted to keep making music, I went back to the song with a new lens of, "Fuck being scared to be in a relationship, I'm just scared going to the grocery store or walking around". This helped add a new dimension to the song. I finished the production with Jason Suwito, and it's cool that we made this song with band people and touring musicians. It helps it sound ready to be played live, which is very important with my new music.
Touching on the hearing loss, how did you find that motivated mindset to persevere through all of this? What advice do you want to give to others looking to overcome medical obstacles, both physically and psychologically?

In the few years prior to this happening, I had been interested in exploring my relationship with discomfort. I've been proactively working on sitting with my discomfort and not running from it and sitting around watching TV, drinking a few beers, or any of those numbing agents. Instead, I wanted to sit inside of my discomfort, acknowledge it, look it in the eye and then move along and not let it dominate my existence. I quit drinking, began reading Buddhist texts, and realized that pain isn't the problem. Pain is just normal, and pain just means that you are alive and doing the damn thing. It's our avoidance of pain that engenders misery.
My community and support system, whether it was family, friends, or my peer group in LA, really came through for me in a big way when this all happened. Community doesn't need to be large to be powerful; it can just be one other person. Life is confusing, but we're all in it together. As a musician, you think that if you lose your hearing that it's the worst thing. But my left ear is still going strong, and though a version of the worst thing happened, it's ok. It's also a little bit funny. I can laugh about it and can admit that there are even parts of this situation that are [truly] funny.
After a lengthy break from the road, you are gearing up for a massive co-headlining tour with your close friend and frequent collaborator grandson this spring/summer. What are you looking forward to the most about returning to the touring circuit again? Can we expect you and grandson to collaborate on-stage for this run?

Oh yeah, for sure. Jordan [grandson] and I will be interrupting each other's sets.[Laughs.] It's not always the case that you get to tour with people you're already very close to. However, what I'm looking forward to the most is being out there with the people. I love that a show involves exchanging energy and provides a way to re-inspire and connect with various emotions. I do it in a sustainable way, and my crew is amazing, and we love being together. I'll be playing new, unreleased music, and it's always exciting to see how that translates live. To my point about gathering strength and moving forward, this tour is a big step in that journey.
Is there anything you can reveal about your forthcoming fifth studio album?

It's the greatest thing I've ever made, and I'm very excited for people to hear it. 

K.Flay will be touring with Grandson later this month. You can check out the full list of dates here.