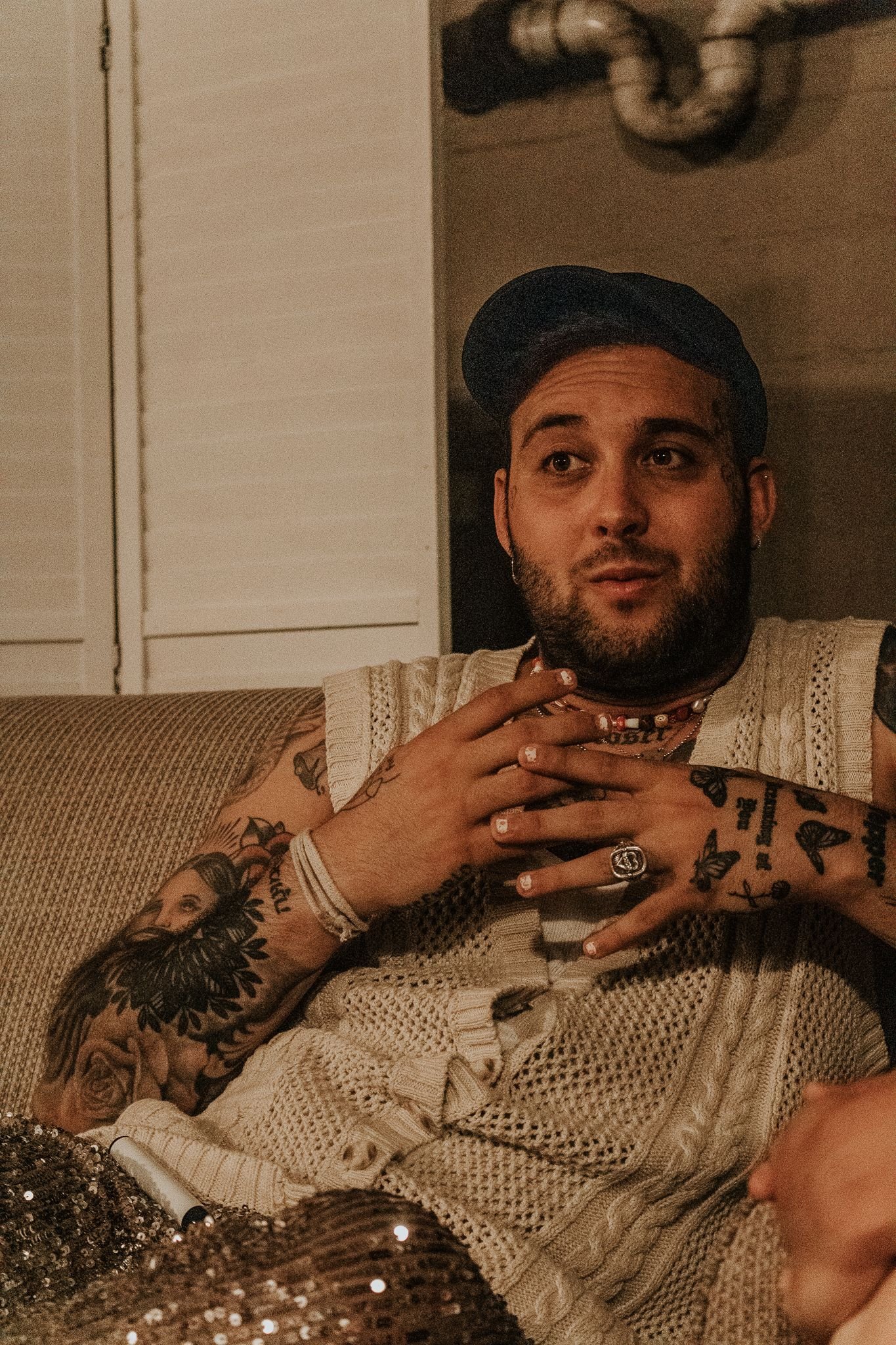 From the moment you're in Chad Tepper's presence, you know he lives and breathes gratitude, authenticity, and pop-punk. If there is anyone out there being unapologetically himself, it's this man. Chad is friends with everyone in the room, and the different parts of his life all intersect to make him exactly who he is. His music career, the people he surrounds himself with, his life philosophies, and his dreams all flow together.
When I sat down with Chad at The Gathering, he immediately set the tone by saying, "We need to be more appreciative. We have air in our lungs." This wasn't long before he was about to go on stage and perform for a live audience and he still sat down with me to have a conversation. I had never met Chad before but he made it feel like we were old friends. He was an open book; anyone who crosses his path walks away inspired. 
I look back at my own childhood and it wasn't perfect. However, Chad has a heart-wrenching story that made me look back and sit in my own memories with humble gratitude. He let me in on what it looked like by saying, "I was homeless as a kid. From the ages of 5–12, living in cars, in tents, in fucking shelters. Horrible childhood. Horrible life. Witnessed some gnarly shit. One of the joys that I got was that when I was 5 years old, my mom went to a shelter and we got a little tape player. The tape player didn't work but the radio worked on it. So we used to camp out at campsites in the summertime. But we would camp all summer long because we were homeless. And the only joy I ever had in my life was having the radio on in my fucking ears and singing. So ever since I was 5 years old I've been singing and I've been songwriting and writing poetry and just capturing the way I've been feeling. It was the only outlet I had to escape."
Of course, it didn't end there. He had a love that was sparked. He wasn't just there to consume music though—it was a calling. His life didn't get much easier while he was growing up but his love for the art of pop-punk did. He went on to say, "When I was in middle school I was bullied and picked on because I was poor and the only thing that got me through that was putting on Simple Plan, putting on Sum 41, and putting on Good Charlotte. You fast-forward to now, it's crazy, I did a song with Simple Plan."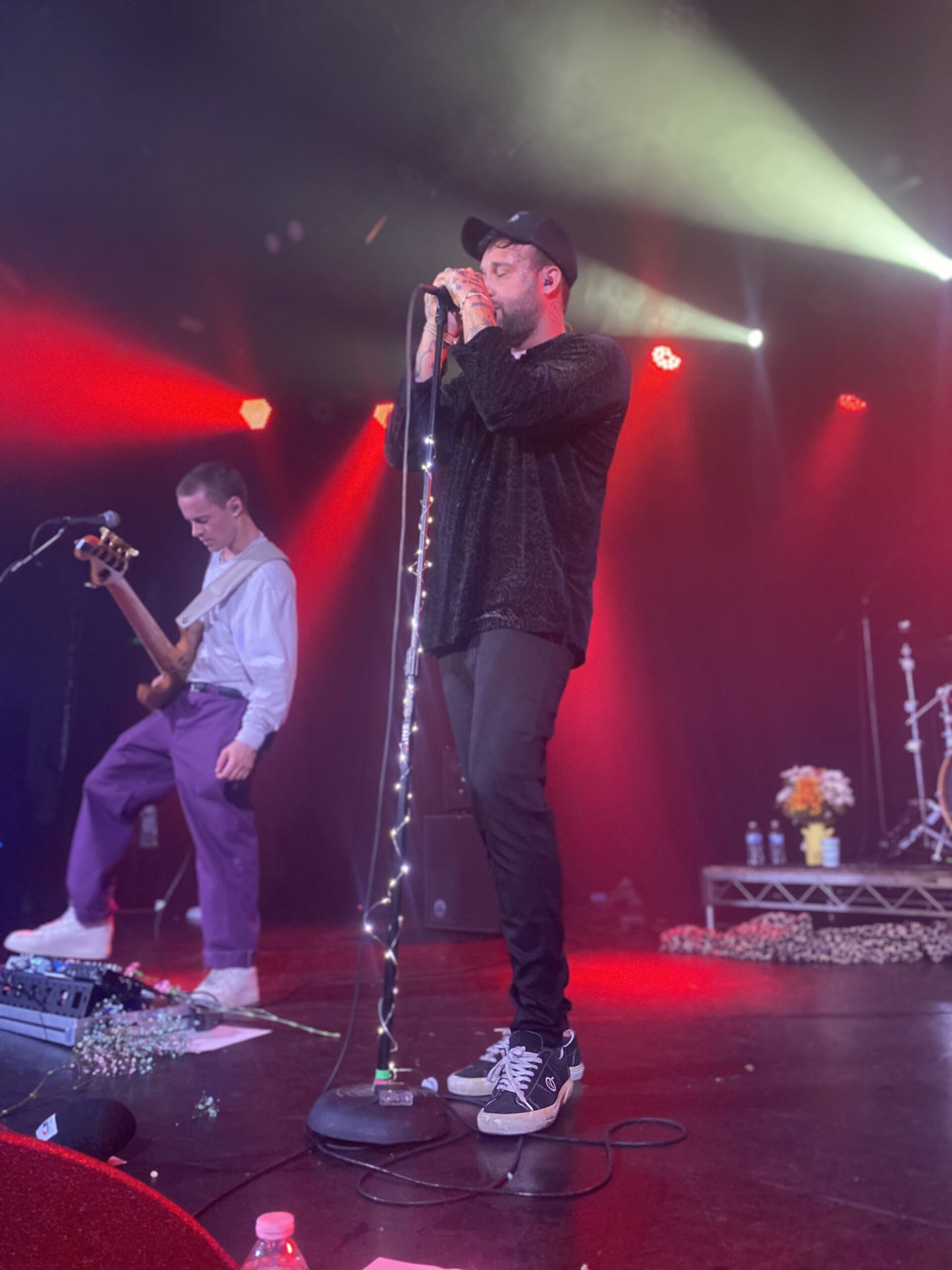 That feels like a huge jump—going from being homeless to collaborating with Simple Plan—and don't think that it isn't lost on Chad. He still lives in gratitude and fully grasps how wild that is. He mentioned, "I'm the only artist on the face of this earth that has a feature with Simple Plan. How the fuck does that happen?" 
As his childhood went on, so did his love for pop-punk music. He said, "When I was in high school we would go to the library to check out CDs. I would check out No Pads, No Helmets…Just Balls from Simple Plan and would listen to it in front of my mom's trailer. Fast-forward, and I'm best friends with Pierre. He's giving me tips on how to perform. He came out to the Viper Room and performed there with me."
Again, how does one man make that jump? Well for starters, he said, "I got here so organically. Not so pushy or gimmicky. It's all organic relationships." The thing about Chad is you can tell how sincere he is just by spending five minutes with him. You can see the love he has for the people he has surrounding him—whether they are his team or his friends. There isn't anything but the rawest version of himself sitting in front of you.
So how far did the bullying go? It didn't stop just because he was in the music scene. He had to push through more hate to get through to the other side. He got more into the challenges of his career, saying, "When you're making music your whole life and no one believes in you and everybody is laughing at you…I've been booed off stage, I've performed for two people, I've performed for 5 people, and I've performed for 10,000 people."
If you're sitting in your own heartbreak right now and you're not sure how to get up and brush yourself off, this is the same mentality he had to push through. "This is the only thing I'm meant to do. When you're born to do something and you live it, you breathe it, you eat it. I wake up from sleep at night and I wake up from a dream and go, 'holy fuck, this is a lyric.' When your only purpose in life is to make music, you make music. Nothing can stop you when you're meant to do something."
You may not be meant to make music necessarily—but that doesn't mean his advice doesn't apply to you. The frame of mind Chad has is meant for everyone. He spoke more about pulling himself up, "When you know something, like I know what I'm going to do with my life, don't listen to anybody. People always have opinions, people always want to put you down, people always want to say something."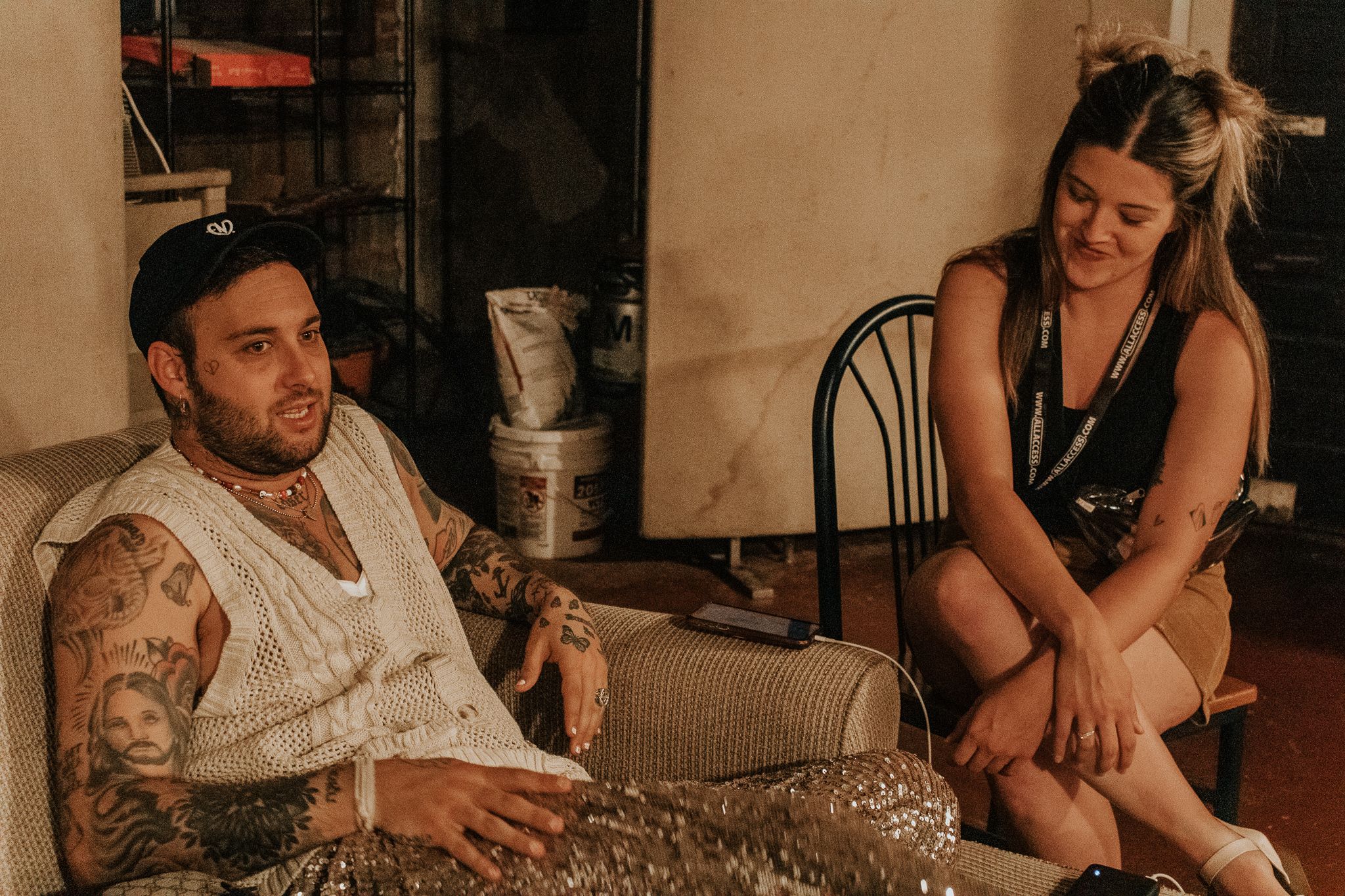 Not fitting in with the status quo of your surroundings doesn't have to mean you're stuck. He got deeper into his life, mentioning, "I grew up in a very weird place. I grew up in Merritt Island, Florida. I was a vegan skateboarder who wrote poetry and played guitar. I didn't fit in. Everybody who negatively affected me in high school doesn't exist anymore. That taught me so much in life. Everybody who's fucked up or treats you bad—there'll be a time when nothing matters. Think about being 90 on your deathbed, are you thinking about those people? No! You're thinking about the beautiful people who have helped you. It's easier said than done."
Chad stays humble through it all, though. He continues to talk about the people who got him here. "I think I made horrible decisions and got lucky. I think being a good, humble person will get you far. You gotta have love for everybody—and have a badass manager."
When talking about his bucket list, he started to get into places he would want to perform (like the Hollywood Bowl) but he soon went deeper than that. He said, "I want to help this generation like Simple Plan and Sum 41 helped me."
More of his life goals came through when I asked what a movie about his life would look like. He said, "COVID was bad but I was depressed before COVID. I was in the party scene a bit but I got sober and cleaned up. My movie would show the horrific times I went through and then show the light at the end. Show that whatever bullshit you're going through, it'll come to an end. You have to keep fighting. You're going to live and grow old or you're going to die. So what do you want to do? You want to enjoy your life. My biggest goal is to wake up every day happy. Even if I'm poor, or a janitor, or the biggest rockstar in the world."
So after all of that, what would he tell that boy in Florida? "I wish I would have told myself that nothing fucking matters. Be yourself. I was called so many names because I was myself. Just fucking enjoy your life." He went on to say, "I'd like to share that no matter who you are or where you're from, you can do whatever you want. You are in control of your destiny and your dreams and only you. If you're a good person and happy and nice to people, you can do anything." 
Now he's overcome a rocky beginning of his life, Chad feels like he has so much to give back. For starters, he said, "There's a few things I really want to do. Right now I'm trying to talk to Gibson and I want to do something where I have 100 acoustic guitars and I want to go to orphanages and shelters and find homeless kids. I lived in a car with my two brothers, my mom, and my dad. They weren't drug addicts. They just fucked up. A lot of people are on that line of being homeless or not having food. There were so many times when I had no food to eat or my mom would have a pack of vegetarian hot dogs and she would cut them up and I would get one half of a hot dog for dinner. There are kids living like that right now while there are trillionaires flying in fucking jets."
What it comes down to is this: "We need to come together and realize we are all the fucking same. More people need to have more respect and love for each other."
After our conversation, he got on stage and crushed it. The man took his shirt off, caught a beer someone threw up to him, bit into it, and chugged it. He was all over the stage, handing his heart to the audience. He was the exact same man who sat down across from me and told me about his life. He lives and breathes authenticity and passion. The beautiful part about it is that he wants to share with his fans so that they're inspired to do the same.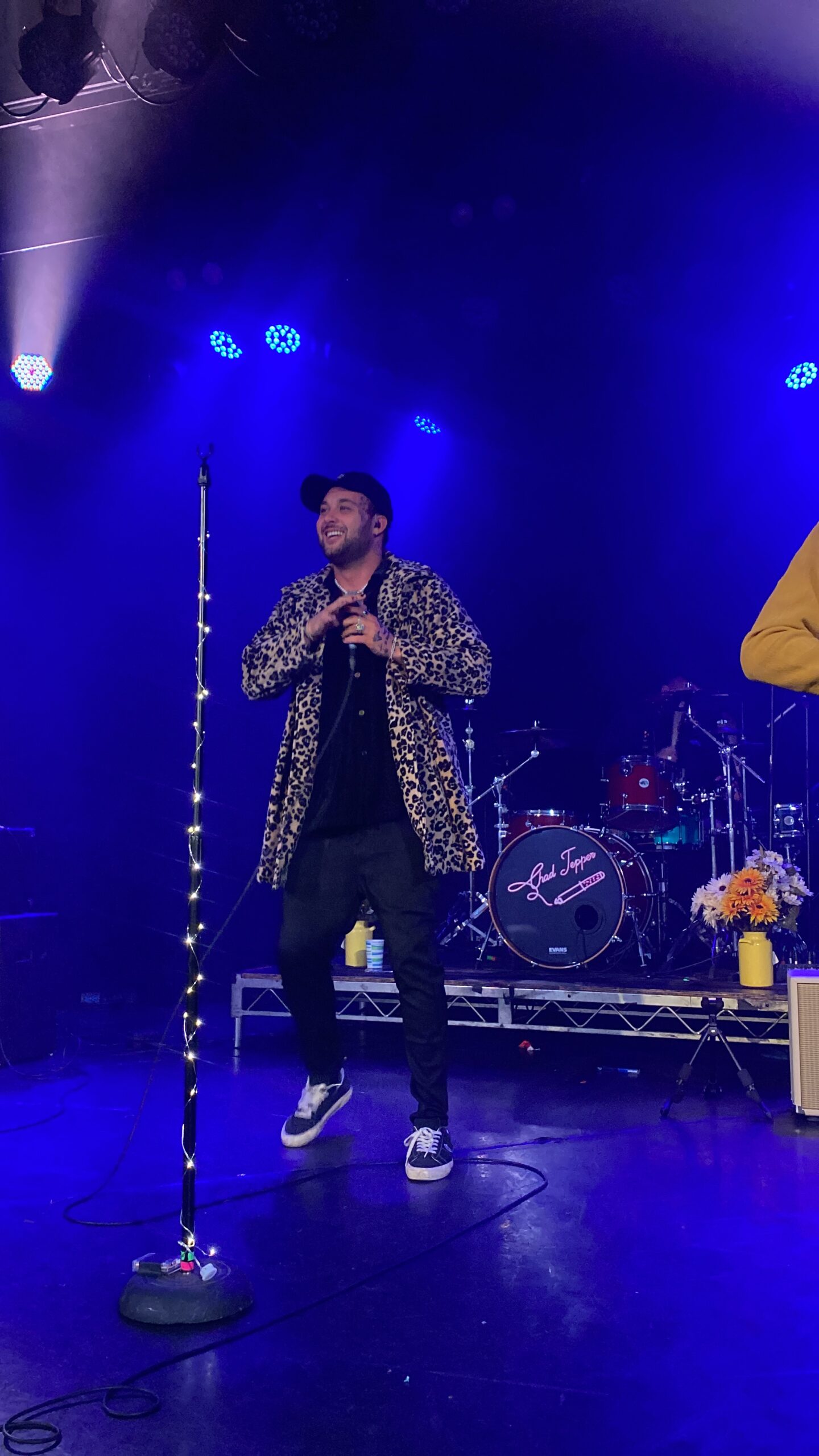 Chad mentioned in the interview that one of his biggest life dreams was to perform and sell out The Roxy in Los Angeles. A few weeks after this conversation, I got to witness him do just that. He is out there crossing off his life goals one by one. He is staying true to who he is and what his dreams are, even when life told him he wasn't allowed to.
I know it isn't easy and I know life isn't fair. However, I hope you punch life right back after it's knocked you down and show it that you won't take no for an answer. You're going to win this fight and you're going to live the life you want. Let's all be a bit more like Chad Tepper this week.