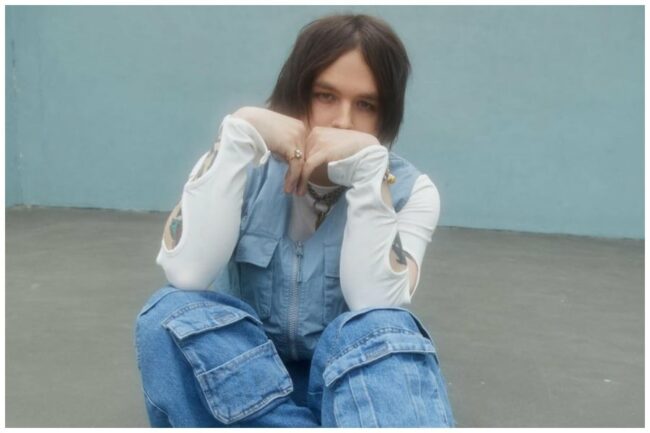 Having teased his new song for three days, The Ready Set, aka Jordan Witzigreuter, is finally offering fans of his synth-pop sonics his brand-new single "ACT 2." The experimental track is preceded by his new-era releases "Teammate" and "Who You Really Are," which arrived earlier this year.
Initially, the melody begins with a relaxed and optimistic guitar line and is then immediately charged with hyper-pop elements of digital beats and energetic synths. In true TRS fashion, we get to see the singer explore his sentimental, even romantic, side with myriad layered sounds ultimately keeping listeners engaged and enveloped in his world.
Witzigreuter sings, "Still in the place you found me, but I'm better than I was before/'Cus you stuck around me/Now I don't want to disappear, not anymore." Check out the brand-new track below.
While we eagerly await the possibility of follow-up singles, album announcements, or tour dates, we will just have to keep listening to these three new songs from The Ready Set and revisit Witzigreuter's other projects including Onlychild, where he collaborated with American Teeth on "Sloppy," as well as Nekokat, where he worked alongside Cameron Walker-Wright and Jess Bowen. Though, Walker-Wright and Witzigreuter continue to be frequent collaborators, and even co-wrote "ACT 2."
Though there are no full headlining tour dates, The Ready Set fans have a lot to look forward to. Not only has the project made its grand return this year after taking a break following the release of 2018's V2, but TRS will be on the road with Boys Like Girls this fall on the Speaking Our Language Tour. State Champs and LØLØ will be on the 30-show run alongside the "Blood and Sugar" performers, but each date has new and exciting acts hopping onstage.
Four Year Strong, Max Bemis, 3OH!3, The Summer Set, Every Avenue, and SayWeCanFly have a few dates on tour alongside The Ready Set. If you're located near Los Angeles or Las Vegas, you can see Witzigreuter and 3OH!3 on the dates below. You can also check out the full list of dates here.
Tour Dates:
Oct. 1—Los Angeles, CA @ Hollywood Palladium
Oct. 2—Las Vegas, NV @ House of Blues Las Vegas