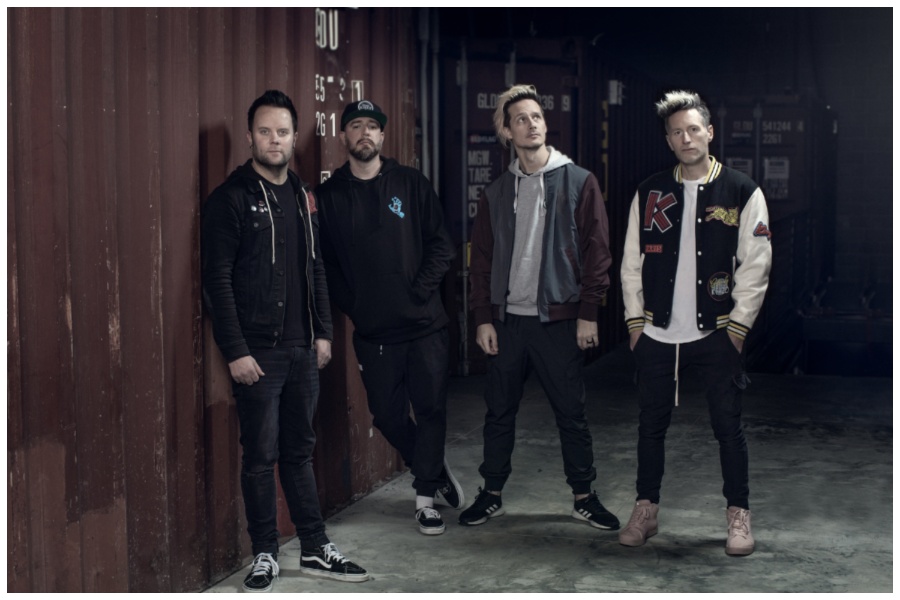 As the curtain falls on an eventful summer of touring alongside Yellowcard to commemorate the 20-year milestone of Ocean Avenue, Story Of The Year has a tantalizing treat in store for their fans. Embarking on a nostalgic journey, the St. Louis collective has announced the 20 Years of Page Avenue tour. The group's debut album, which catapulted the band into the spotlight in 2003, holds a special place in the hearts of fans worldwide, and this tour promises to be a nostalgic blast from the past.
As if the announcement wasn't thrilling enough, Story Of The Year is bringing along some incredible touring companions to make this anniversary even more unforgettable. Four Year Strong will be joining the tour from November 1 to November 19, while We The Kings will be welcomed on the tour from January 5 to January 26, 2024. Youth Fountain will also join the entirety of the tour as support.
"Page Avenue is such a special album in so many ways," vocalist Dan Marsala expresses. "It has grown to be the definitive SOTY album. An album that still resonates with everyone today the way it did 20 years ago. An album that built an amazing career for a bunch of friends from St. Louis. When we were writing Page Avenue, we were just kids making music that we loved. We had no idea that 20 years later these songs would still mean so much to us and to millions of other people all around the world."
"Page Avenue was the soundtrack to so many people's lives," guitarist Ryan Phillips shares. "We can't think of a better way to celebrate the 20th anniversary of this pivotal record by getting out there and performing it for all of our incredible fans."
Story Of The Year will conclude touring with Yellowcard this week on August 18 as they say goodbye to the 20 Year Anniversary of Ocean Avenue tour before hitting the road for their own celebratory tour this fall. You can check out the band's full touring schedule below and grab tickets here.
Tour Dates:
Aug. 15—Hershey, PA @ Giant Center^
Aug. 17—Syracuse, NY @ St. Joseph's Health Amphitheater at Lakeview^
Aug. 18—Portland, ME @ Cross Insurance Arena^
Oct. 26—Oklahoma City, OK @ Diamond Ballroom+
Oct. 28—San Antonio, TX @ Paper Tiger+
Oct. 29—Dallas, TX @ Study @ Bomb Factory+
Oct. 31—Albuquerque, NM @ Sunshine Theatre+
Nov. 1—Mesa, AZ @ Nile Theatre*
Nov. 2—Tucson, AZ @ Encore*
Nov. 3—Anaheim, CA @ House Of Blues*
Nov. 4—San Diego, CA @ Observatory North Park*
Nov. 5—Las Vegas, NV @ Brooklyn Bowl*
Nov. 7—Sacramento, CA @ Ace of Spaces*
Nov. 9—Portland, OR @ Crystal Ballroom*
Nov. 10—Seattle, WA @ Showbox Sodo*
Nov. 11—Spokane, WA @ Knitting Factory*
Nov. 12—Boise, ID @ Knitting Factory*
Nov. 14—Salt Lake City, UT @ The Complex*
Nov. 15—Denver, CO @ Ogden Theater*
Nov. 17—Lawrence, KS @ Liberty*
Nov. 18—Minneapolis, MN @ Uptown Theater*
Nov. 19—Milwaukee, WI @ The Rave*
Jan. 5, 2024—Detroit, MI @ Majestic Theater#
Jan. 6, 2024—Cleveland, OH @ Agora Theater#
Jan. 7, 2024—Philadelphia, PA @ Union Transfer#
Jan. 8, 2024—Pittsburgh, PA @ Roxian Theater#
Jan. 10, 2024—Toronto, ON @ Opera House#
Jan. 11, 2024—Montreal, QC @ Club Soda#
Jan. 12, 2024—Boston, MA @ House Of Blues#
Jan. 13, 2024—Sayreville, NJ @ Starland Ballroom#
Jan. 14, 2024—New York, NY @ Palladium Times Square#
Jan. 16, 2024—Baltimore, MD @ Rams Head Live#
Jan. 17, 2024—Norfolk, VA @ Norva#
Jan. 19, 2024—Charlotte, NC @ Underground#
Jan. 20, 2024—Atlanta, GA @ Masquerade (Heaven)#
Jan. 21, 2024—Tampa, FL @ The Ritz Ybor#
Jan. 22, 2024—Ft. Lauderdale, FL @ Revolution#
Jan. 24, 2024—Nashville, TN @ Brooklyn Bowl#
Jan. 25, 2024—Cincinnati, OH @ Bogarts#
Jan. 26, 2024—Chicago, IL @ Concord Music Hall#
^ With Yellowcard
+ With Youth Fountain
* With Four Year Strong and Youth Fountain
# With We The Kings and Youth Fountain