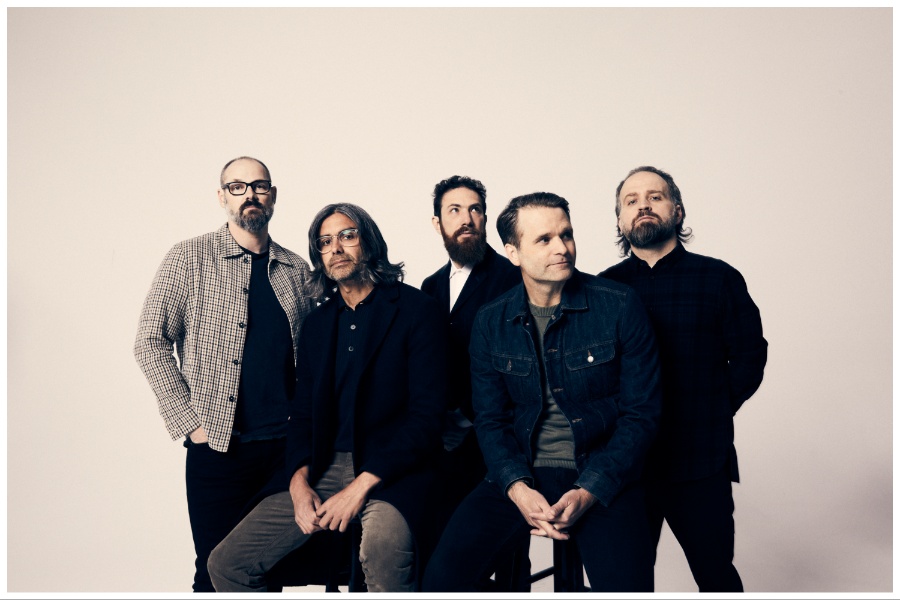 Legacy Washington modern rockers Death Cab For Cutie has been nothing short of busy in 2023. Ahead of their co-headlining fall tour with Ben Gibbard's other project The Postal Service, the band released a brand-new single "An Arrow In The Wall," which oozes indie sleaze vibes of the late aughts.
With a combination of punchy basslines, sultry and dark vocals, and ethereal synth sounds, the meaning behind the song only makes sense.
"'An Arrow In the Wall' is about the warning signs all around us in the 21st century that society-at-large is in decay," Gibbard says. "The arrow lodged in the wall might have missed this time, but it would be naive to assume the next one won't also." Check out the new track visualizer with art by Juliet Bryant below and order your own 12" single here.
Not only did the band delight fans with a new single, but they also shared a remix with none other than Glasgow trio CHVRCHES. Of course, they kicked up the existential track up a notch with their signature glowing synth-pop sonics. Don't be surprised if your next rave party includes the voice of Gibbard.
He says of "An Arrow In The Wall" remix, "We have been good friends with CHVRCHES since touring together in 2019. They took our maudlin little dance track and turned it into a major key club banger."
For those who are major Gibbard fans, the upcoming fall co-headline tour for Death Cab For Cutie and The Postal Service is a borderline spiritual event. The nearly sold-out road show is in celebration of 20 years of Death Cab's Transatlanticism and The Postal Service's Give Up. The bands will be joined by special guests Lauren Mayberry, Warpaint, The Beths, Built To Spill, Iron & Wine, and Pedro The Lion. Check out the full list of dates below.
Tour Dates:
Sept. 5—Washington, DC @ The Anthem !
Sept. 6—Washington, DC @ The Anthem !
Sept. 8—Portland, ME @ Cross Insurance Arena !
Sept. 9—Kingston, RI @ Ryan Center !
Sept. 10—New Haven, CT @ Westville Music Bowl !
Sept. 12—Boston, MA @ MGM Music Hall at Fenway !
Sept. 13—Boston, MA @ MGM Music Hall at Fenway !
Sept. 14—Washington, DC @ Merriweather Post Pavilion !
Sept. 16—Chicago, IL @ Riot Fest
Sept. 17—Detroit, MI @ Meadow Brook Amphitheater #
Sept. 19—New York, NY @ Madison Square Garden #
Sept. 20—New York, NY @ Madison Square Garden #
Sept. 21—Philadelphia, PA @ Mann Center for the Performing Arts #
Sept. 23—Chicago, IL @ The Salt Shed #
Sept. 24—Minneapolis, MN @ The Armory #
Sept. 26—Denver, CO @ Mission Ballroom #
Sept. 27—Denver, CO @ Mission Ballroom #
Sept. 28—Denver, CO @ Mission Ballroom #
Sept. 30—Austin, TX @ Germania Insurance Amphitheater &
Oct. 1—Grand Prairie, TX @ Texas Trust CU Theatre &
Oct. 3—Phoenix, AZ @ Arizona Financial Theatre &
Oct. 4—Las Vegas, NV @ The Theater at Virgin Hotels &
Oct. 6—Seattle, WA @ Climate Pledge Arena &
Oct. 7—Seattle, WA @ Climate Pledge Arena &
Oct. 9—Berkeley, CA @ Greek Theatre, UC Berkeley &
Oct. 10—Berkeley, CA @ Greek Theatre, UC Berkeley &
Oct. 11—Berkeley, CA @ Greek Theatre, UC Berkeley &
Oct. 13—Los Angeles, CA @ Hollywood Bowl &
Oct. 14—Santa Barbara, CA @ Santa Barbara Bowl ^
Oct. 15—Los Angeles, CA @ Hollywood Bowl %
Oct. 17—Los Angeles, CA @ Hollywood Bowl @
! With Lauren Mayberry
# With Warpaint
& With The Beths
% With Built To Spill
@ With Iron & Wine
^ With Pedro The Lion