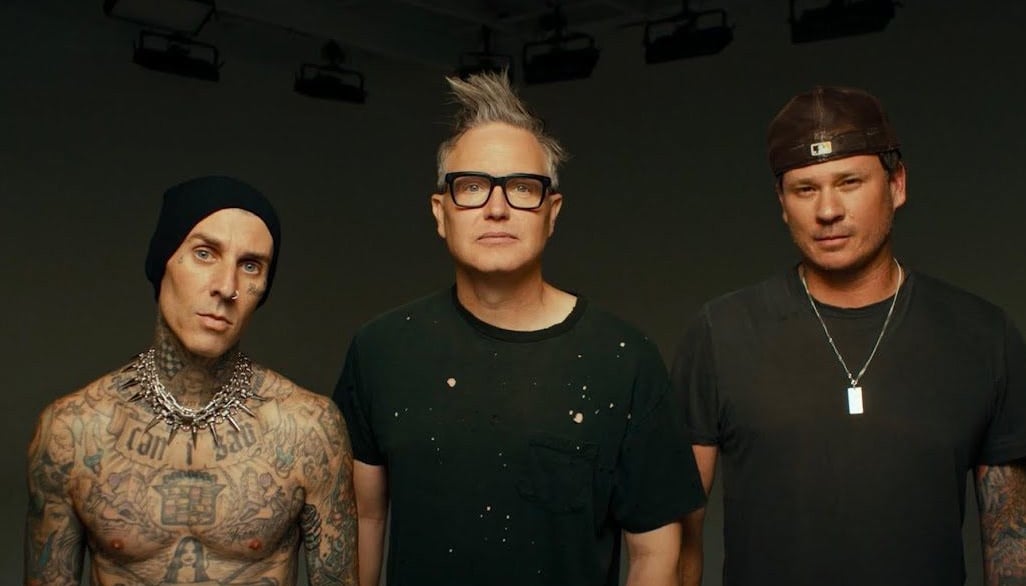 blink-182 were just about to kick off the European leg of their long-awaited world tour. The first tour since the return of guitarist Tom DeLonge, they have already made their way across the US. With setlists full of classics, surprises and plenty of dick jokes, it's been an absolute joy to have them back. Set to kick off things on the other side of the Atlantic, the trio were supposed to be playing two nights in Glasgow. Then they would make their way across to Ireland and Northern Ireland for performances in Dublin and Belfast, respectively. Unfortunately, they have announced that this will no longer be the case.
On their socials, blink revealed that due to a family emergency, drummer Travis Barker has had to go back home. With that in mind, the aforementioned shows are now postponed. As it stands, the further dates, kicking off in Antwerpen on September 8, are up in the air, with updates being made available as soon as possible. As much as this will be a disappointment to fans, family always comes first. Travelling halfway back across the world to be with the ones you love in times of need is more important than any show.

So idobi sends the best to Travis and his family, and fingers crossed that things can get back on as soon as is safe.


The full statement from blink-182 reads like this:
"Due to an urgent family matter, Travis has had to return home to the States. The Glasgow, Belfast, and Dublin shows are being postponed. More information in regards to his return to Europe and rescheduled dates will be provided as soon as available."
blink recently hinted that something big was coming, possibly their long-awaited new album. Following the release of "EDGING" last year, the band have been working away on new material. And their latest nudge in the direction that we are close came in the form of a short video. Titled 'STAY TUNED…', it is 21 seconds of acoustic guitar matched with footage of the band on the road. It also links to a website that states, "RESTROOMS WILL BE CLOSED FOR MAINTENANCE 9/5". So, that makes it sound like something is coming on September 5. So yeah, hold tight.