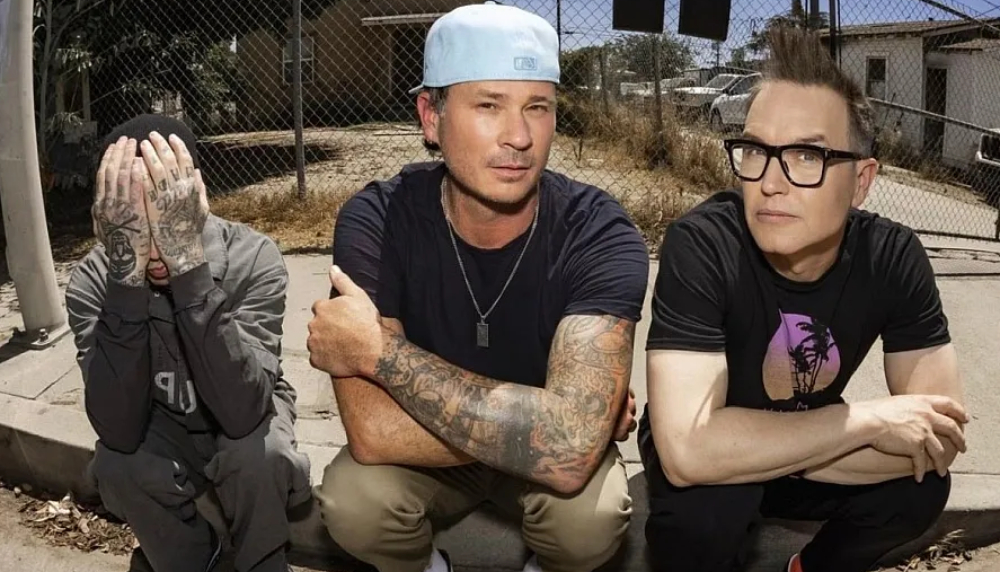 blink-182 fans are basically celebrating a straight-up holiday today. After dropping teaser after teaser and hint after hint, the band has confirmed that they are, in fact, releasing a new album. The LP, aptly titled ONE MORE TIME…, is arriving on October 20, and the pre-orders for new vinyl and merch were announced shortly after.
Basically, you need to hop on their website ASAP. The band is selling seven vinyl variants, and three of them are already sold out. Currently, the standard black vinyl is available for pre-order for $32.98. Additionally, color variants including an exclusive yellow "Egg Splatter Vinyl," "Red & Clear Marble Vinyl," and "Purple Ooze Vinyl" are all still listed for $35.98.
There is no confirmation for a restock of the sold-out color variants of Mark, Tom, and Travis' exclusives.
Additionally, fans can pre-order a lime green cassette tape ($16.98), ONE MORE TIME… CD ($13.98), the digital album ($13.99), and a U.S. exclusive deluxe box set. The box set, $35, will include a black T-shirt printed with the yet-to-be-revealed album artwork, and a CD.
In typical blink-182 fashion, it seems that the group made a joke listing a logo urinal cake on their promo images with a sold-out sticker. Though, these are currently not even listed on their U.S.-based site. Frankly, a lot of comments indicate that fans are bummed they missed out on the opportunity to grab one. However, they may not actually exist at all.
The band is currently on tour in Europe, all leading up to their appearances at When We Were Young Fest. Here are the remaining dates, which now include the added excitement of a new album.
Tour Dates:
Sept. 19—Prague, CZ @ O2 Arena
Sept. 20—Vienna, AT @ Stadthalle
Oct. 2—Lisbon, PT @ Altice Arena
Oct. 3—Madrid, ES @ Wizink Centre
Oct. 4—Barcelona, ES @ Palau Sant Jordi
Oct. 6—Bologna, IT @ Unipol Arena
Oct. 8—Amsterdam, NL @ Ziggo Dome
Oct. 9—Paris, FR @ Accor Arena
Oct. 11—London, UK @ The O2
Oct. 14—Birmingham, UK @ Utilita Arena
Oct. 15—Manchester, UK @ AO Arena
Oct. 21—Las Vegas, NV @When We Were Young Fest
Oct. 22—Las Vegas, NV @When We Were Young Fest