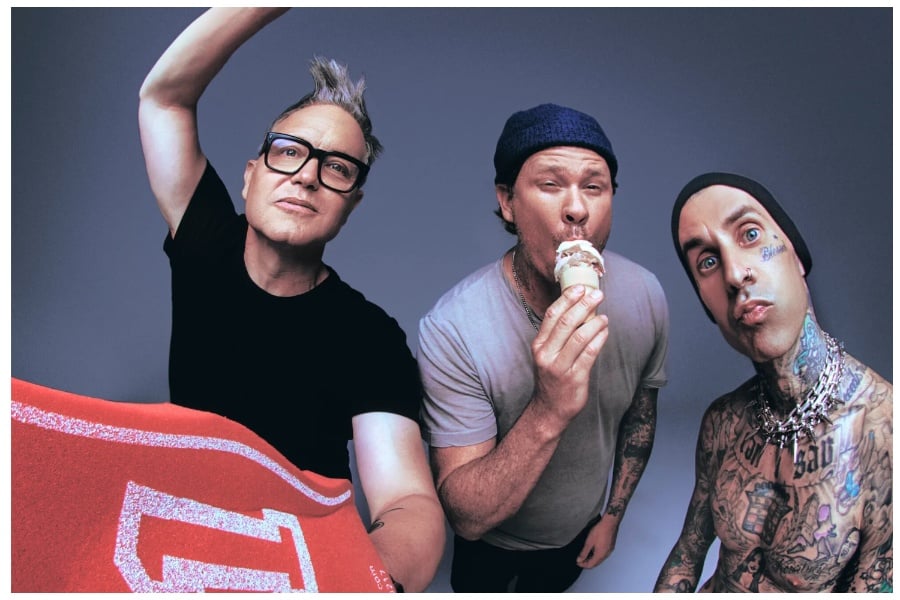 blink-182's official website is "closed for maintenance," and for good reason. While you can still shop their merch and buy tickets to their upcoming shows, you might also run into their site's stall page, which fans believe is a signifier of new music to come within the month.
The stall page shows a video of someone in a yellow HAZMAT suit scrubbing away graffiti on the wall behind urinals. Slowly, but surely, the person wipes away various blink-182 logos, including their old-school bunny character and the iconic smiley face. Additionally, posters from the band's most recent city stops in Chicago, Baltimore, and Dallas hang on the wall alongside the announcement of "EDGING" being nominated for an MTV Video Music Award, which was directed by "the very talented and handsome Cole Bennett."
Along with these visuals, a TV sits on the wall playing myriad blink-182 clips. One set of words on the wall stands out, however. Viewers can read the phrase, "I don't feel pain, but I feel more than you'd ever know." Certainly, these are not lyrics from a song available in their discography. If you listen closely, you can also hear the chords to a seemingly unreleased, new song as the person in the HAZMAT suit cycles through blink classics.
At the end of the stall page's video, the person adds a clock to the wall with a flashing "12:00." While Tom DeLonge has confirmed that new music is on the way and Mark Hoppus shared a photo from a new music video set, it is unknown what these visuals might signify as far as a release date.
Fans theorize that this, in tandem with blink-182 posters hanging up in major metropolitan areas with the words "One More Time…" signify new music dropping soon. This Toronto poster set has additional words on the background of the piece.
They read, "Do I have to die to hear you miss me?/Do I have to die to hear you say goodbye?/I don't want to act like there's tomorrow/I don't want to wait to do this one more time."
Also spotted in Chile, some fans on Reddit noted how the symbol on said posters contains five arrows on the iconic smiley face logo instead of six. The five-arrow symbol appeared on the band's untitled 2003 record.
While the nostalgic symbol may not fully make sense just yet, some Reddit sleuths dove into the blink-182 website's HTML . They saw that the coding contains a timer set to expire on September 14. Could this mean that we will receive good blink news in a little more than a week?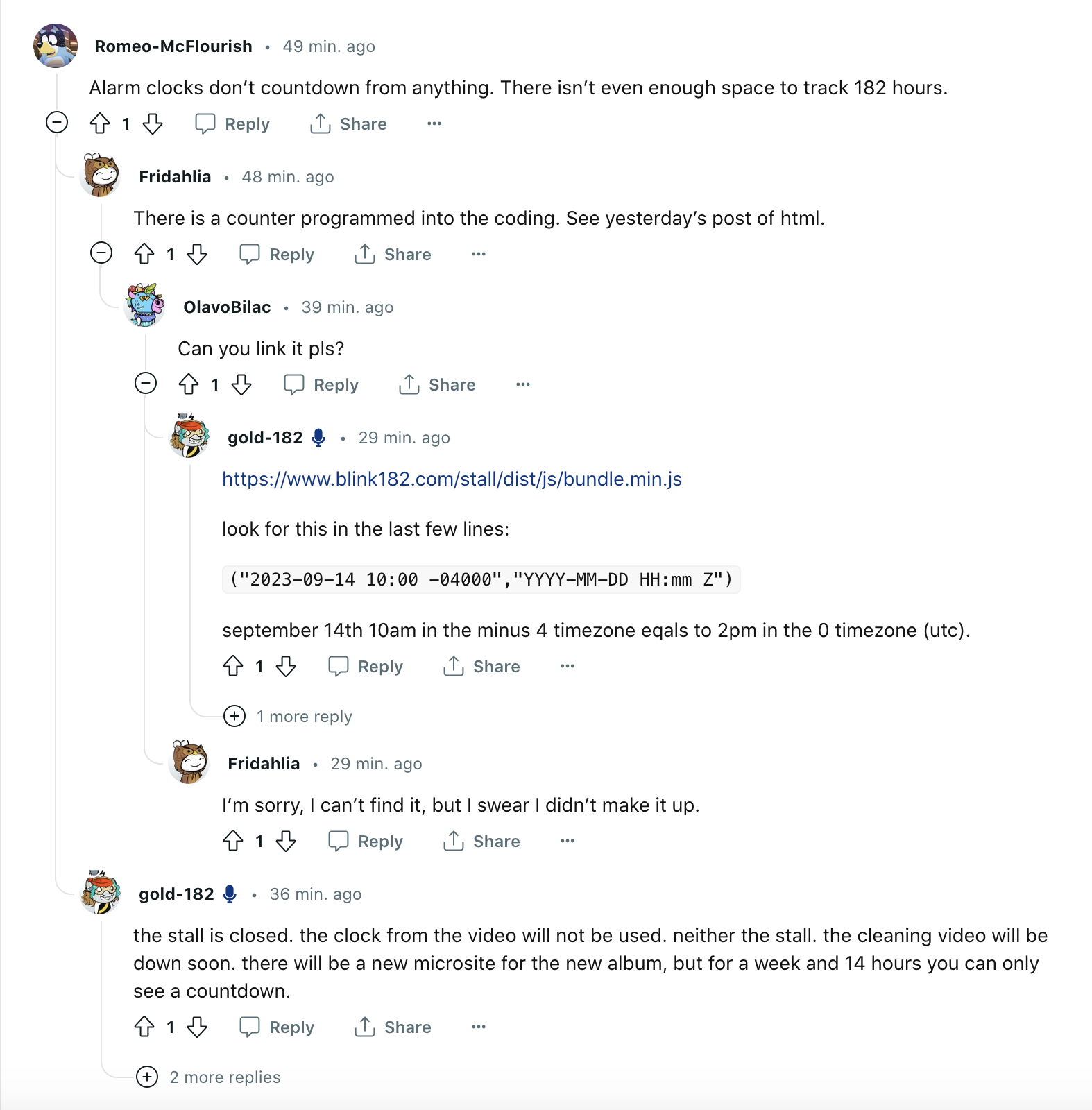 As for live shows, the band is currently trekking through Europe this fall. However, an "urgent family matter" forced Travis Barker to fly back to the United States. The punk rock trio canceled three shows in Belfast, Dublin, and Glasgow. Today, the emergency was confirmed as a pregnancy health scare via an Instagram post from Barker's wife Kourtney Kardashian. Fortunately, all is now well for the happy couple.
The post reads, "As someone who has had three really easy pregnancies in the past, I wasn't prepared for the fear of rushing into urgent fetal surgery…Praise be to God. Walking out of the hospital with my baby boy in my tummy and safe was the truest blessing."
Currently, the band has not rescheduled the postponed dates.

Stay up-to-date on all things blink-182 live from our idobi Radio shows and editorial content right here on idobi.com.