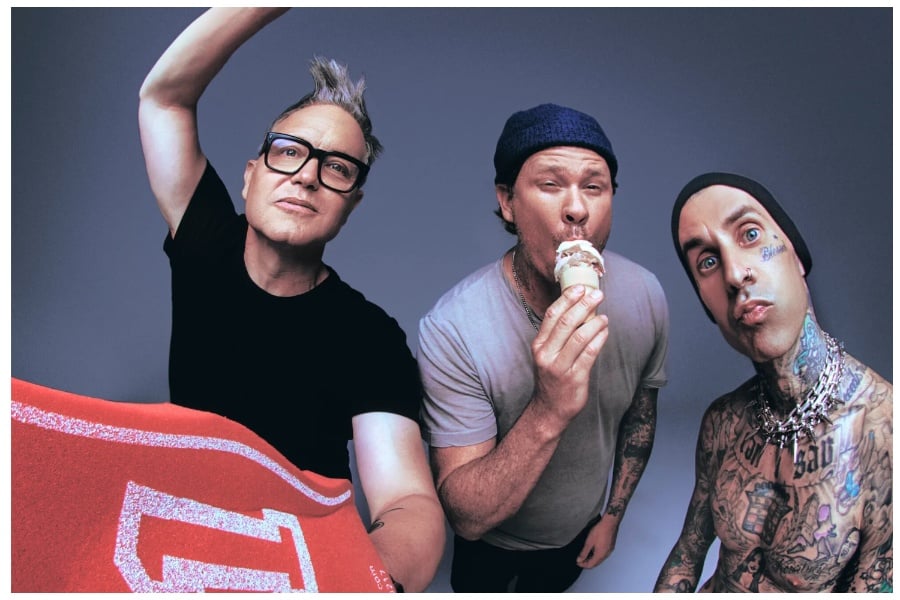 Are you ready for today's flush of excitement? Pun intended, of course. The blink-182 guys are back with some potty humor, sharing a website link that leads to "The Stall." Depicting what appears to be a public restroom decorated with graffiti and the band's logo, the page reads, "Welcome to the stall, stay tuned for updates."
Fans online assume their favorite three-piece is about to drop some new tunes. Another message highlighted in pink font supports this theory of something big happening on September 5.
"Restrooms will be closed for maintenance Tuesday 9/5," the site reads.
On the page, fans can easily sign up for blink-182's mailing list and a text message line. However, if they click the "X" in the upper-right corner, the text disappears and highlights numerous clickable links on the bathroom wall. Each piece of graffiti and sticker acts as an easter egg, taking fans down memory lane from the earlier eras of their career. This imagery was first added to the website back in May, including a doodle of a vinyl record leading fans to preorder their yet-to-be-announced or titled upcoming record. 
While some stickers lead to previous singles, tour recap videos, and merchandise, there is one particular button in the center that reads "Employees Must Connect To Spotify." When users click this, they are signing up for yet another mysterious list.
The band has been teasing their new record for some time now. And just 4 days ago, Tom DeLonge let his followers know that new music and the album  are "only weeks (days) away." 
Mark Hoppus and Travis Barker got in on the fun as well, posting behind-the-scenes images from a video shoot on Instagram just last week.
These exciting updates come after the band's successful headlining tour this summer. Grossing over $85 million on the North American leg, the band sold 564,000 tickets from April to July. 
Just one day ago, blink-182 posted some of their favorite tour memories in a compilation video on their YouTube channel. Set to an instrumental guitar track, there is speculation that the clip is yet another teaser of an upcoming song. 

We'll just have to wait and see if anything big happens on September 5! Until then, sign up for the band's mailing list and text message line here.