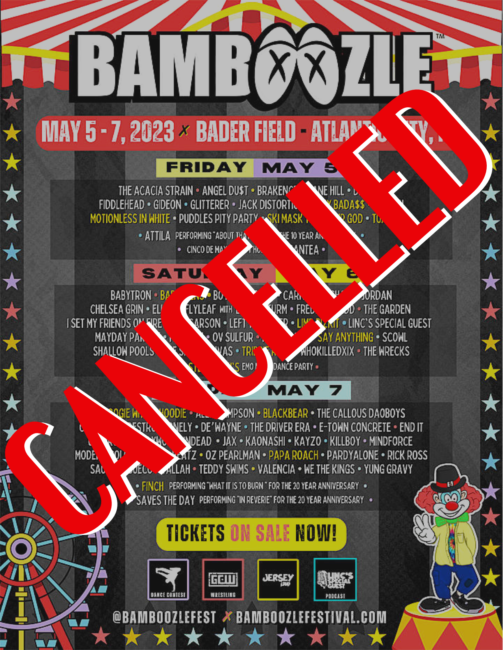 Just one week out from the glorious return of Bamboozle Festival after a 10-year hiatus, the festival has announced its decision to cancel the May 5-7 event. This year's 2023 fest would mark Bamboozle Festival's 20th anniversary and had scheduled performances from some of the largest names across an array of genres. Today the festival deleted their twitter account, along with all posts on their Instagram. In regards to the cancellation, they quickly uploaded a statement to instagram. Read it below:
"After extensive discussions, we have made the heartbreaking decision to cancel Bamboozle 2023. An incredible amount of time, dedication, passion and hard work was invested into making this comeback a success. We appreciate everyone who supported this festival. Refunds should be requested at point of purchase"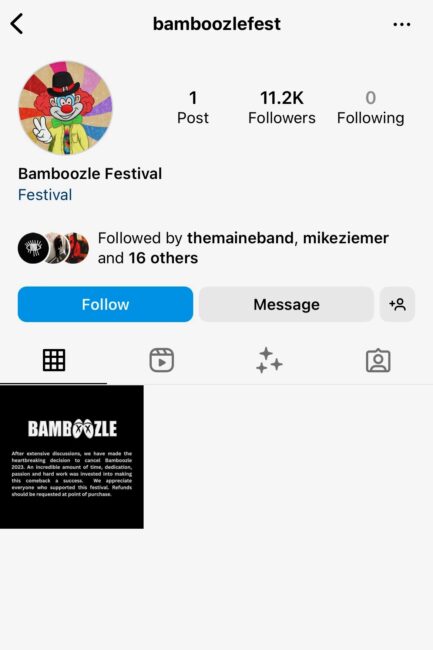 In January, Bamboozle announced their lineup via an old-school, faux Myspace page. Rather than leaning into the nostalgic emo era Myspace was famous for, the lineup included a plethora of genres and performances. Set to make an appearance were several throwback acts like Papa Roach, Motionless in White and Flyleaf, along with newer acts like Bad Omens, De'Wayne, Callous Daoboys and The Driver Era. Bamboozle was really expanding their demographic with artists like Ice Spice, A Boogie Wit da Hoodie and Trippie Red. It sure was a great line-up in theory, huh? Oh well, none of that is happening now.
It its prime, Bamboozle was an iconic festival in the alternative world from 2003 to 2012. Usually held in the MetLife Stadium parking lot, it boasted some incredible headlining acts. Over the years Bamboozle saw Fall Out Boy, No Doubt, Paramore, My Chemical Romance and even massive house-hold names like Drake, Snoop Dogg and Lil Wayne. It is always a bummer to see something that was once incredibly awesome, fail in the end. RIP Bamboozle.