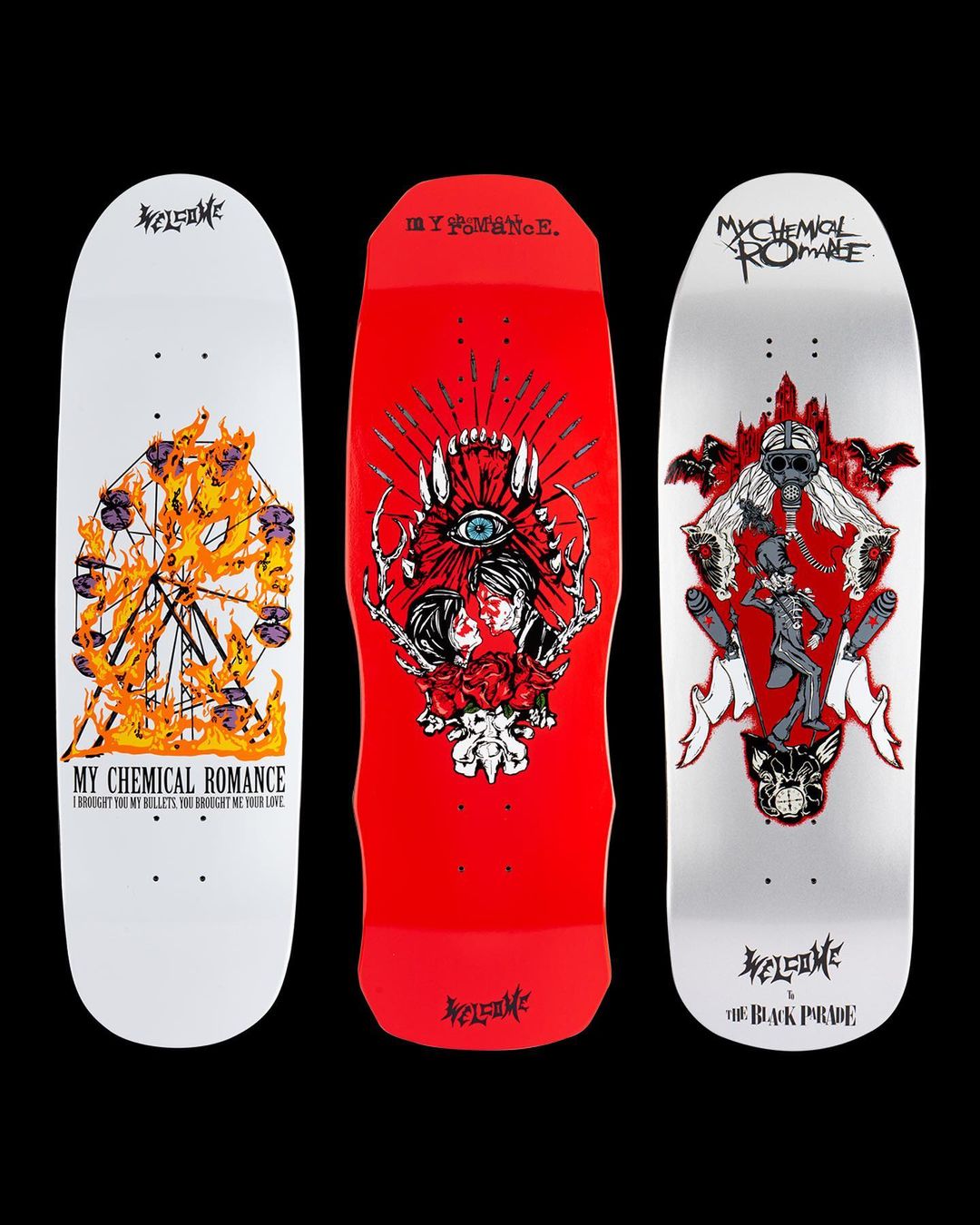 Turns out, Welcome Skateboards are the saviors of the broken, the beaten, and the damned. Today, the board company launched an exclusive collaborative collection with My Chemical Romance to pay homage to the band's storied career. The collection features three decks inspired by the band's first three studio album releases: 2002's I Brought You My Bullets, You Brought Me Your Love, 2004's Three Cheers for Sweet Revenge, and 2006's The Black Parade. 
Of the collaboration, Welcome Skateboards shared on their collection page, "Welcome is honored to announce our collaboration with the incomparable My Chemical Romance. As they return to the stage after nearly a decade away, we celebrate their first three iconic albums with three unique decks. Each deck represents an album, and features original art inspired by the imagery of that respective album and era of My Chem's legendary career. With so many long-time fans within the Welcome team and office, including founder/illustrator Jason Celaya, this project is very dear to us. We couldn't be more excited to share it with you."
Back in 2019, My Chemical Romance launched their Return with a massive, sold-out show at Los Angeles' Shrine Exposition Hall. With their official reunion tour coming to a complete halt due to the COVID-19 pandemic at the beginning of 2020, the band pumped the brakes until 2022. Their reunion tour, which officially began overseas in March 2022 and bled into March 2023, saw the band venture throughout Europe, North America, Australia, New Zealand, and Japan. Since their return, the four-piece alt-rock/emo titans have collaborated with Hipdot, MARKET, and now Welcome Skateboards.
The three exclusive decks feature vibrant arrays of color—a staple of Welcome Skateboards' designs—and incorporate imagery that is connected to the album releases. The Bullets deck features a burning ferris wheel, a reference to the lyrics "Someday, this day, set the ferris wheel ablaze," from the track "This Is The Best Day Ever." However, the decks designed after Revenge and Black Parade are far more obvious references—the Revenge deck features the demolition lovers as seen on the album artwork, while Mother War and the group's marching band mascot Pepe from The Black Parade era appear on the other. Each deck is priced at $84.99 and you can purchase them here.