by Sherin Nicole & Alex Bear
Basically: This is the apocalypse we've been waiting for!
The Hargreeves aren't your typical family unit. Made up of seven miraculous children, adopted by the visionary but super-strict Sir Reginald Hargreeves (Colm Feore), these kids (the only seven Hargreeves could "obtain") are The Umbrella Academy. Oh yeah, six of them have superpowers (more on that later) and they've been vigorously trained to become heroes. Totally normal, right? Fast-forward to adulthood, the team is disbanded and disillusioned:
Luther also known as Number One (Tom Hopper), also called Spaceboy, is on the moon (no, for real).
Number Two, also known as Diego aka The Kraken (David Castañeda), is…well…maladjusted.
Allison, Number Three and codenamed The Rumor (Emmy Raver-Lampman), is a superstar with impulse control issues.
Number Four, The Séance and also called Klaus (Robert Sheehan), is higher than helium on meth—perpetually.
Number Five is missing.
Number Six aka The Horror is dead.
And Vanya (Ellen Page), who'd best be described as the baby sister—if they weren't all the exact same age—is an outsider and she has a complex about it.
What could bring this dysfunctional family back together under one big ole mansion roof? The mysterious death of their father, of course. Also there may be an, um, apocalypse coming. So…take out your black umbrellas and get ready for one helluva good storm.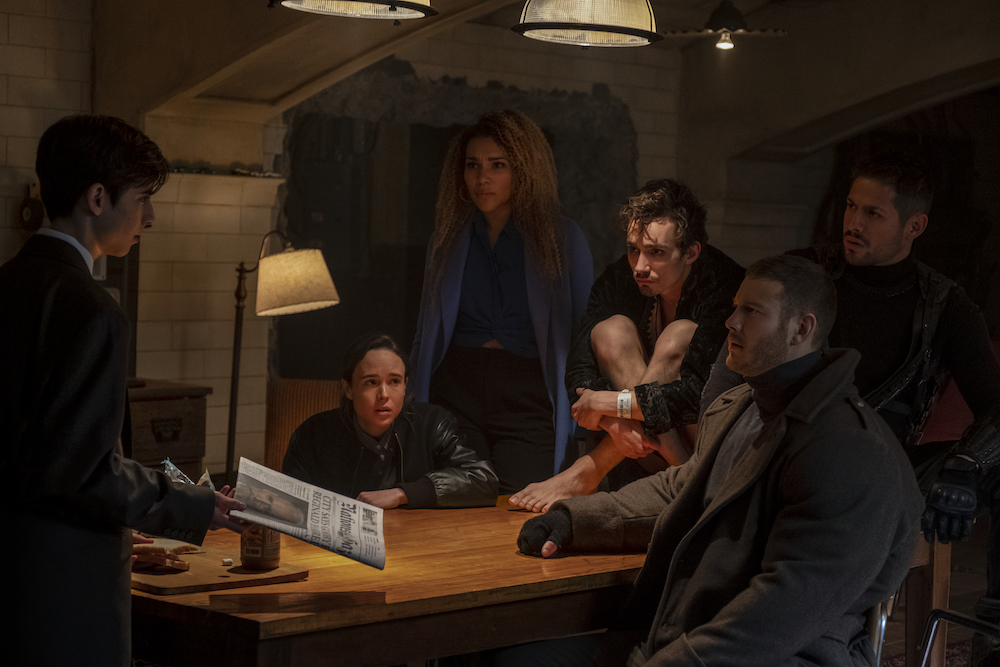 Photo: Christos Kalohoridis/Netflix
This is the kind of show that will take your jaded, I'm-so-tired-of-superhero-adaptations mindset, screw it up, and blow it away. The original comics were instant classics. Writer Gerard Way and artist Gabriel Bá cleverly ripped open the seams of superheroics to reveal the messy stuffing inside. The stories felt familiar and yet explored the aftermath of being "super" in ways we hadn't seen. Steve Blackman and Jeremy Slater get why we love the books, and they manage to give us a fresh take on a fresh take. Fans of the comics will recognize many of the plot threads but there's so much they won't see coming. That's part of what makes the series so exciting to watch. The Umbrella Academy inherently feels like its comic book counterpart—the artsy cuts, the vivid color palettes, and oh, the action sequences—are like you're turning the pages as the story leaps forward. Also, the snark, the deliciously vicious snark. Bravo, to the writers. Take a bow.
The first season takes its time to get to know each character, allowing timelines from the past, the present, the future, and several alternates to overlap. And each time there's a convergence the Hargreeves learn to understand each other and themselves a bit better. If that sounds vague it's on purpose. The plot is a spoiler. We repeat the plot is a spoiler and every episode will leave you dangling off the edge of…a cliff…a universe…your sofa…or a loaded weapon. It's story-telling roulette and you'll keep spinning the wheel.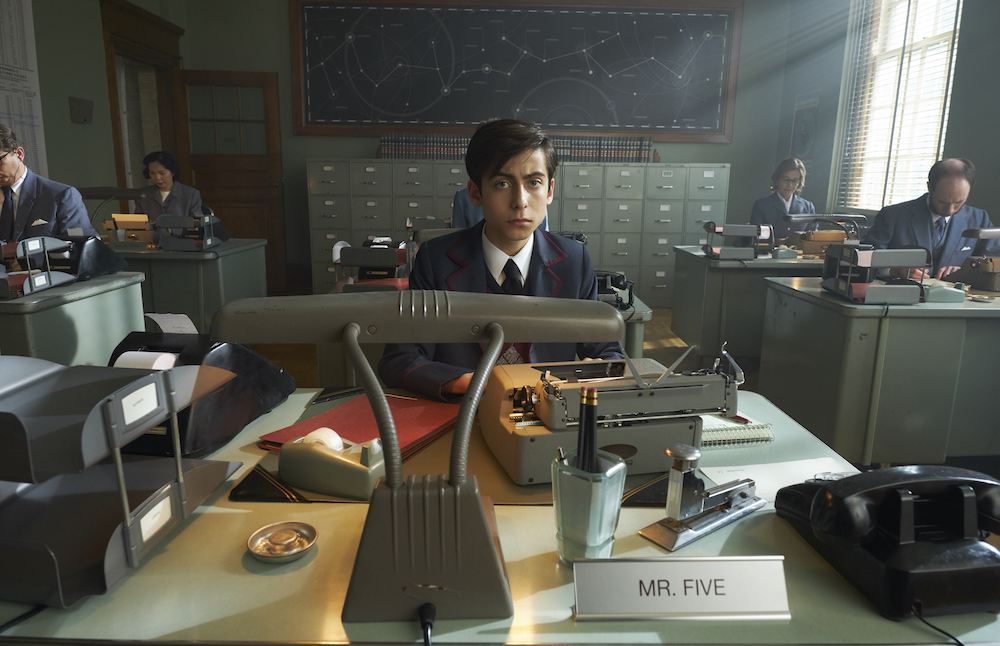 Photo: Christos Kalohoridis/Netflix
Before the adaptation was announced it was hard to imagine anyone playing these roles. After watching all ten episodes, no one else is allowed to touch them:
Sheehan gives us a Klaus who is basically Jim Morrison reborn as Oberon, King of Faeries. He sparkles far beyond the guyliner and the leather skirt, but you also feel his pain in having an ability that will never leave him in peace. Klaus is truly haunted; even when Sheehan is playing the jokester his eyes tell you so.
He's not alone. Hopper comes through with a Luther who's a repressed 1950s milquetoast trapped in the body of a hulking team leader. He's as stoic as a tree at the Mad Hatter's tea party—there's madness swirling around him but he tries to
keep everyone covered. When his stoicism breaks down into levity it's so cute—and yet so misguided. We're not sure whether to follow Number One into battle or give him a hug.
Number Five is a perennial teenager with all the anger issues to prove it—kind of like the wunderkind you were wary of in high school, except this time it's for damn good reason. Five is all kinds of deadly. Aiden Gallagher plays him with delightful derision. Yet he's probably the most loving of the siblings, making it clear those cold eyes mask a tender heart. Like Number Five, Gallagher is something of a phenom.
Page takes on Vanya, who's been left for last and won't stop telling you so. Vanya is one of those characters who's always annoyed which can be annoying. Still the nuances in her sense of rejection feel real, every microexpression breaks through her icy calm until you suspect she's only moments from sparking. Vanya appears introverted and withdrawn but there's something more bubbling under the surface—Page brings an added complexity to the character whose role expands beyond
the comics.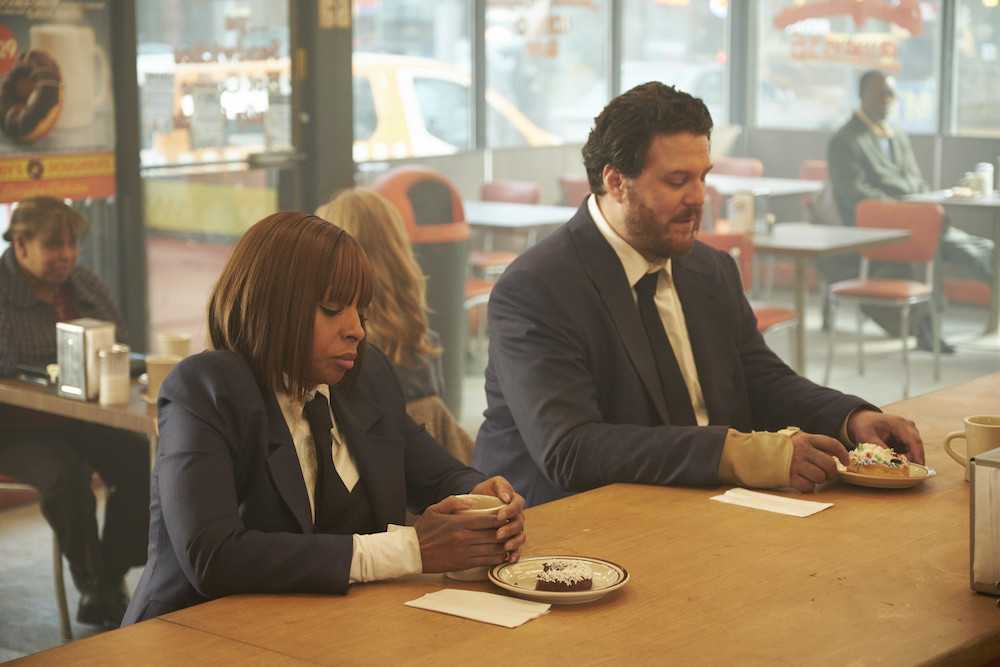 Photo: Christos Kalohoridis/Netflix
Ooooh, and there's Cha Cha (Mary J. Blige) and Hazel (Cameron Britton). They're assassins. They wear goofy animal heads—like amusement park mascots—but don't laugh. If you see them it's going to be your last ride. So, um, wheeee?
Trust that a show originally written by the frontman of My Chemical Romance is gonna have good music. The soundtrack is such a peppy counterpoint to some of the weirdest and often violent scenes…but there's also lovely musical moments in between. And wow, every time you hear Tiffany's "I Think We're Alone Now" you'll start dancing along with The Umbrella Academy and their odd sister Vanya.
It's incredible how much attention to detail was paid with every song choice, every background prop, every costume. This world is wholly immersive. If we're being honest, The Umbrella Academy is just incredible (and you don't have to be a comic book fan to love it).
In the End: Watch it or we'll send Five to your house in every
possible timeline.