by Sarah Madden
Basically: With its Film Noir feel and mind-bending storyline The OA Part II will keep you saying, "One more episode…"
When The OA Part I came out everyone was intrigued. How do we know? The OA is the most binge-watched show on Netflix. There might be more people watching other shows on the platform but no other show grips our imagination the way The OA does. Binge-watching Part I and re-bingeing it is so common because each of us comes up with new and different questions every episode. Of course we're full of questions, our acuity is piqued by stories based on "M-Theory" or the many dimensions (parallel universes) all happening at the same time. If you haven't seen The OA Part I run, do not walk, to your nearest Netflix viewing device and get comfortable. You'll watch the whole season in one sitting. You need to be ready for Part II.
Many of us rewatched Part I several times trying to make sense of the intense, passionate story where there are no coincidences. As in Part I, in the second part everything is connected and the dark imagery makes it hard to look away. To set up Part II: The dazzling Brit Marling returns as the OA after dying in the first dimension. The story twists and turns and we find that the captives all jumped into a second dimension months after HAP (Jason Isaacs) abandoned the OA on the side of the road. In the time it took for the OA to collect her family of misfits, tell her story, teach them the movements, and die tragically in a senseless shooting (Part I), The Angel Hunter (HAP) had already tracked down each of his victims and created a new brand of captivity. So much for escaping.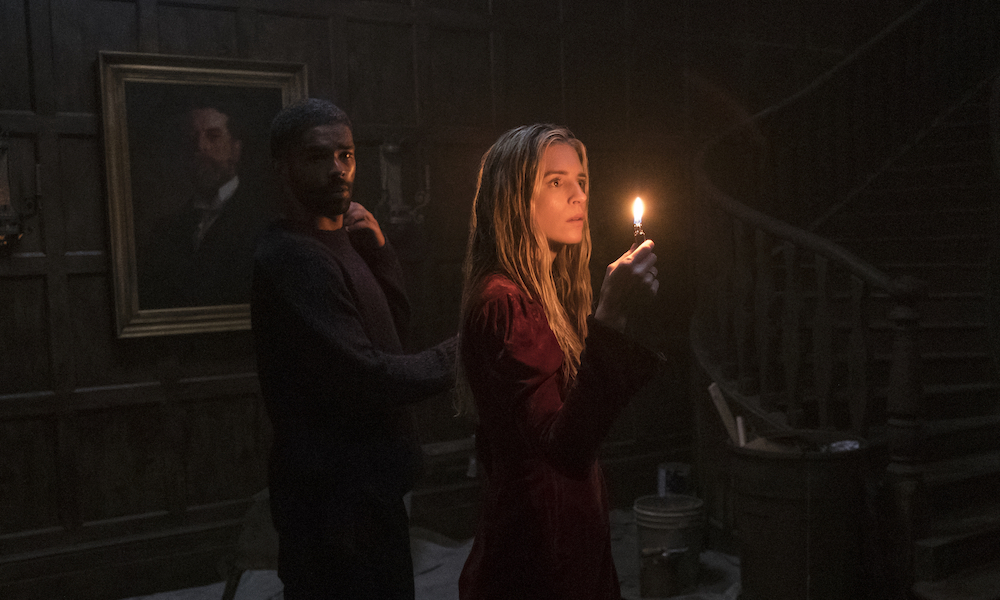 Photo: Nicola Goode/Netflix
To the viewer, HAP—known in this new dimension as Dr. Percy—is clearly a murderous narcissistic sociopath. Same demon different dimension. In Part II he's heralded as some kind of psychology sensation, having written a book on group psychosis. Something about that just doesn't sit right, which leads one to believe the Powers That Be are allowing HAP to continue his "research" in all these dimensions for the sake of some darker grand design. Sadly, at the point when the OA finally comes in contact with Homer (Emory Cohen) it may not be the reunion we'd hoped for. By the time he figures out the OA isn't crazy, we can only hope it's not too late for everyone. I've never wanted to reach through the TV and shake someone more.
In the second dimension, we have a new addition to the spectacular cast: The exceptional Kingsley Ben-Adir playing Detective Karim Washington. Detective Washington is the go-to for people who don't trust cops. He shows us why, taking us on a bizarre sometimes hallucinatory journey through the second dimension, possibly through time, as Karim searches for a missing teen and crosses paths with the OA. He's willing to take chances to find answers. He'll also take a punch and toss the keys of his car to someone who's never driven. Karim's earnest dedication is endearing. I'd trust him too.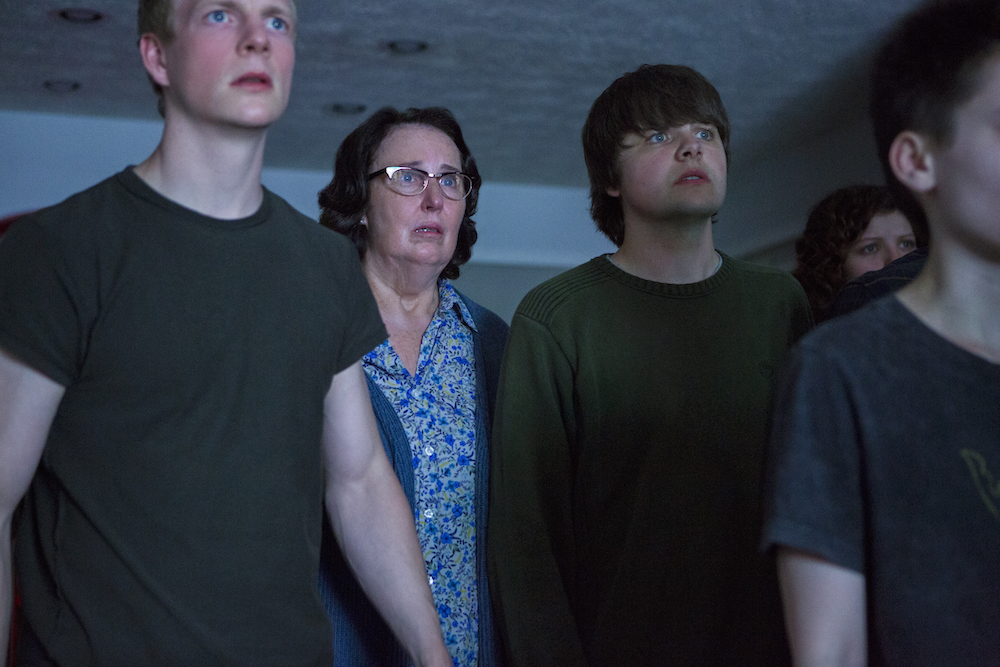 Photo: Scott Patrick Green/Netflix
Part II introduces us to the idea that a person could travel through dimensions without five other people. Focus is placed on the feeling, the traveller's will as one of the main components of interdimensional travel. Which makes sense when we think about all the times we were told that "It's a matter of will" and "Only a person of great determination can swim to another side" in Part I. Even as the OA is dying she tells the boys "I have the will".
Part I took us back and forth in time with the OA's storytelling. Prepare to be taken back and forth, not just in time, but between dimensions in Part II. In dimension one, BBA (Phyllis Smith) and the Boys carry on—fractured without the OA. It's no accident that dimension one has a cold stagnant feel with its grey low contrast visual where even a sunset lacks color saturation. It doesn't feel hopeful.
Steve (Patrick Gibson) is unwaveringly dedicated to the OA and wishes he could have jumped dimensions when she did. Buck (Ian Alexander) still wants to believe, but his parents have decided to move away and leave all the drama behind. One night Rachel (the ethereal Sharon Van Etten) appears in Buck's mirror due to a "misHAP" in the second dimension. This brings Steve, Jesse (Brendan Meyer), French (Brandon Perea), BBA, and Buck, plus Steve's girlfriend Angie (Chloë Levine), together on a whole new mission. Buck then becomes the driving force behind the idea they may be able to connect with the OA—wherever she is.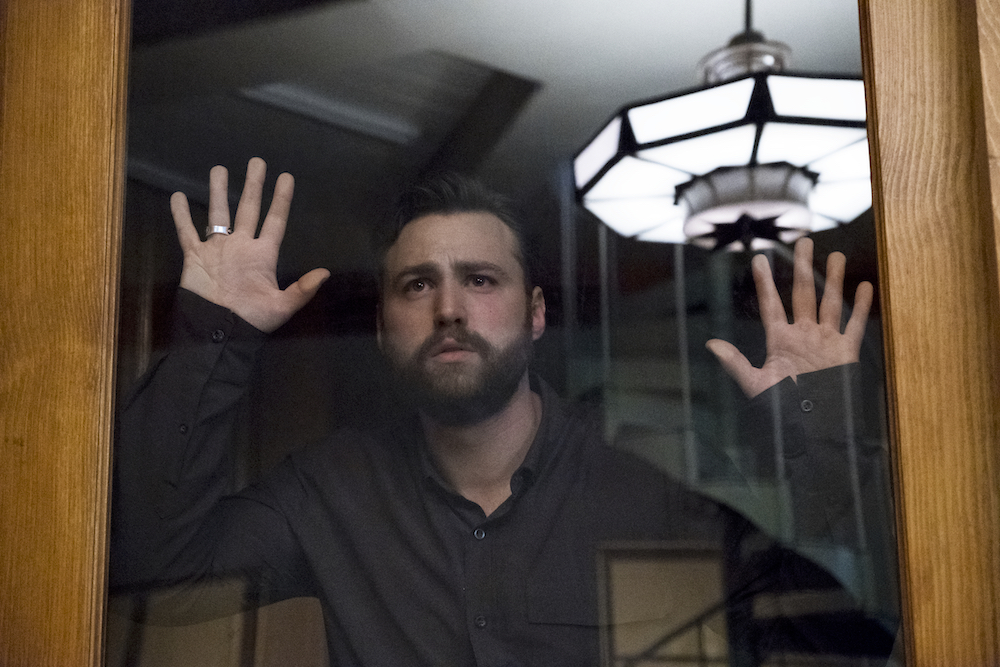 Photo: Nicola Goode/Netflix
As they get closer and closer to their destination each character has an occurrence that shatters their disbelief and pieces of a message come through from the second dimension. An involuntary lean forward is inevitable when we finally receive the entire message in Run Lola Run-style pacing. The season comes at us in this accelerating metronome momentum, adding to the edge of your seat, breath-holding experience.
Brit Marling and Zal Batmanglij created yet another layer to the already profound fantasy that is The OA. The underlying theme of water persists and the desire to dig deeper into the meaning behind it all is compounded. The OA Part II plays fully on each of the eight core human emotions: trust (acceptance), anger, anticipation, disgust, joy, fear, sadness, and especially, surprise. Be ready to feel it all. Remind yourself to breathe, at moments it will be hard.
In the End: There will be no way to watch just one episode, just set aside a whole day. There's really no other way to watch The OA Part II. Fully 10 out of 10.