Actually: 9.5
Basically: Ted Lasso is medicine.
I struggled during lockdown, especially in the overnight hours. I'm an insomniac and a bit of an empath and the nights were quiet enough for me to contemplate the lives we could have saved if we had all been compassionate enough, and the rise of facism around the world, and my people being killed by those who have pledged to protect us. I think you understand. 
And so it must've been somewhere between 2 and 4am when I opened Instagram, trying to find some noise in the quiet. Hanif Abdurraqib came to my rescue, as the best writers do. He said someone had recommended Ted Lasso to him and he might've called it wholesome or said something that led me to believe it. However it went down, I mumbled, "I'll have some of that."
My thanks to Hanif Abdurraqib. The first season of Ted Lasso filled the void the finale of The Good Place left in my entertainment world. I'd been missing quirky characters with clever tongues and journeys of self-discovery that are too spicy to be sweet but are seasoned with a witty pathos that always satisfies the palate. I like to think while I laugh and I love falling for imperfection that finds its way to being just right.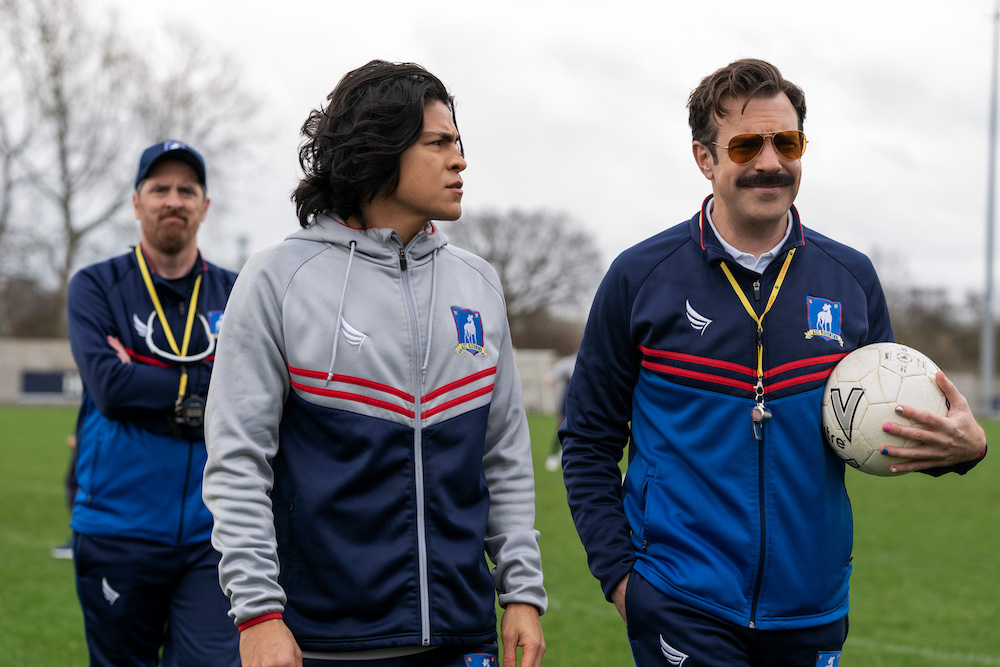 Photo courtesy of Apple Studios
To Describe Truth, Leave Elegance to the Tailor
Wait for it. You'll know what I mean when you hear it. Tomorrow, on Jul 23, 2021, you'll be able to watch the first episode of the second season of Ted Lasso on Apple TV+. I envy you for getting to see it for the first time. I gobbled down all the episodes at hand and still had the nerve to bang on the table, yelling for more. I feel no shame. To say season 2 is lightning in a bottle would be to deny its power and its precision. This creative team—from the actors and their brilliance, to the writers, to the directors, to the production designers, and everyone else who makes this caliber of TV happen—this team is wildfire.
Season 2 finds more flaws in the characters and helps them to explore who they are. Ted (Jason Sudeikis)* has hidden pain and Sudeikis reveals it to us with a deftness that is mercurial and tender. Nate (Nick Mohammed), wow. You'll be asking: What's gone wrong with Nate and when is someone going to sit him down for a 'come to Pelé' moment'? You know, because Pelé is the god of futbol. Roy (Brett Goldstein) is ever delightful in his gruff squishiness. Sam (Toheeb Jimoh) comes to the forefront and inspires smiles as well as little tugs of pride. And Jamie, oh my lad (Phil Dunster). Of course Keeley (Juno Temple), Coach Beard (Brendan Hunt),* Rebecca (Hannah Waddingham), and Higgins (Jeremy Swift) are everything you want them to be—except more of it—because they always were. There is also a new addition to the cast in Doc Sharon (Sarah Niles), a therapist I can't wait for the show to psychoanalyze—just kidding. We want messy but filled with goodness, right?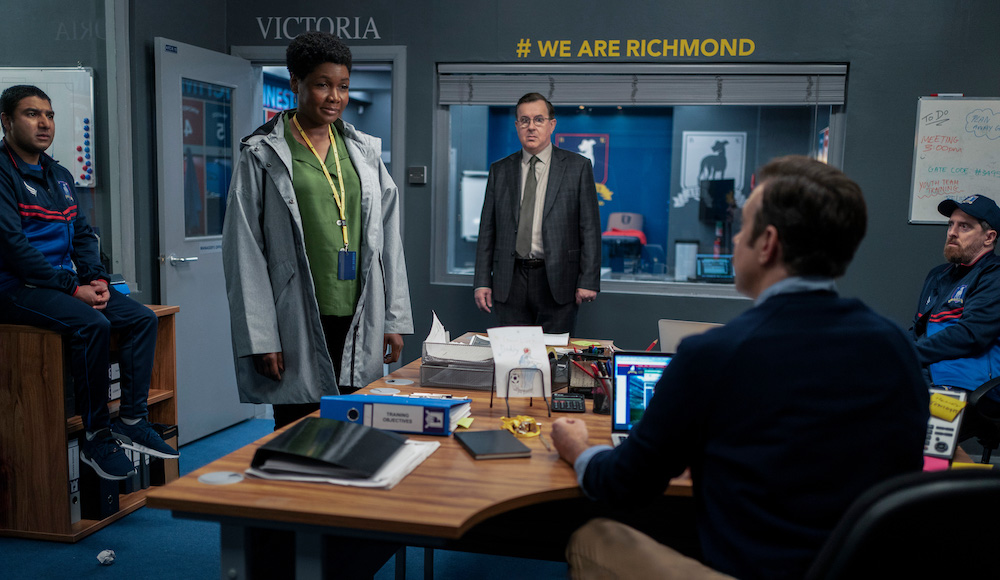 Photo courtesy of Apple Studios
Boss Ass Bitch
That subheader will make sense when you get to episode 3 and although I refuse to spoil anything, I will give you a couple of things to anticipate. New to the show, writer/producer Ashley Nicole Black takes on writing duties "Do The Right-est Thing". In the third episode of the season, Black gives us the lone wolf and cub trope on several levels, while interrogating the dirt of big business. I giggled, I nodded, I felt it. Yes, Ashley.
Rom-communism
Ted Lasso believes "in communism…rom-communism." It may sound odd but it wouldn't be strange to call episode 5 a manifesto of romance, one dedicated to these characters but also to the joys of rom-com. This episode is so clever you might miss the character development. What you won't miss are the unforgettable quotes and homages. Look out for them. "Rainbow" is written by Bill Wrubel and I can only say: Got damn, Bill, you did that. 
As Ted says (while quoting Ludwig Boltzmann), "If you are out to describe the truth leave elegance to the tailor," these creatives let the costume designer handle the elegance and therefore they tell nothing but the truth.
In the End: Actually, I have one more thing to say. GOT DAMN they all did that. Ted Lasso S2 is the apotheosis of good television. 
Ted Lasso returns to Apple TV+ on Friday.
—
* one of the show's four creators: Jason Sudeikis,  Brendan Hunt, Joe Kelly, and Bill Lawrence