Basically: The Devil of Hell's Kitchen emerges from the darkness…into more darkness…and it is glorious.
Daredevil S3 starts off where we left Matt Murdock (Charlie Cox) after the end of The Defenders, trapped between a falling building and the bones of a dragon. Yeah. That's real. And when we first see Matt he looks like he went a few rounds with a building and a dragon. They won. Worse, Elektra (Elodie Yung), whom he and we all love, might truly be dead (this time).
Friends, Daredevil S3 delivers on the full promise of the Marvel Netflix Universe. The first six episodes are what binge watching is all about. Matt wakes up in the catholic orphanage he was raised in—because sometimes you have to go home to heal. This time the parental roles are filled by his priest (Peter McRobbie as Father Lantom) and Sister Maggie (Joanne Whalley). The good sister won't let Matt get away with anything; that includes giving up. These two characters revolve around each other as they argue over faith, god, and personal philosophies. Their connection is so strong you begin to wonder if it goes beyond the sister's christian charity.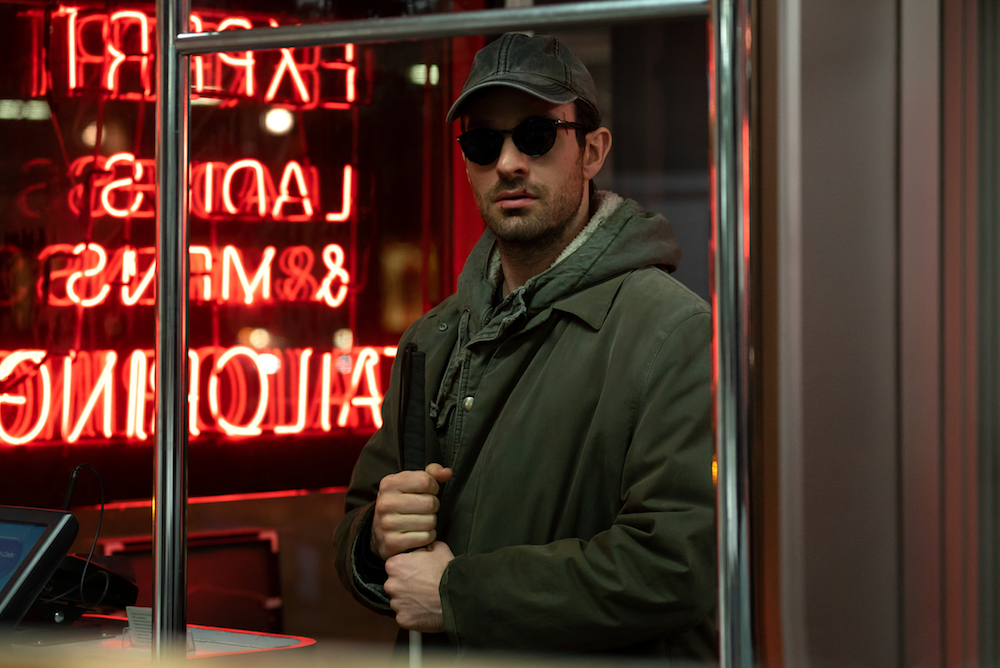 Photo: Nicole Rivelli/Netflix
Meanwhile, we meet FBI agent Rahul 'Ray' Nadeem (Jay Ali) who is a good man caught in a bad situation. When you add ambition born of necessity, well, we all know how it's likely to end. Especially when Agent Nadeem is sent to question [cue: ominous theme music] The Kingpin. The applause you're hearing is for Vincent D'Onofrio's unstoppable, bone chillingly good bad-guy. Kingpin is a blanket of calm wrapped around pure menace. Much like the black and white of his favorite suit, he moves every character on the chessboard as though he has the power of both queens.
Of course, since this is chess, the Kingpin needs a knight. He may have found the man he's looking for in FBI agent Benjamin "Dex" Poindexter (Wilson Bethel). Those of us who recognize that name are already grinning. For those of us who don't, he's a key player among Daredevil's villains. This guy is a sure shot and a master of trajectory. It's BULLSEYE. Yes, there are shades of Born Again here—the famous Marvel comics arc written by Frank Miller, illustrated by David Mazzucchelli—but that storyline is only one inspiration. Which means comic book fans are in for some surprises. And I don't need to go into Bullseye's borderline personality disorder because Bethel's performance, combined with the writing, explores the character to his fullest depths.
Brace yourselves, y'all. This is a dark psychological ride that comes with humor and an array of stunning fight scenes to keep you buckled in. Oh my gosh, the fight scenes are phenomenal. So is Charlie Cox. So are the entire cast. As they lead us through Daredevil's dark night of the soul, we're left with no idea where any of them will end up—above or below the ground, figuratively or literally.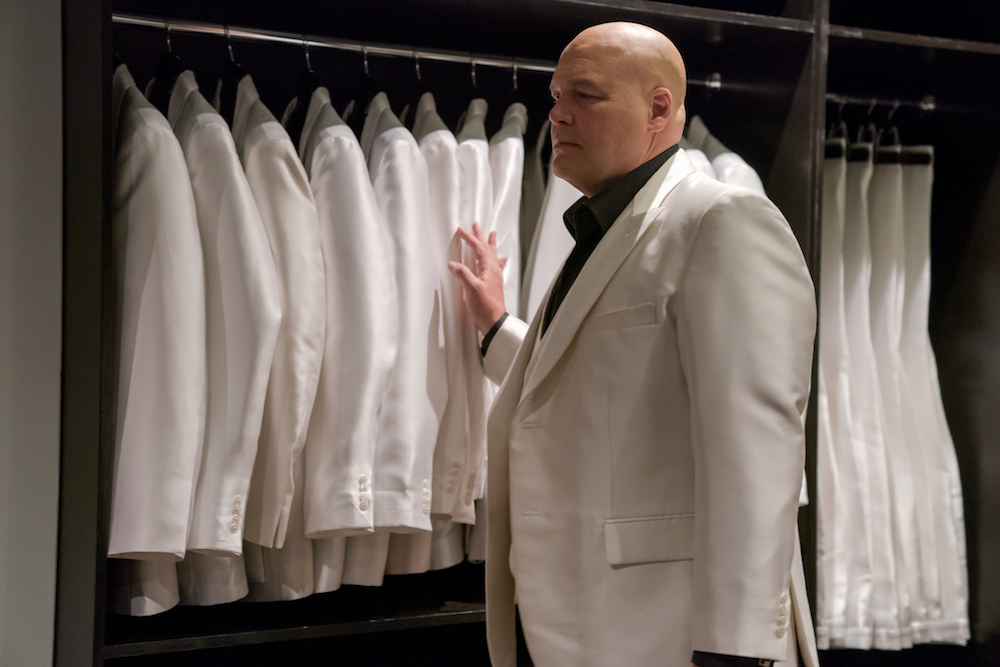 Photo: David Lee/Netflix
But wait. There's more. Series favorites, Karen (Deborah Ann Woll) and Foggy (Elden Henson) are slowly pulled into the mix. And, of course, Karen becomes the catalyst to start the whole thing boiling over.
When episode six ended there was screaming in our office. Screaming. Wait for it, you'll see why. I really don't want to tell you anything more. The stage is set and if we thought our beloved orphan, Matt Murdock, lived a hard-knock life before…well, in S3 he's gonna need a whole lot of bathtub gin to soak in.
Oh, one last thing. No matter how angry you are, never threaten Kingpin. Nothing goes well after that.
In the End: Watching the Devil of Hell's Kitchen emerge from the darkness is pure adrenaline—the first half of Daredevil Season 3 enthralls.
—
Marvel's Daredevil season 3 hits Netflix on Friday, October 19th.