Actually: 7.5
If, like us, you're of the opinion that you can never have too much Paul Rudd, then Living with Yourself is for you. It stars Paul Rudd…and…Paul Rudd. Yup. His character Miles is worn out by the pressures of everyday life and needs some time to relax so, on the recommendation of a friend, he goes to a spa. But this isn't just any spa. They promise to turn you into "a whole new you"…but how they make that happen is where things go off the deep end.
After his spa treatment Miles wakes up buried alive, wrapped in plastic sheeting. If that wasn't creepy enough, when he stumbles his way home he finds…a different him is already there, laying in bed with his wife. Um, what? Yeah, when this spa says you'll wake up feeling like a "new you" they took that literally. Miles reacts pretty much how you'd expect someone to react to finding a clone of yourself…until he starts to realize the benefits. (Who else needs a clone, if only to get the laundry done?) And just like Miles, you'll be completely drawn in. You'll want to figure out what the hell happened to him and also wonder what life would be like if you were given a second chance.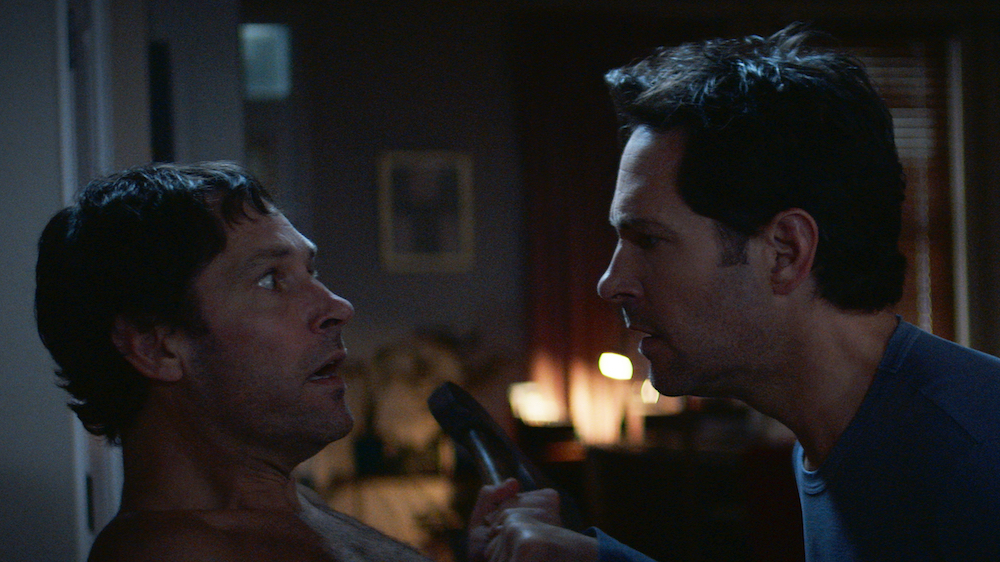 Photo: Eric Liebowitz/Netflix
Living with Yourself is truly bizarre but deeply funny in its quiet moments of realization. At times you'll be creeped out but you won't be able to stop watching. Rudd is brilliant at playing off of…himself, using small facial expressions and subtleties in behavior to distinguish the two versions of Miles and show the difficulties of having a better version of yourself suddenly appear. His wife Kate (Aisling Bea) provides great chemistry and balance in the show, highlighting the story's madness and how much you can dismiss when you don't want to really see it. We get to see things from her perspective too which adds another layer of depth to their strained and messy relationship—and, as it turns out, the cloning issue is only part of the problem.