"We're just doing our job." That's the mantra of the ICE agents appearing on Netflix's new documentary Immigration Nation. The series follows several immigration enforcement officers as they arrest and deport undocumented people in what first appears to be an attempt to humanize the agency. If, upon first glance, you're thinking this documentary is on the wrong side of history it initially seems you'd be right. No matter how "good" and "not racist" these officers claim to be, they are still upholding a broken system that fosters prejudice, oppression, and discrimination. But then the documentary shows these same officers (who dismiss assumptions that they're prejudiced) humiliate and laugh at the people they tear away from their homes. In this searing portrait, Immigration Nation looks at the ways ICE agents are trained to dehumanize immigrants and taught to use excessive force whenever they "think" it's necessary.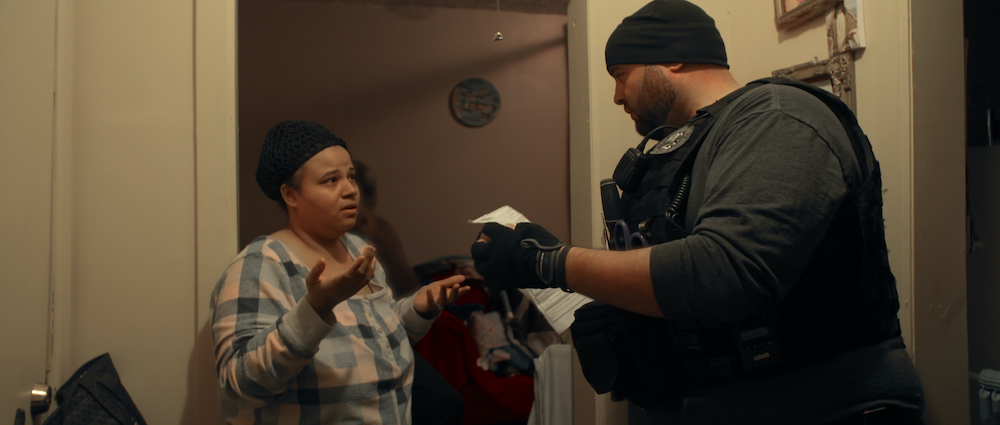 Photo courtesy of Netflix © 2020
This documentary will make you wonder why a government-run department would allow such intimate access to detention centres but, according to The New York Times, it appears the administration's initial motivation to agree was to show ICE officers in a more favorable light. Yet the very agents who claim to only target undocumented criminals are also encouraged to apprehend "collaterals" AKA any undocumented people they come across—regardless of warrants. Immigration Nation is deeply unflinching and difficult to get through, especially when the documentary interviews some of the detainees who are being put through the terror of ICE.
This system is designed to paint anyone without papers as criminals and "less than human". Immigration Nation will not let that happen. You cannot hear the stories of these mothers, fathers, daughters, and sons without feeling a sense of anger and hopelessness. It'll remind you that the United States is built on immigration and the majority of its citizens have absolutely no greater right to this stolen land in the first place. The government definitely does not have any justification to abuse people who are merely trying to make a better life for themselves—just like many of their own ancestors once did.