Basically: Grace and Frankie power their way through love, business, and family blunders with "synergy" 'cause sometimes you just have to say "Fuck It" and trust your gut.
Our beloved modern family are back and this season Grace and Frankie are saying, "fuck it"—physically, emotionally, and mentally—in all the best ways. Seriously, it will never stop being delightful hearing Jane Fonda drop the F bomb (somebody make that supercut already). So why does everyone in season 5 keep saying "fuck it?" Because life is too gotdamn short to not mess up and put yourself out there because that's how you stay thriving.
Season 4 left off with Grace (Fonda) and Frankie (Lily Tomlin) escaping their retirement home, Grand Theft Golfcart-style, and heading for the beach. Only to find their house has been sold by their kids, by a so-done-with-you realtor AKA RuPaul. Yup. Once again the betrayal is strong but we all know that's where our ladies come out swinging.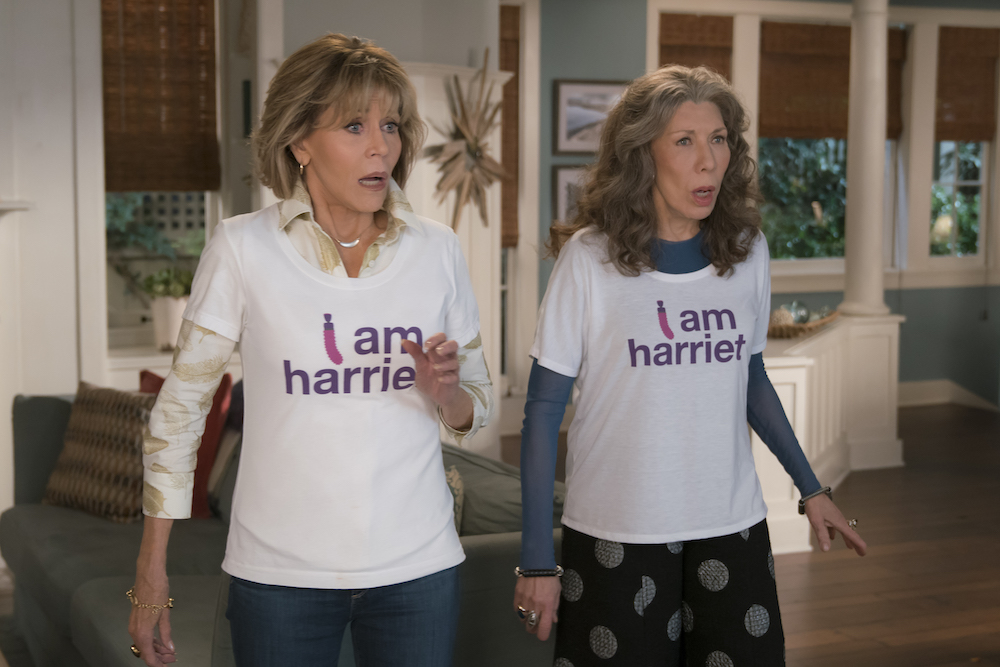 Photo: Melissa Moseley / Netflix
Unfortunately the cracks are beginning to show and throughout the course of the season, Grace becomes increasingly burnt out from single-handedly (or so she likes to proclaim) running her and Frankie's business Vybrant, along with helping out her old company Her Grace, once again. She's also sooooo totally over the ever charming, devious-for-all-the-right-reasons Nick (Peter Gallagher). Frankie, meanwhile, is feeling lost in the comfort of her life. We wish we had as much fight in us as Frankie—that woman could take on Congress, the Senate, and the FBI and still have energy to make some pottery. Yup, season 5 is setting us up for a fall (or two, or three).
It may sound cliché but watching Grace and Frankie is an emotional rollercoaster—you laugh, tear up, and feel conflicted about your own familial relationships. The show poignantly highlights the real worries about getting older: the loss of authority, feeling invisible, your kids suddenly acting more like carers, declining health. But most importantly, there's the refusal to accept that sometimes, we all need a little help from our friends…even if those friends appear to us in a toilet-gin-induced hallucination.
There are some beautiful bonding moments between Grace and Frankie. When you see Grace try Del Taco for the very first time, you relive the moment you first tasted heaven but also feel an intense joy in watching her let loose for once. Robert (Martin Sheen) and Sol (Sam Waterston) have some wonderful moments too, where they each reclaim their senses of self while also coming through to support each other in some adorable scenes.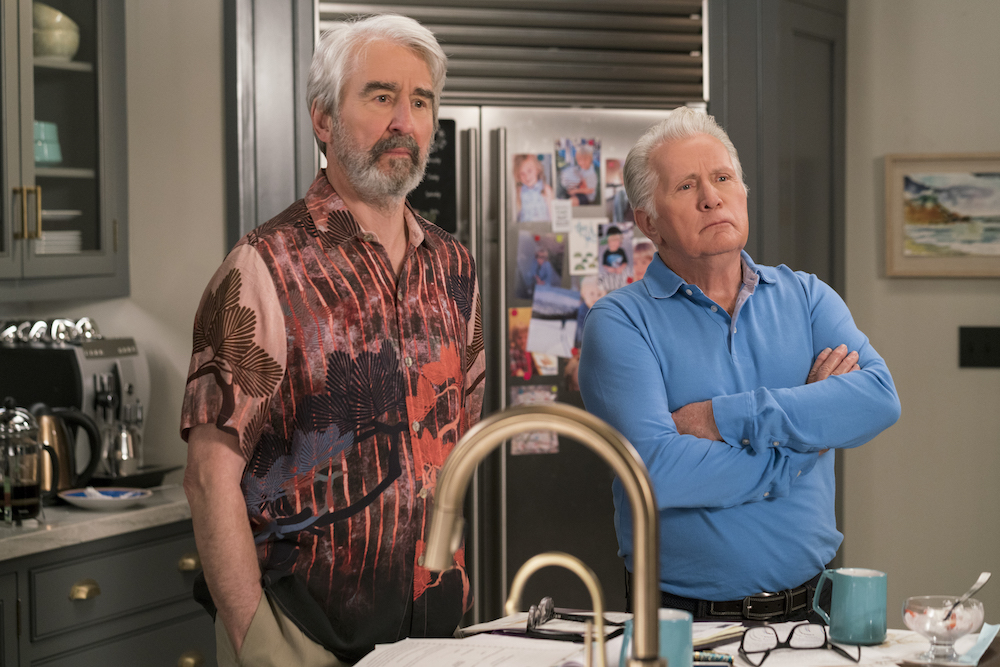 Photo: Melissa Moseley / Netflix
In fact, all the characters experience a supreme amount of growth you'll enjoy watching unfold—in particular Brianna (June Diane Raphael) who, while still delightfully evil, becomes the one who keeps everyone's shit together…in her own, "y'know whatever I don't care" way. We won't say how or which of these other characters bond but when they do, it's unexpected, heartfelt, and downright hilarious.
Life is about compromise—standing your ground but knowing when to pick your battles—and Grace and Frankie is about the constant battle with age. It's not just the superficial anti-wrinkle stuff you typically see in the media, it's about knowing your wisdom and experience has value while also accepting that your family's worries are valid because they care. It's about remaining a parent while accepting your kids are adults who can support you too. It's a constantly shifting balance made up of small daily battles and this is where Grace and Frankie finds its humor. Because sometimes you can't change the world and its obsession with time but you can change the length of a traffic light crossing.
In the End: One of Netflix's most charming shows proves season 5 is just a number.