idobi Votes: 7/10 – Sherin Nicole | 8/10 – Alex Bear
Dash (Austin Abrams) is your typical brooding YA heartthrob—he's a little (or a lot) pretentious, a little bit heartbroken, and a complete cynic who hates Christmas. Until he finds a red notebook buried in the shelves of NYC's iconic bookstore The Strand. Written in it are a series of dares, leading him to a mysterious girl AKA Lily (Midori Francis), a total sweetheart with a great sense of humor and an even greater sense of whimsy when it comes to love and the holidays. With an assist from some pretty awesome friends (Boomer, we heart you) and a certain pop-rock trio, Dash & Lily exchange a series of dares and written messages via the notebook, slowly pulling each other into their worlds for a sweet and funny tale of romance and friendship.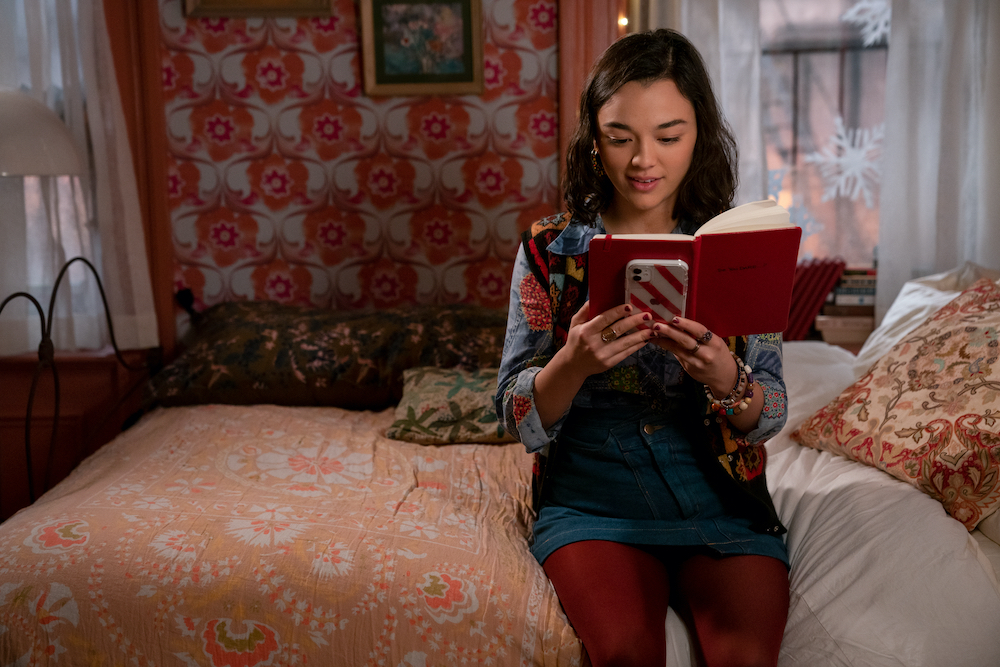 Based on the YA novel series Dash & Lily's Book of Dares by David Levithan and Rachel Cohn, the story holds plenty of big love and bigger changes for the title characters; and the Netflix adaptation stays largely true to its original themes. Both Dash and Lily seem to be straight out of the pages of a YA novel, even when it translates to being a little ridiculous onscreen (but in a lovable way). After all nothing heightens emotions like the life and times of a teenager during the holidays.
Lily's family is also one of the highlights of the show—her brother Langston (Troy Iwata) and his boyfriend Benny (Diego Guevara) are charming and hilarious as they push Lily to be more spontaneous & less cloistered in her life and in her possibilities for love (of course, they could do with taking their own stellar advice from time to time). And Lily's grandpa (James Saito) contrasts so well with her soulmate Aunty Lillian (Jodi Long)—a combination of the finest grand dames of literature, like Mrs. Basil E. Frankweiler and Auntie Mame. The grandpa vs great aunt influences make a fantastic pair of parental figures, who love their family so much (just with very different approaches). 
The major thing we look for in our rom-coms is believable conflict and growth. There's something about the upheaval, at the precipice of adulthood, that works so well for young adult stories. Even when they're being bratty, the characters are discovering so much about themselves, but also about the complexities of parents who suddenly become less "the powers that be" and more humans on their own journeys. Dash & Lily comes alive with characters who stand on their own with stories to tell and hurdles to either leap or completely trip over—those real life whirlwinds are what make this show an easy watch full of smiles. It's cozy as hot chocolate with marshmallows and just a pinch of chili powder. 
Dash & Lily gives you all the feels a classic YA rom-com should—and it'll get you completely ready for the festive season. New York at Christmas time is always dreamy and it takes centre-stage here, adding to the wonder of the story, to make Dash & Lily a surefire Christmas cracker.