[P]Review: The First Six Episodes
—
Basically: A Haven for supernaturals turns into a hellmouth when a serial killer, and pompadoured-psychopomp come to town.
The first and biggest obstacle for Midnight, Texas is getting past comparisons to True Blood. Those comparisons are fair. Both shows are based on urban fantasy book series, from the same mythical universe, written by Charlaine Harris. But the match-up is unfair in that NBC has made decisive moves to set their show apart from the wacky hedonism of the preceding HBO hit. Midnight, Texas is less campy, a little more…rustic and tackles a much bigger big bad in its first season.
The show centers around Manfred (François Arnaud), a psychic who charms the wealthy with his sometimes on, sometimes off, ability to communicate with the dead. Like most of the folks in Midnight, he's a supernatural being on the run from his past. We've got the charmingly flighty witch, Fiji (Parisa Fitz-Henley), and the man of her super-soldier dreams, Bobo (Dylan Bruce). Filling out the notables are the energy-sucking vampire (Peter Mensah), the atomic blonde assassin (Arielle Kebbel), and the fallen angel (Jason Lewis). It's quite a motley crew but when you need to fight white supremacist bikers, hot chick ghouls, or…ya' know…hell, itself, The Midnighters are definitely the ones you want on your side.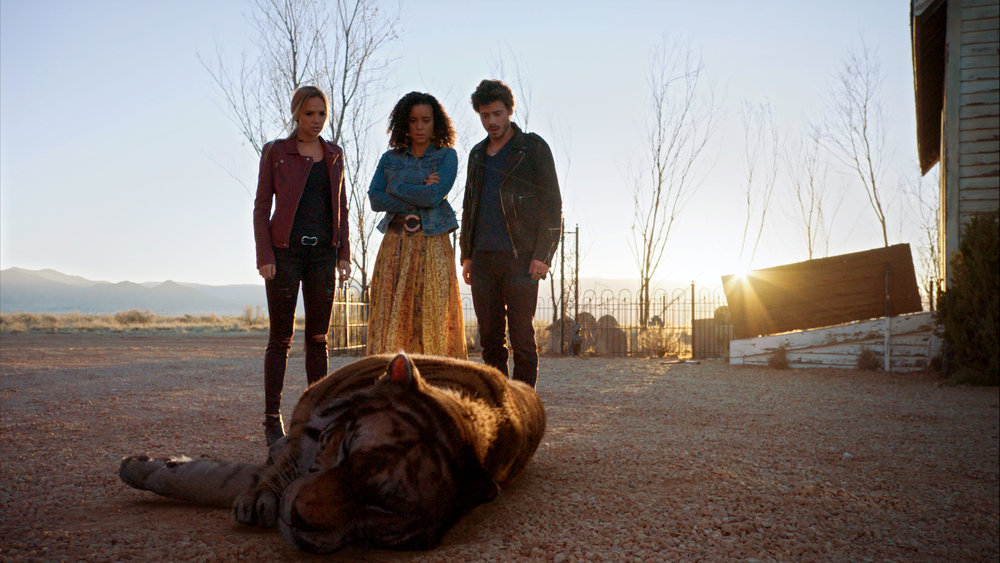 Hell and good looks might be the setbacks here. (Isn't that always the case?) The cast is likable enough and the storylines are interesting, but the actors are too pretty to pull off the under-the-radar mundania the show needs. To underscore that point, the characters don't gel as a group, they're missing a rural sense of family that would pull them together. The show also tries too hard from time to time—working to be overtly scary rather than allowing the scares to rise naturally from the premise. With the number of mythical creatures the show unveils and the isolation of the town, organic frights would've hit harder. We're also faced with a fight against hell before we've hit the halfway mark of season one. That's too big of an obstacle for the beginnings of a show about a small town—even a paranormal one—of people we haven't gotten to know yet. Because of these two factors, we don't lean into the world. If the show can attain more Mayberry RFD meets Supernatural rather than not-quite-True Blood meets not-quite-Buffy, then Midnight, Texas will hit its stride.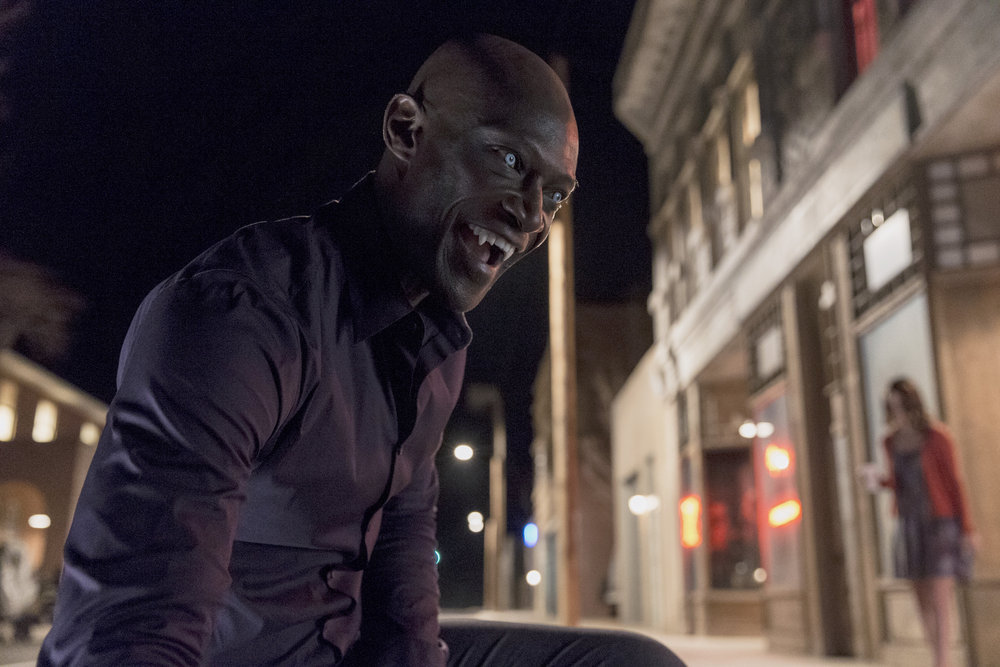 But wait, there's more! I'm not saying the show is bad. It's not; if you're a lover of the urban fantasy genre or paranormal shows, Midnight, Texas is an enjoyable timepass. You'll be interested in finding out where these characters end up and if they'll survive… The answer, depending on the whims of the town serial killer (or…ya' know…hell, itself), could be: In a ditch and not at all.
In the end: Midnight, Texas is a paranormal show with a lot of pretty people and no pretenses, making it a pretty good way to pass the time—if the blood and ghouls don't get to you first.
---
BAD MOON RISING (TV-14)
Season 1, episode 2 – Mon Jul 31 –  10:00 PM
A DEADLY PREDATOR BREAKS LOOSE ON THE NIGHT OF THE FULL MOON — Manfred (François Arnaud) tries to help one of his new neighbors, Bobo (Dylan Bruce), clear his name by talking to the murdered victim with the help of Joe (Jason Lewis). As Manfred helps his neighbors and grows closer to Creek (Sarah Ramos), they help him – specifically, Fiji (Parisa Fitz-Henley), the resident witch who performs an exorcism to rid Manfred's home of the spirits, demonic and otherwise that haunt it. Meanwhile, the Rev (Yul Vazquez) tries to stay out of trouble while Lem (Peter Mensah) and Olivia (Arielle Kebbel) set out to stop a deadly predator before it kills again.
LEMUEL, UNCHAINED (TV-14)
Season 1, episode 3 – Mon Aug 07 –  10:00 PM
LEM'S PAST COMES BACK WITH A VENGEANCE WHEN A DEADLY NEST OF VAMPIRES DESCEND ON MIDNIGHT — A deadly nest of vampires arrives in Midnight and it turns out they're old friends of Lem's (Peter Mensah) eager to reunite. Manfred (François Arnaud) suspects there's more to their arrival and joins forces with Olivia (Arielle Kebbel) to uncover the real story while Creek (Sarah Ramos) prepares for the worst. Elsewhere, Fiji (Parisa Fitz-Henley) and Bobo (Dylan Bruce) hatch a plan of their own in case the vampires are up to no good. Meanwhile, Joe (Jason Lewis) confides his suspicions about the veil to hell opening in Midnight to the Rev (Yul Vázquez).