Actually: 7.5
Basically: Kimmy Schmidt is back and you get to choose WTF (what the fudge) happens. 
Unbreakable Kimmy Schmidt is one of Netflix's wackiest shows and it's about to get a little wackier. The series is dropping a choose-your-own-adventure style interactive special that takes you on one last Unbreakable escapade before Kimmy's (Ellie Kemper) wedding! Who is she marrying, you ask? Only the twelfth man in line to the British throne…Daniel Radcliffe. Yup, Dan Rad continues to choose the weirdest roles and we love him for it. He fits right into this show as the posh British prince Frederick who gets constantly befuddled and harrumphs a lot. In other words: He's just as baffling as Kimmy.
But before Kimmy can walk down the aisle (in the most Kimmy dress you could possibly choose for her), she discovers a mysterious choose-your-own-escapade book hidden in her backpack from back in her bunker days. She doesn't know who it belongs to so she sets out on a journey to find out. How that journey goes is entirely up to you…well sort of…the special reserves the right to…REWIND! You can choose what happens in each scene (and we'd highly encourage you to try every available option). Each choice is: "Uhhh you know uhhhh fascinating transition (dammit!)." Luckily the cast are used to having curve balls thrown at them and they handle each scenario with giggle-worthy style.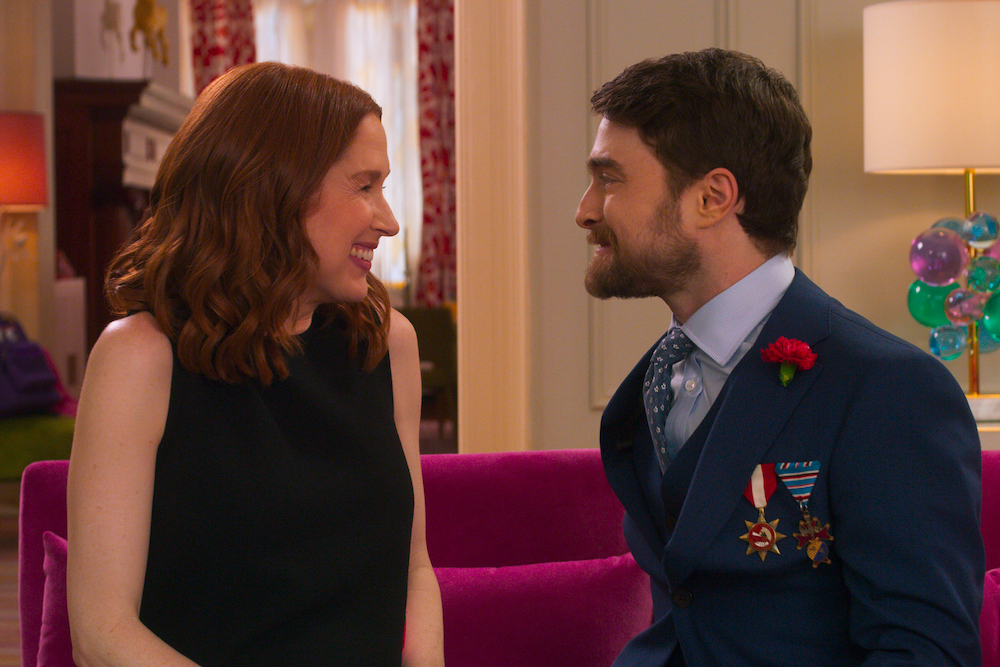 Photo courtesy of Netflix
What about the rest of your fave gang? Titus (Tituss Burgess) is a huge movie star getting ready to play the role of a tough-n'-buff Navy Seal (if he can be bothered to go work out at the g…the gy…ugh, we can't get the word out). Jacqueline (Jane Krakowski) is Titus' high-flying agent which allows her to be both fierce and fabulous. She has a ball improvising in all the devilish ways only she knows how—especially when Titus doesn't show up to his first day of shooting. And Lilian (Carol Kane) is always ready to drop some pearls of not-quite-wisdom to help Frederick when he's in need of a bachelor(ette) party. You'll also run into some other faves from throughout the show's run (but we're not saying who).
As with every Unbreakable storyline, all roads lead back to the Reverend. Which means Jon Hamm returns and he's as delightfully wicked as ever. BUT there's a chance to enact some justice (and your choices might scare you). All the fun is so over-the-top you'll want to make all the bad decisions…at first. But you have about as much control over this wild ride as Titus has over his food cravings.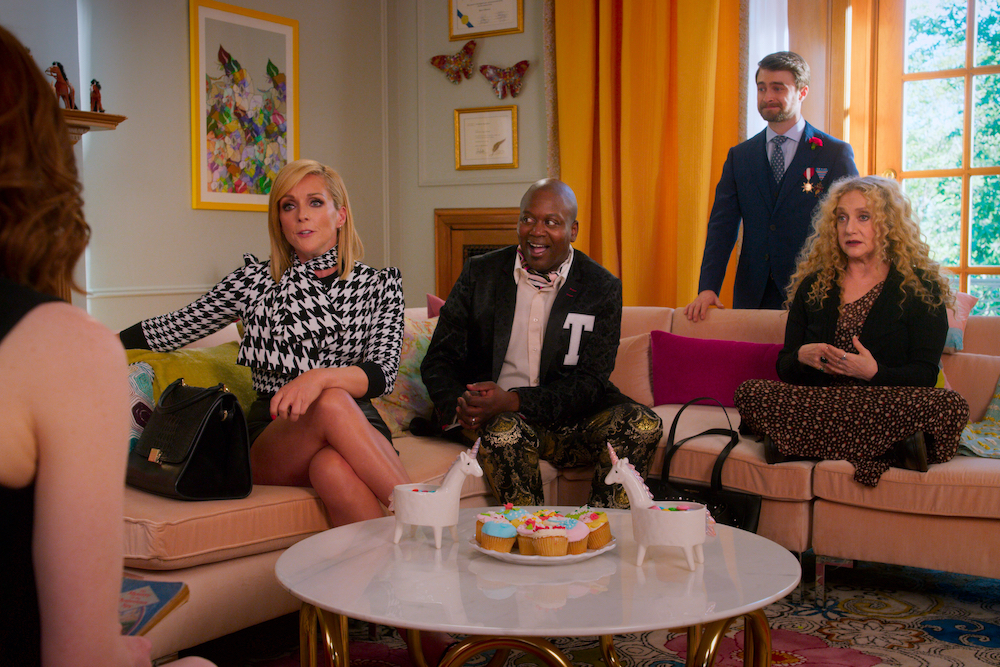 Photo courtesy of Netflix
If, like us, you were initially scared that Kimmy vs. The Reverend was going to lose the plot entirely, you don't need to worry: Unbreakable's world has just the right amount of crazy to pull off an interactive adventure special (suck it, Black Mirror). Yes, the storyline is insane but the jokes still zing like they used to. Ultimately the adventure will guide you into making these kinda-awful characters be better (whether you/they like it or not). Because, underneath all the ridiculousness, that's what Unbreakable Kimmy Schmidt is all about: learning to cope with trauma, moving on, and becoming a better person. 
In the End: Kimmy vs. The Reverend is a wild yet oddly comforting return to Unbreakable's world. Is it over the top? Fudge yes—but it might be just the escape you need right now.