Basically: George Clooney and Julia Roberts play a divorced couple who have to get along to try and stop their daughter from getting married.
Well, what do we have here, huh? Do you remember how Adam Sandler was getting all that flack for making throw-away movies that were just paid vacations with his friends? Well, the one thing about those films is you can tell all the people involved had a good time. It's the same with Ticket to Paradise—while it's not really that great, you can see that everyone in it had a bomb time and enjoyed being around each other. This allows it to be just an okay movie but still watchable for me.
Ticket to Paradise stars George Clooney as David Cotton and Julia Roberts as Georgia Cotton, a divorced couple who do not get along at all. They basically hate each other, except they both love their daughter Lily (Kaitlyn Dever) who is graduating from college. So the two suck it up to watch her walk across the stage and send her off on her celebratory graduation trip with her best friend, Wren (Billie Lourd). On this trip to Bali, Lily meets Gede (Maxime Bouttier) and, of course, girl meets boy, boy meets girl and they fall in love. The next thing Georgia and David know, they are invited to Lily's wedding in Bali. Now the parents, who don't usually agree on anything, plan a way to break their daughter and her fiancé up so they can protect Lily from making the same mistakes they made in the past.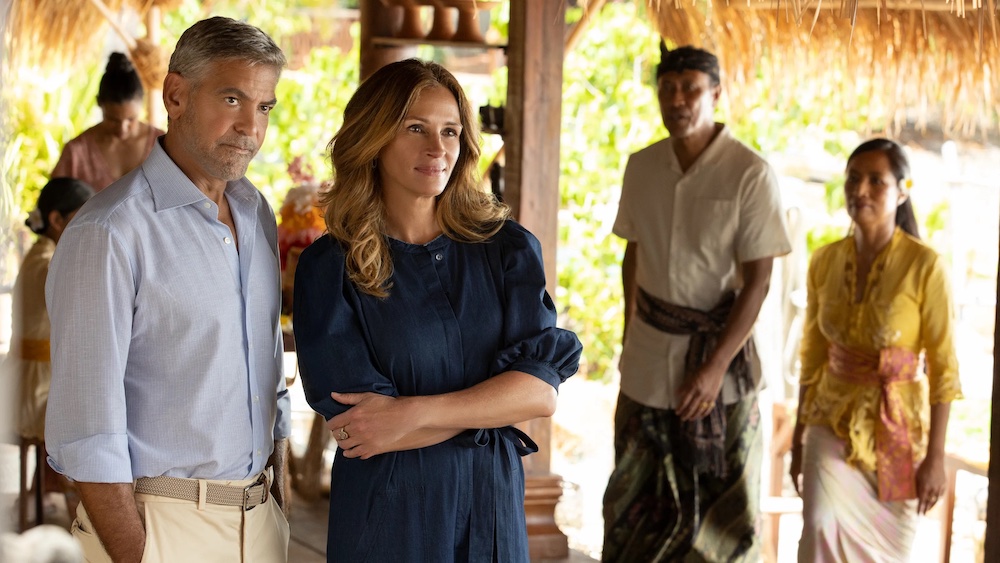 The plot is super simple and can feel tedious at times. But there is some cute bickering between the two stars. Clooney is now wholly in the Paul Newman phase of his career—he's older yet still amazingly charismatic. Roberts still has all the charm she's always had. Not really much about the performances were outstanding but I must say Agung Pindha, who plays Gede's father, is a bit of a scene stealer.
How can I think the movie is so mediocre yet still be optimistic about it? Mainly because it just feels good. I liked seeing Julia Roberts and George Clooney on screen together. The movie star, as we've known it, is an endangered species, so you must take it all in before it's gone. The biggest issue with Ticket to Paradise is that it should be streaming and not in theaters but, as we've seen earlier this year with Top Gun: Maverick, if a movie can make money off the star factor, then it will. 
In the End: Ticket to Paradise is not a great watch and you don't need to go to the theater for it but it's still a decent comfort food of a movie.