Basically: Ben Affleck stars in a role that seems a bit too close to his
real life.
Comeback movies are pretty interesting. I feel Ben Affleck got too much flack for his run as Bruce Wayne/Batman and it looked like his life kind of fell apart. I don't know what drove Affleck back into acting—and into a role that so closely mirrors parts of his personal troubles—but here we are. The Way Back is about a man named Jack Cunningham (Affleck) who has lost himself to alcoholism. He lives a very mundane life of construction work followed by going to his local bar to get drunk beyond belief each day. 
Things start to change when his old Catholic high school offers him a job as the varsity basketball coach. We learn Jack was a star player back in school and won the championship. Jack wavers until he decides to go visit the team. From there he takes over and begins to try and rebuild his life as he gets more invested in the players.
Photo © Warner Bros.
Affleck carries the film on his back and he does it well with a good performance. His emotions are subdued but they feel very real. Each interaction feels authentic and nothing is ever over wrung or hammed up. Director Gavin O' Conner, who Affleck worked with on The Accountant a few years ago, chooses to focus on the characters' faces by holding the camera on them with subtle movements and cuts. This way you see more of their eyes and slight facial changes. The lighting is quite warm and is a tad oversaturated, which allows you to feel more in the scenes.
The supporting cast do well to flesh out Cunningham's world. Michaela Watkins plays Jack's sister Beth who is able to do a lot with her limited screen time. Janina Gavankar portrays Jack's ex-wife Angela, her character and story arc are quite different from what you would expect. She plays a very patient and hurt woman and, much like many of the other characters, she's very subtle. The younger actors who play the teen basketball team members are allowed to be a bit more over the top. They bring a lot of fun and humor to the film.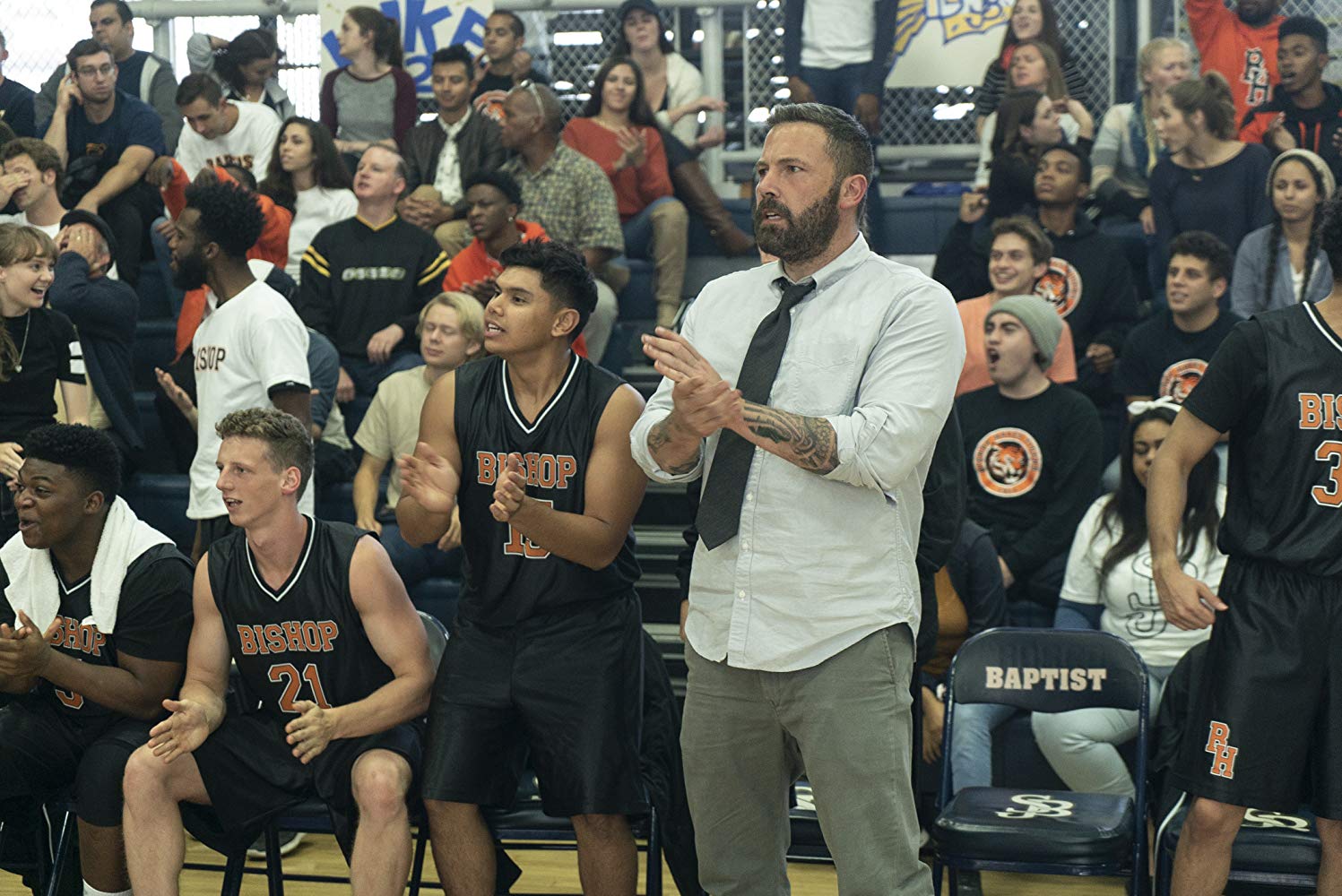 Photo © Warner Bros.
The basketball scenes are filmed quite well, using smart edits and framing shots in a way that keeps it interesting. The film shows the movement of each game and pulls you into it, especially if you're into basketball. The balance between the shots of the games and Jack on the sideline coaching never slows the momentum. It feels like The Way Back took cues from older films of the same genre as well as televised basketball games. I also really like the way the film shows the team's progression during the season with a freeze frame and the score. It's done well to show triumph, improvement, and the comedic effect of loss. The Way Back is a quality film with enough serious parts, character progression, and the right amount of comedy to make for a sure-fire enjoyable watch.
In the End: The Way Back is a very well done drama and a great high school sports movie. It's a great comeback for Ben Affleck to the screen.