Actually: 6.5
Basically:
'Twas the Knight before Christmas,
He traveled through time,
On a quest true to heart…
(man, it's hard to rhyme).
Sir Cole* (Josh Whitehouse) is on a noble quest to become a true knight in 14th century England. He is guided by a silver-haired Crone (Ella Kenion) who tells him, in order to achieve this honor, he must follow his heart. And poof! Through some time-travel witchcraft, she sends him into present day Ohio to do just that. Um, yeah, The Knight Before Christmas requires major suspense of belief but who isn't okay with a little magic in the holiday season?
When Sir Cole arrives in 2019 he meets a fair maiden ahem, a science teacher named Brooke (Vanessa Hudgens) who's recently had her heart broken and no longer believes in true love. Lucky for her a literal knight in shining armor is here to prove that fairytales do exist, in the most on-the-nose way possible.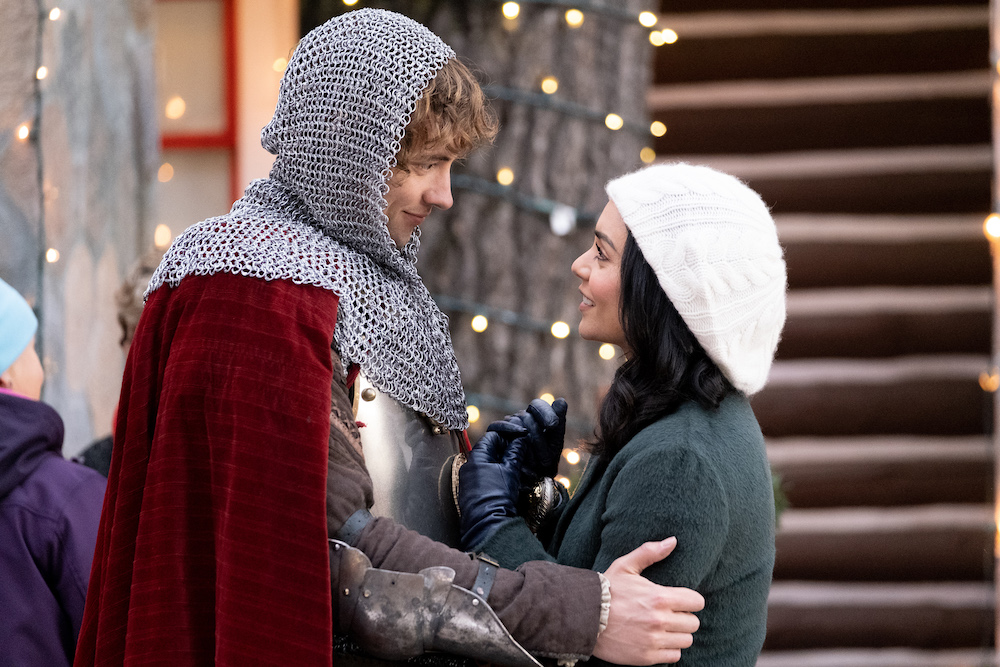 Photo credit: Brooke Palmer
Sorry, cynicism took over for a second. The Knight Before Christmas is as cheesy as you'd expect from the title but it's still cute in its portrayal of the fish-out-of-water trope. Brooke takes Sir Cole in, believing he's a regular 21st century guy who's experiencing some strange side effects of temporary amnesia. But it's not amnesia. He really is a chivalrous, "m'lady"-quoting, sword-bearing noble knight who is trying to find his way back home to the 1300s…until he begins to realize that what he's been searching for all along may be right in front of him.
Of course, this medieval-meets-modern world clash is an excuse for some pretty obvious (but still funny) jokes…even if it means the characters completely lack common sense. A particularly giggle-worthy scene is when Cole tries to use an Amazon Alexa to help him with his quest (anyone buying one for your grandparents for Christmas will probably experience a similar reaction). Whitehouse portrays the confused AF knight with an honest charm that you'll find endearing, while Hudgens plays her signature good-girl role well. They do the best they can with this corny story to make it an enjoyable time pass.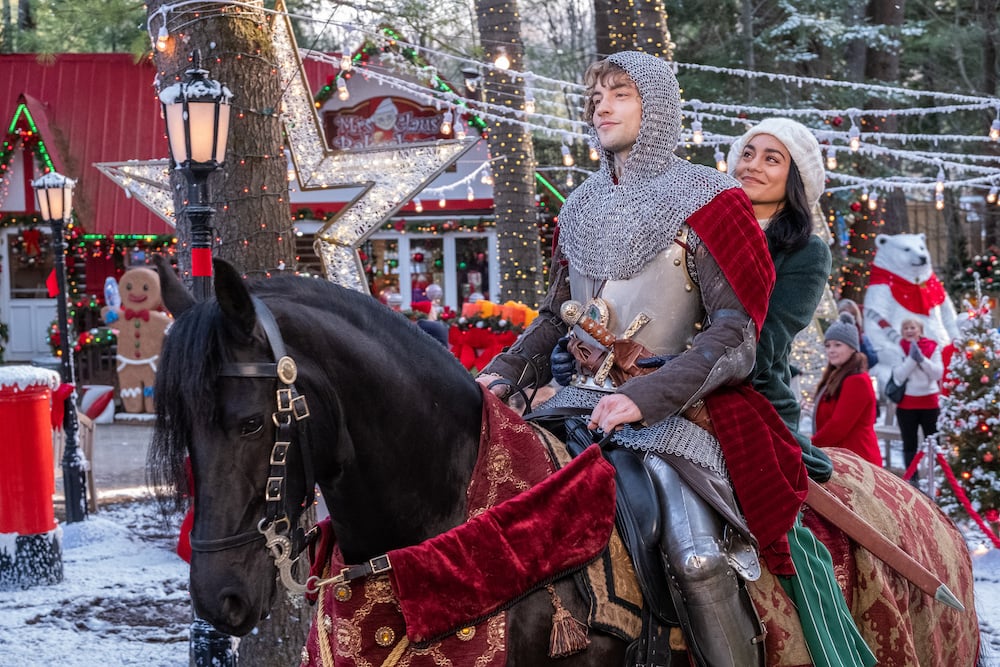 Photo credit: Brooke Palmer
This was definitely made to be watched when you're full of hot chocolate and want a feel-good fuzz-fest you don't have to think too hard about (no, really, don't think too hard about it—especially the historical accuracy). Sometimes that's all you need and to that we say, cheers!
In the End:
The Knight Before Christmas might be classic Hallmark,
But if you're here for some light fun, enjoy this film's spark,
Go watch it on Netflix—here's the last thing we'll write:
HAPPY CHRISTMAS TO ALL, AND TO ALL A GOOD-KNIGHT!
Stream The Knight Before Christmas on Netflix.
—
* Say his name out loud: Sir Cole…sircole…circle. Yup, they did that. Does this mean he's trying to be a knight of the round table?