by Kat Bittner
Basically: A powerful story of political self-awakening.
Starr Carter (Amandla Stenberg) is your average teenage girl…except her two worlds have not met. At home, she has a tight knit family and lives in a neighborhood where everyone knows each other. In school, she has friends and a boyfriend. She uncomfortably navigates between them never fully able to express herself in either environment until the day her childhood friend Khalil (Algee Smith) is killed by the police and she is the sole witness. Can Starr fully reconcile both versions of herself and find her voice to bring her friend justice? Most journeys of self-discovery for teenage girls are usually limited to romance. Young adult films rarely portray a civic engagement. This is what makes The Hate U Give both timeless and current. Timeless to the communities that historically have tensions with the police and current because the citizens have social media to document and project their voices. Political movements have hashtags. The Hate U Give is at its heart a teenage girl's political self-awakening.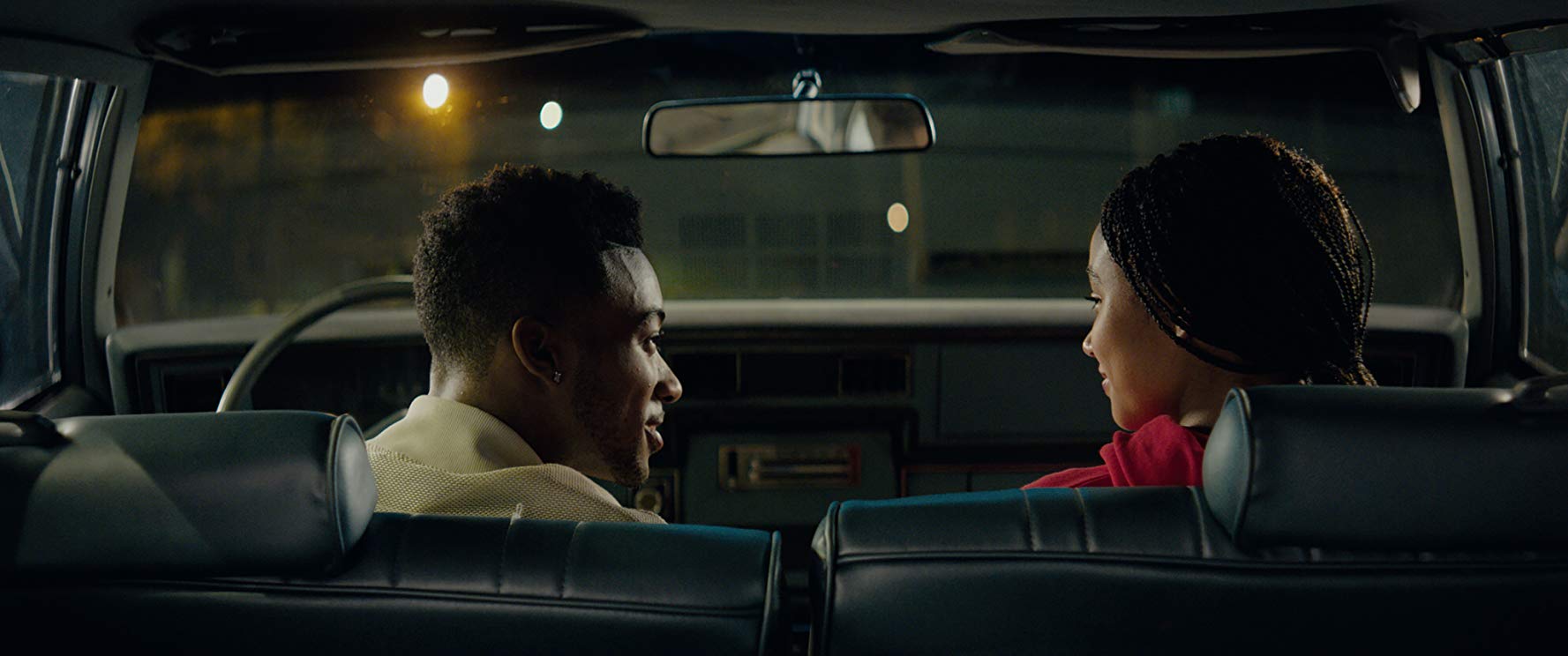 Photo by Erika Doss - © 2018 - Twentieth Century Fox
The story starts with Starr's parents (Russell Hornsby, Regina Hall) giving her and her brothers Sekani (TJ Wright) and Seven (Lamar Johnson) "the Talk". Not the one about the birds and the bees, but the one on how to handle yourself when you get pulled over by the police. It is not treated as an "if this ever happens" situation but as an inevitable part of their life. Starr's loving and protective home life extends into her community—her father's store is also the neighborhood meeting spot. As an opposing force, King (Anthony Mackie), who is in charge of the local gang, is charismatic and calculating and will do whatever it takes to protect his territory in the neighborhood.
The warm natural lighting of Starr's hometown stands in stark contrast to the almost harsh cool tones of the private school where she becomes Starr 2.0. It is a very familiar code switch for people of color, or anyone who has had to straddle social divides. Starr's double life routine is disrupted when she runs into Khalil at a party. There is an immediate familiarity and attraction between them. When he takes her home after a fight breaks out at the party they get pulled over by the police with tragic consequences.
One of the most well executed threads of the movie is the undiagnosed trauma that goes on for an individual and the community where incarceration and violence are common. You can be at a party, in a traffic stop, or in your own home and the sound of gunshots will shake the characters and audience from their daily lives. The pressure Starr faces to keep her perfect composure in school among her classmates with no knowledge of her friend's death, outside of a news segment, both
illuminates and magnifies the role privilege, class, and race serve in keeping
these realities separate.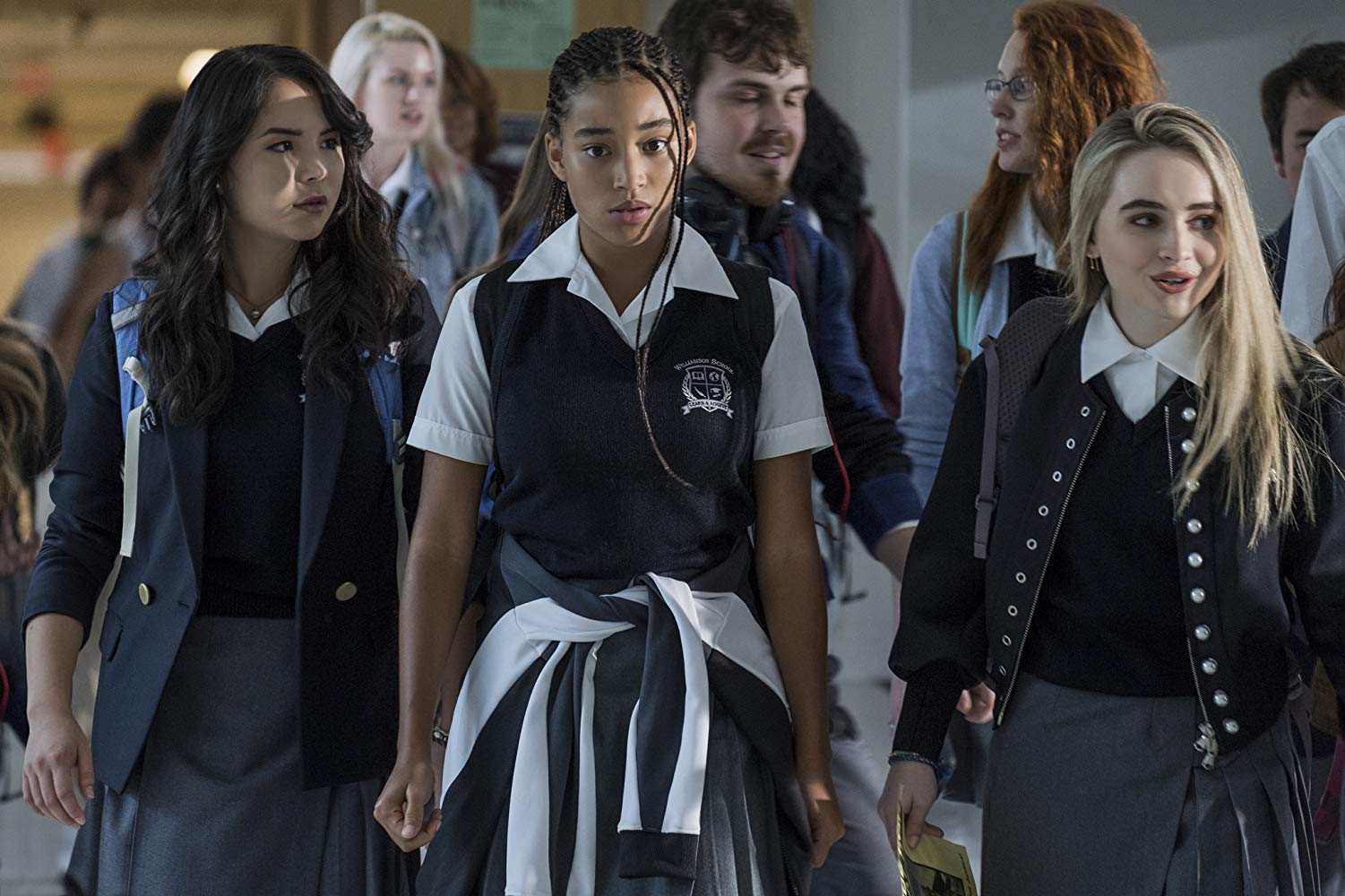 Photo by Erika Doss - © 2018 - Twentieth Century Fox
The multilayered portrayal of people of color as living full and complicated lives, contrasts with how the white characters come across as more one dimensional. Starr's friend Hailey's (Sabrina Carpenter) willful ignorance and callousness forces Starr to see the insensitivity of her classmates to the tragedy of her friend's death. The issues with allies in the movie, even those with the best of intentions, is they can come across as ignorant. Like when Starr's boyfriend Chris (K.J. Apa) uses the "I don't see color" defense or when they use slang in awkward attempts to connect. These issues show how the ignorance of one group, whose only point of view of other groups is reduced to news segments filled with political dog whistles or from a pop culture littered with stereotypes, can morph into a dangerous lack of empathy.
The Hate U Give is a study in contrasts between home and school, black and white, and the danger in never fully showing all of yourself to those around you. The title is from Tupac's famous acronym THUG LIFE "The Hate U Give Little Infants Fucks Everyone" is also used as a mantra throughout the movie. It is a warning for those who spread and continue the cycle of hate within themselves, others, and especially those within their own communities. The movie is more than a Black Lives Matter primer. It is giving a voice to people whose stories are more than their traumas. It is the story of people who live.  

In the End: If you are looking for more female coming of age stories with a social justice call to action then march to The Hate U Give.
—
The Hate U Give is out now in select cities
and available nationwide on Friday October 19th.