Basically: A pair of rival gangs face off in a wild, wild west showdown filled with true life Black cowboys AND a soundtrack bouncing on beats with more ricochets than a gunfighter's bullets. 
I grew up watching westerns. With my father, or my godfather, or later with my Uncle Marvin. I have a strong affection for the genre. Thankfully, my parents never allowed me to be naive enough to think the treatment of BIPOCs in most westerns wasn't a problem—it was. My mum and I talked about it and because of her guidance, westerns and I came to an agreement. 
Of course, Black folks weren't going to be left out of a genre we adored. There was the great Woody Strode, and Thomasine and Bushrod (1974), and Buck and the Preacher (1972). There was Skin Game (1971), upon which Django Unchained seems partially based, and then—aww yeah—there's the absolute thrill of Mario Van Peebles' Posse (1993).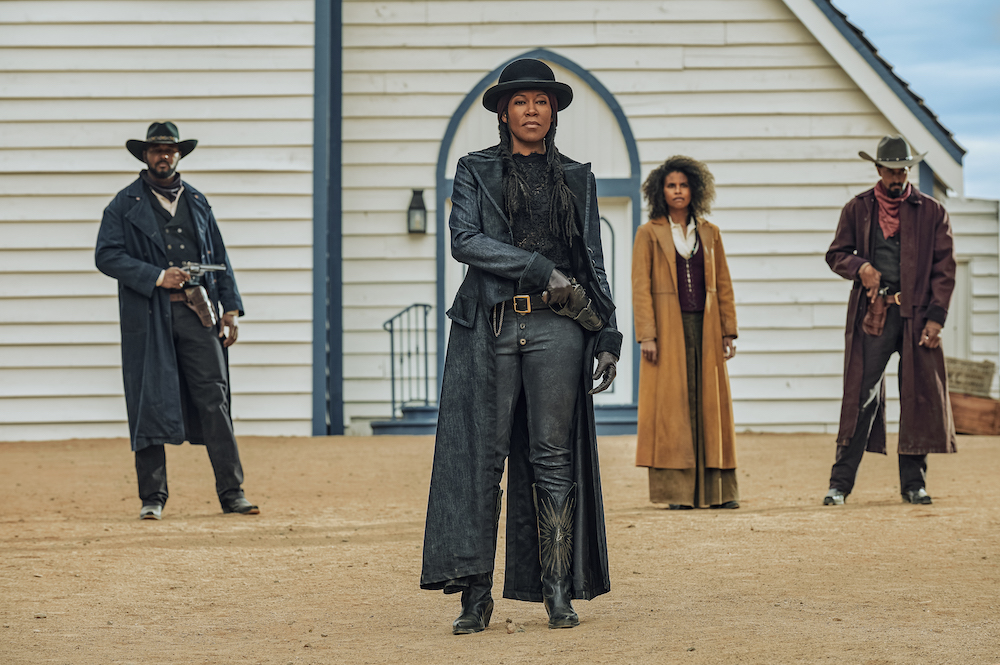 Photo: David Lee / Netflix © 2021
So we have a little bit of history with westerns, me and my people. Actually we have more than a little history with being cowboys—ever heard of the Buffalo Soldiers? But unless you have a love for the American West you probably haven't heard of Rufus Buck, Bass Reeves, Trudy Smith, or Stagecoach Mary. If you haven't, you're about to get to know a fictional reimagining of these real life icons. If you have, you've been squealing in anticipation since the moment you saw the first teaser for The Harder They Fall.
Coming to theaters tomorrow Oct 22 and streaming on Netflix starting on Nov 3, The Harder They Fall is co-writer Jeymes Samuel's directorial debut and it's a film he's been dreaming about for a very long time. Don't you love it when a plan comes together? I definitely do—and this film is clearly a dream fulfilled. From the magnificent cast to the action to the production design to that previously mentioned soundtrack, The Harder They Fall plays out like a sumptuous, stylistically violent, hardknock visual album.
Here's the the setup from Netflix:
When outlaw Nat Love (Jonathan Majors) discovers that his enemy Rufus Buck (Idris Elba) is being released from prison he rounds up his gang to track Rufus down and seek revenge. Those riding with him in this assured, righteously new school Western include his former love Stagecoach Mary (Zazie Beetz), his right and left hand men — hot-tempered Bill Pickett (Edi Gathegi) and fast drawing Jim Beckwourth (R.J. Cyler)—and a surprising adversary-turned-ally. Rufus Buck has his own fearsome crew, including "Treacherous" Trudy Smith (Regina King) and Cherokee Bill (LaKeith Stanfield), and they are not a group that knows how to lose.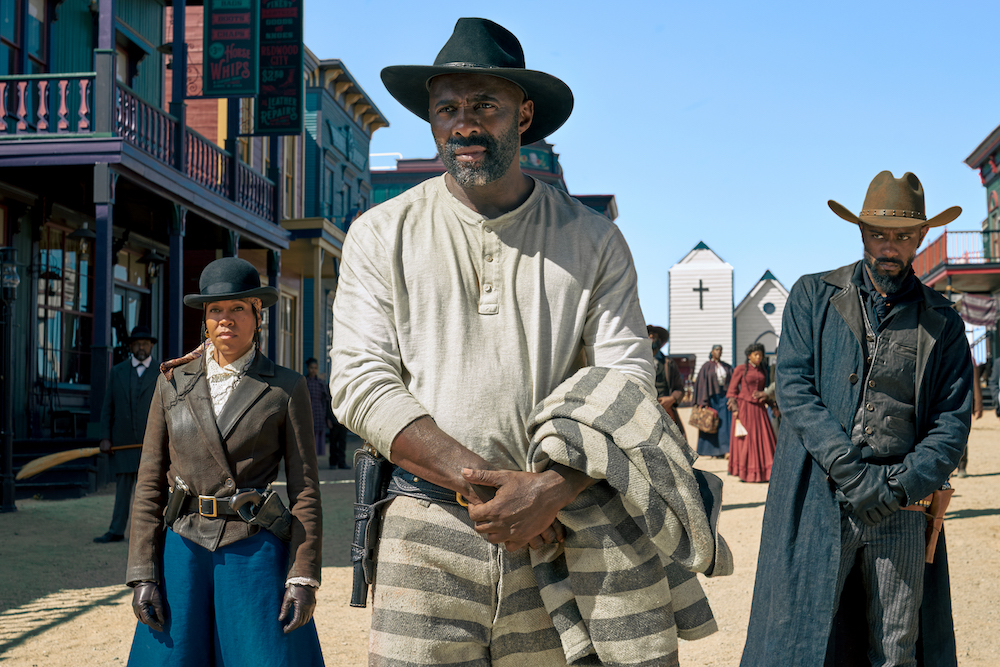 Photo: David Lee / Netflix © 2021
Now, tell me that's not the start of a classic western? You can't. I already know what's up. In fact, this film is so dead on, that the tropes sizzle on screen. Imagine your favorite scenes from all your favorite westerns brought to life by your current favorite actors. Those are the things that make The Harder They Fall special, even when it's a little bit predictable for those who know the genre well. These are all real people. Real Black heroes and outlaws from the Old West. Samuel, along with co-writer Boaz Yakin and producers Jay-Z and James Lassiter, have created a kind of creative nonfiction that is still utterly fantastic because of their creative license. Especially in the use of anachronistic and yet thematically synchronized music. This is a thrill fest you can easily see the influence of Sergio Leoni and Van Peebles in and yet Samuels makes it his. 
One of my favorite choices is there is no white gaze in this film. None. It's not about racism or white subjugation, or forbidden love, or trying to come up in a hostile environment. And Samuel plays this to the hilt. In the one scene, in which our characters venture into a white town, everything in that town is white: the buildings, the fences, the wallpaper, the furniture, even the dirt. Hilarious. Well played, Jeymes.
My favorite character? Cuffee played with depth, sensitivity, and raw toughness by Danielle Deadwyler (and isn't that the perfect name for a western star?). I'd easily watch a whole series featuring Cuffee's journeys.
The Harder They Fall is so much fun that even the three things that don't quite work won't bother you too much. Among them is the fact there are so many well sculpted characters, speaking so much snappy dialogue, that there's not a lot of room for character development. The narrative pull isn't as strong as it could be with a cast and characters like these. And you'll want to know these characters better.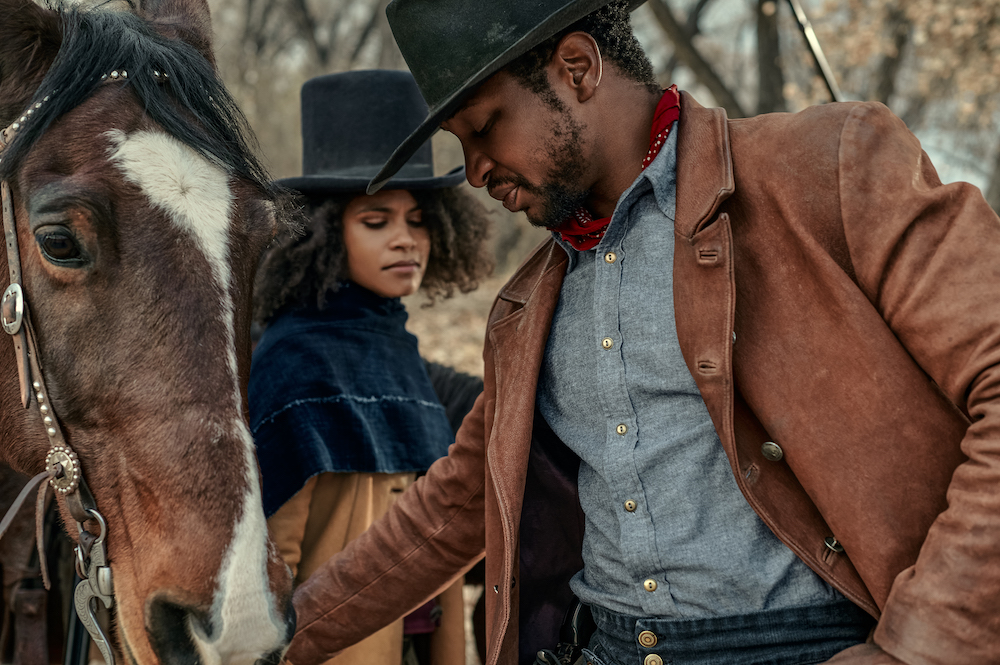 Photo: David Lee / Netflix © 2021
The next thing is the "damseling." These women, whether the actresses or the historic inspirations, really shouldn't be set up to need saving. Let's hope there's a sequel in which they are set loose to rampage across the west.
The third and final thing I'll mention is Stagecoach Mary aka Mary Fields played by Zazie Beetz. While Beetz gives a strong performance, this character doesn't match up well with the legend of Fields. Not only because she was physically very different from Beetz but also because the backstory, the look, and the real-estate skills align far better with another historic Black woman icon: Mary Ellen Pleasant. 
That's it. Those are the only wobbles for me. Otherwise allow me to enthusiastically shout: See you real soon, Black cowboys!
In the End: We want you to see The Harder They Fall. It gives you everything you love about westerns but also transmits the good ole joy of seeing real Black people do big things on screen.