Basically: A big blazing homage to your favorite action movies WITH lots of assassins!
I wandered into The Gray Man like a child toddles into a candy store with no adult supervision; it wasn't healthy, things got a little sticky and very loud, but I had a good time. There's just so much to see. And since I currently have no filter: When Chris Evans uttered the words, "wetwork team," he might as well have slapped my backend and caught me blushing. I am into cinematic wetwork, y'all. Most assassin stories pull me in, especially when the fights and the stunts are this well choreographed. Most especially when the cast is so good at being great.
I should start with the story, right?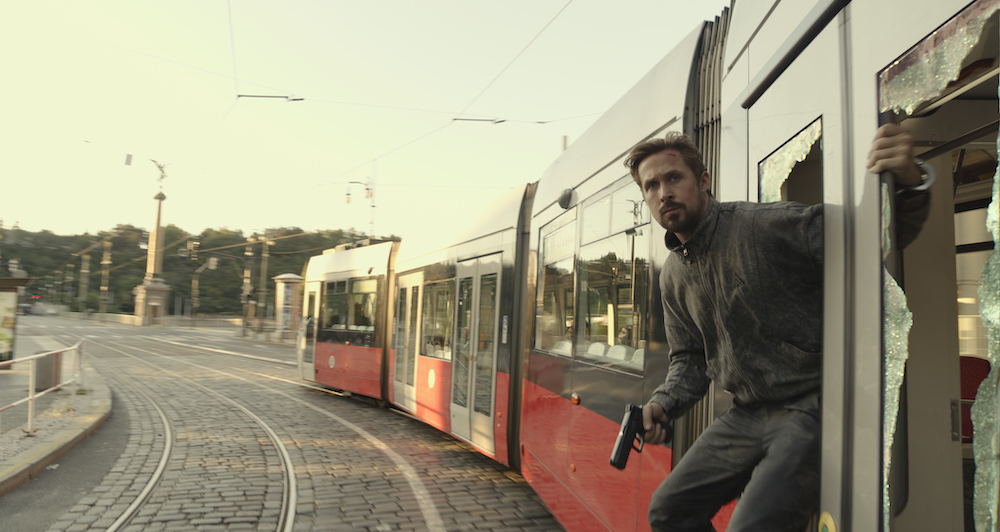 Okay, let me break it down for you in two ways.
Breakdown Number One: Villainess / 100 Bullets, Commando, Léon: The Professional, Bourne, John Wick, Commando. Yup, good times.
Breakdown Number Two: Snarky reprobate (Ryan Gosling) who's been in jail since "teen" was in his age, gets recruited into a government assassin guild by a grizzled CIA agent (Billy Bob Thornton). There's one caveat, the reprobate will no longer "exist." Fast forward eighteen years and our hero is now called Six. He meets up with the dripping-in-finesse agent Dani (Ana de Armas) for a job that should be easy. However, because he has a good heart, things go sideways. The level of 'fuct-up' puts him on the hit list of a CIA pretty boy with a bad attitude (Regé-Jean Page), a didactic hardass (Jessica Henwick), and a psycho-killer named Lloyd who wears a "trash-stache" and winter-white pants (Chris Evans). Oh, and those wetwork teams I mentioned come into play too. The best of whom is a "Sexy Tamil" assassin who rocks Armani sunnies, played with gentlemanly flair by Dhanush. Oooh, and somehow there is a teenage girl who needs saving. She is Claire (Julia Butters) and as a cross between Alyssa Milano's Jenny and Natalie Portman's Mathilda, you're going to want to save her too.
"Certain characters just come to life through something simple, whether it's wardrobe or a prop. The second that we cut that mustache I was like 'Oh there he is, there's this psycho.'" –Chris Evans
This is my kind of thing, there are scores of assassins, plus Alfre Woodard in a cold-blooded role I want more of, in a collage of the action movies I enjoy. What am I going to complain about? Not much. The movie is a bit overstuffed, but that's the favored style of The Russo Brothers. They go big. The actors do the same and not one of them comes up short. (Except for the first time Evans pronounces Tamil, it's so cute and funny.) Gosling does his deadpan thing with endearing affect. Evans refuses to be typecast but remains supernaturally charming. De Armas needs to star in more of everything, she refuses to be damselled, she does the saving and she excels at it. Thornton and Woodard play veterans who are "better than you" better than anyone. And you already know how much I liked Butters.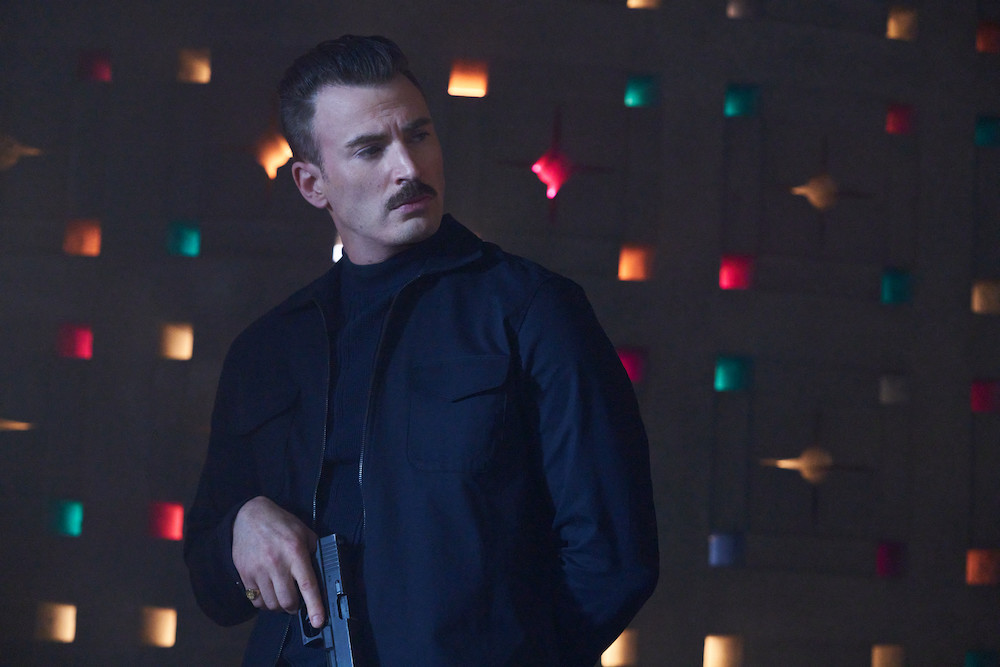 But, y'all, the fight sequences. I often talk about how fight choreography is art. The best fight coordinators work with the actors to find the right styles to make their abilities believable—based on body type, natural movement, and character—which results in combat that has impact and personality. For example, Dhanush is very stabby in his fights while Evans uses the force he retains from playing Cap. Meanwhile, De Armas is all about flexibility and quickness, and Gosling moves with disciplined wildness.
Each time Gosling and Evans face-off, the only word for it is delightful. Their hand-to-hand battles are clever and frenetic. If I could, I'd buy dinner for James Young, stunt coordinator, and Daniel Hernandez, stunt coordinator/fight coordinator. That's how much I enjoyed their craft.
The music is good too and most notably underscores two Tarantino-inspired scenes. Another thing that gives this film a sense of culmination, is it unfolds like the chapters of a book. It doesn't rush to tell you its secrets, which allows 'plot-bombs' to consistently detonate. That may come from its source material SIERRA SIX, a Gray Man novel by Mark Greaney.
Some might say this movie is a little too wild but I relish the unbridled melee of madness The Gray Man brings to the genre.
In the End: I'm gonna watch it again and then another time. Join me.