Actually: 8.5
Basically: The Farewell is simultaneously funny and tear inducing because it's true.
I remember arriving in London after the death of my grandmother. I was completely disconnected from everything, perhaps even my own grief. I'm sure you'll understand; coping with death is a skill that seems to build over time. The older you get the more funerals you attend and the more confrontational grieving becomes. Until you learn to sit with it. I haven't learned to be still yet—I'm better at evading—but my British family introduced me to a tradition that helps. After the burial of a loved one, we all go down to a local pub. We reminisce, and tease, and drink, and suddenly the burden of mourning is shared. Somehow grief is transformed into a celebration of life.
I thought of this while I watched The Farewell.  I'm not familiar with the tradition that forms the film's premise—one of concealing an elder's impending death from them so they can live happily a little longer—but I understand. We all find our ways to cope. That's the central conflict of the film as well.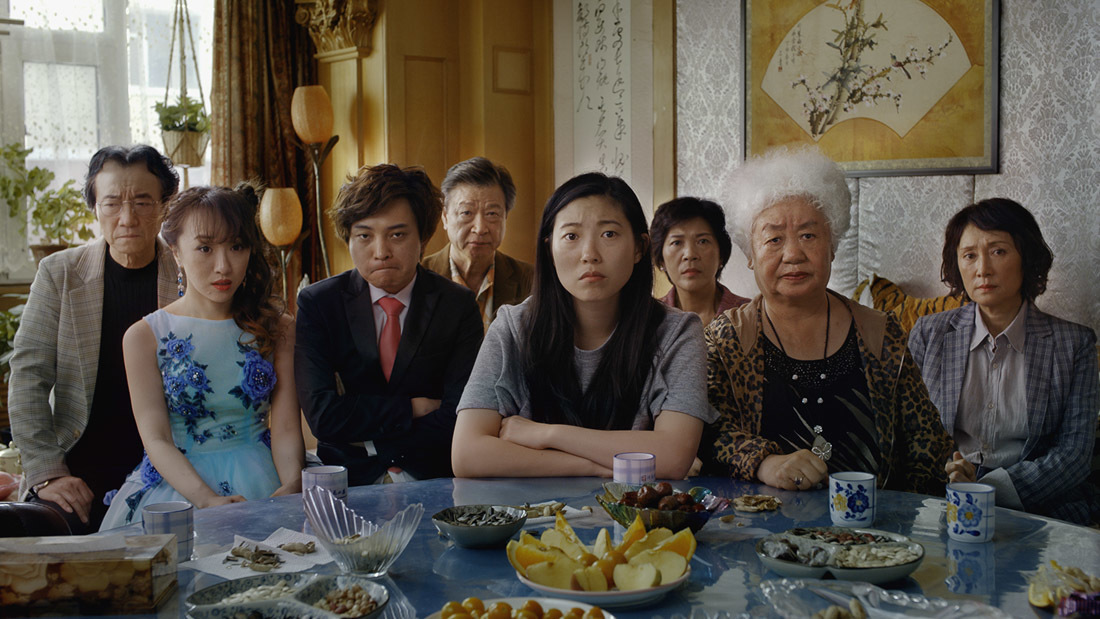 Jian Yongbo, Kmamura Aio, Chen Han, Tzi Ma, Awkwafina, Li Ziang, Tzi Ma, Lu Hong 
and Zhao Shuzhen. (Photo by Big Beach/Courtesy of Sundance Institute.)
Billi (Awkwafina) is facing down a personal failure when she learns her beloved Nai Nai (Shuzhen Zhao), her grandmother, is dying of cancer and has three months to live. The family has chosen to hide this prognosis from Nai Nai. Instead they'll travel to China and stage an elaborate fake wedding so they can spend time with her in celebration rather than in sadness. Billi's parents weren't planning to tell her about Nai Nai either. According to them, she is terrible at hiding her emotions. The family doesn't want her to drag them down. Which is ironic for several reasons. Billi's father, the dynamic Tzi Ma, is so depressed he can't hide his own anguish from his daughter, and her mother (Diana Lin) is wavering under the weight. Billi, for her part, is very good at keeping secrets, for example her recent rejection from a writers fellowship along with her empty bank account. 
The film starts with the confession that it's "based on an actual lie" and it ends with an update on that inciting deception. In between, we're presented with a family who lies in the name of love. Year after year and layer by layer they've smiled and swallowed tears, stayed silent when they wanted to scream, and gone to their private corners to hurt. Nai Nai's cancer begins to cut through it all, as the idea of losing her becomes too much to bear, and secrets start to spring like leaks. If this sounds heavy, it is and it is not. Much like my family's times at the pub, filmmaker, Lulu Wang is clever in infusing a matching level of honest humor into her family dynamics and their exploration of grief and tradition.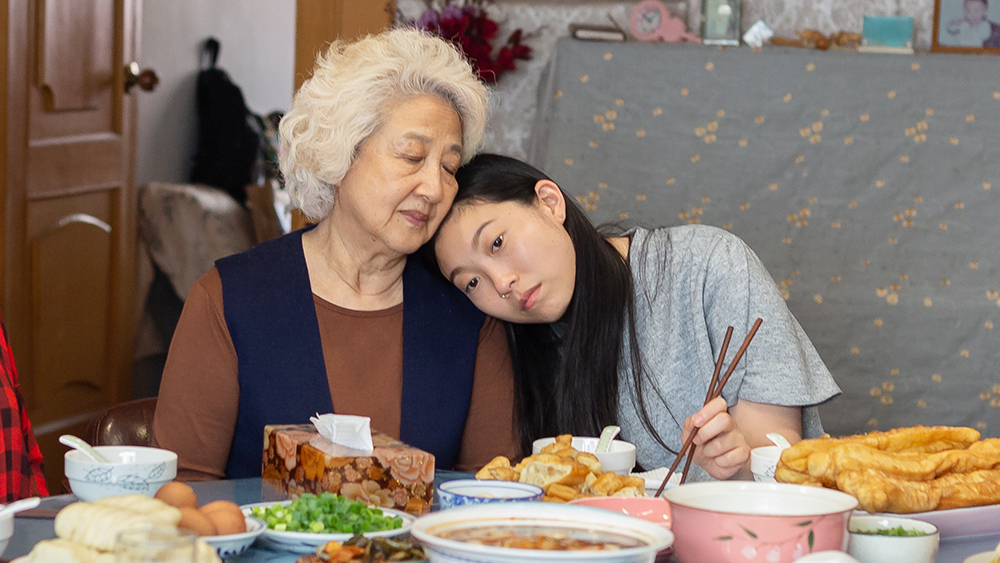 Photo courtesy of A24
Awkwafina is a perfect conduit for the conflict. Her American guilt—in not blurting out the whole truth and nothing but—collides with her filial piety and her desperate need to simply enjoy Nai Nai's company for as long as possible. She is at moments so bereft and yet so deadpan you giggle while you sniffle. Awkwafina is an actress with the complexity to go beyond "star".
Beyond that, The Farewell reflects our interactions with our own families. This goodbye is complicated. That's what makes it work so well. Writer/director/and real life inspiration, Lulu Wang has made a film so deeply personal we have no choice but to recognize her story as our own.
In the End: See it, because we hope this isn't the last of this kind of goodbye from Wang or 'Fina.