Basically: A witty and fantastic heist film featuring the "bad guys" from the animal kingdom and the storybooks.
This might sound strange but The Bad Guys starts off like a Tarantino movie. . .for kids. I know. Right? Allow me to share some backstory. My first meeting with Mr. Wolf, Mr. Piranha, Mr. Snake, and Mr. Shark was an introduction from my godson. He was reading the original book series by Aaron Blabey and he wanted to talk about it. My nephew soon became the second big fan in our family. If you're wondering what pulled them in? These stories are totally gangster! The book version of Mr. Wolf has wiseguy dyed into his fur. However, overwhelmed by being stereotyped as "monsters" the four go on a mission to be AND to do good.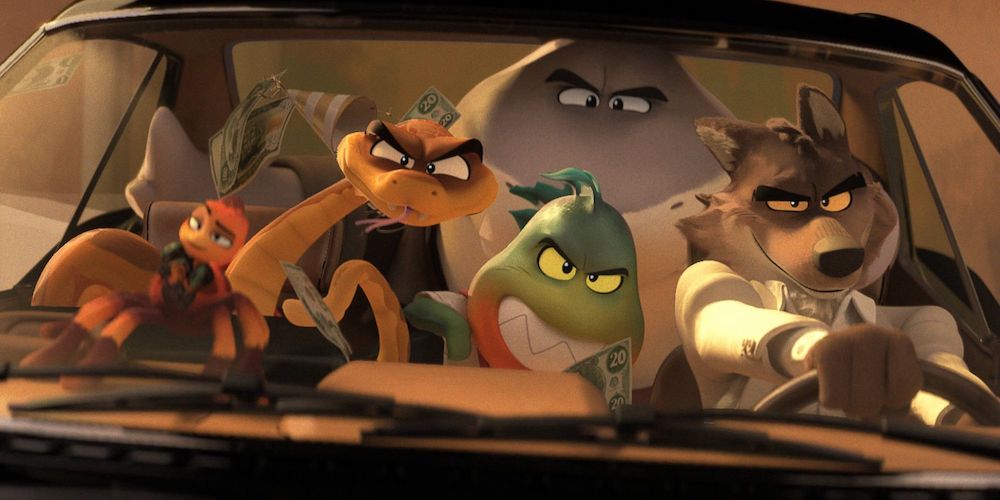 Those four gangsters from the middle-grade series become a crew of five notorious burglars in the new movie (out today from Universal Pictures). And while this kid's adventure starts in the Tarantino zone, it quickly switches to the charming criminality of an Ocean's heist movie, with a touch of Dirty Rotten Scoundrels thrown in to keep the adults laughing alongside the kids. There is even a running joke about Wolf (Sam Rockwell) going "Full Clooney" while he's wearing the white suit Caine wore so well in Scoundrels. Snake (Marc Maron) is a Hawaiian shirt-wearing tough guy. Piranha (Anthony Ramos) surprises as a silky-voiced firecracker with a fart tell when he lies and a twitchy trigger. Craig Robinson's Shark can disguise himself as anything including the Mona Lisa. And new to the team, sort of, is Tarantula (Awkwafina). This gender-swapped "Legs" is the tech-wizard and hacker of the team.
So, does the charm-offensive work? It totally does. My eyes have hearts in them and I giggled a lot (I will also admit to taunting the kids about having seen this movie first—sooo satisfying).
While The Bad Guys on-screen differs from the ones on the page, many of the key plot points remain. These villains have their reasons for becoming good but it isn't going to be easy. The governor, Diane Foxington (Zazie Beetz), has a savvy way of psychoanalyzing them—which gets them riled up every time. And a guinea pig philanthropist, Professor Marmalade (Richard Ayoade), insinuates himself into the story, to provide an extremely questionable form of guidance.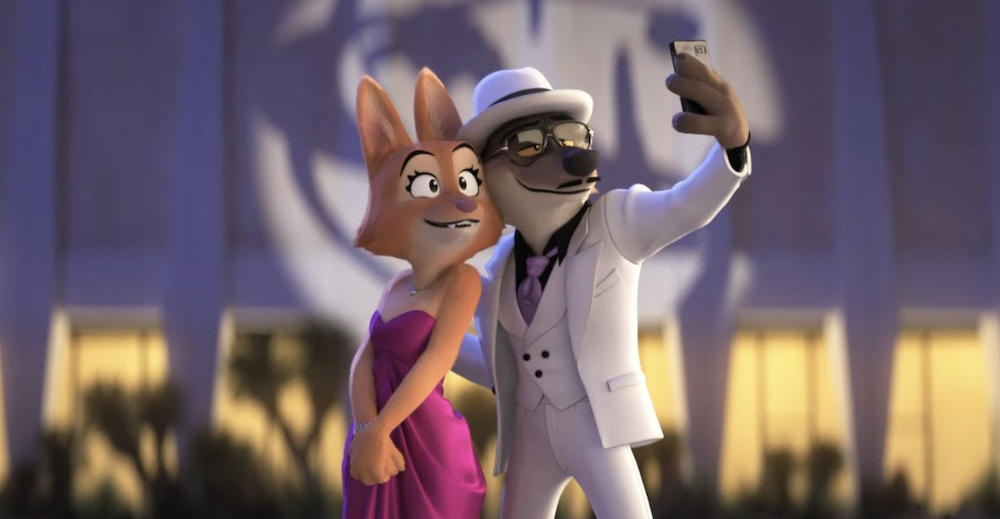 The result is a wildly enjoyable family crime thriller, filled with smart writing, wit, and winking cautions against judging others by their species. On their journey from the bad side to maybe-might-be good, the characters struggle with what change means and how it could disrupt their friendship.
The Bad Guys is really good (and that's not an oxymoron—there are no oxen in it) that's the truth.
In the End: I want more of The Bad Guys!