Grade: A-
Basically: Peter Parker is having a very bad day now that his identity is public but his magic wish to fix it causes more problems than he bargained for. 
The folks at Marvel and Sony have finally done it. After five previous MCU movies, they've finally made a Spider-Man movie that feels like a Spider-Man movie. Now, I bet right here, the haters will be flocking. You're already like: "Hey hold up, Tom Holland is the best Spider-Man ever! How dare you disparage THE Spider-Man." But I don't care, I'm a villain. For me, none of the films with Tom Holland—the Spectacular Spider-Man—have been about Peter Parker or about a problem unique to him and his world. The stories are usually about Peter navigating the Avengers and specifically the gravity of Tony Stark AKA the invincible Iron Man. Yet I should've known from the Far From Home credits scene that things might be in for a shift. And that shift mostly comes with the return of J. Jonah Jameson (J.K. Simmons).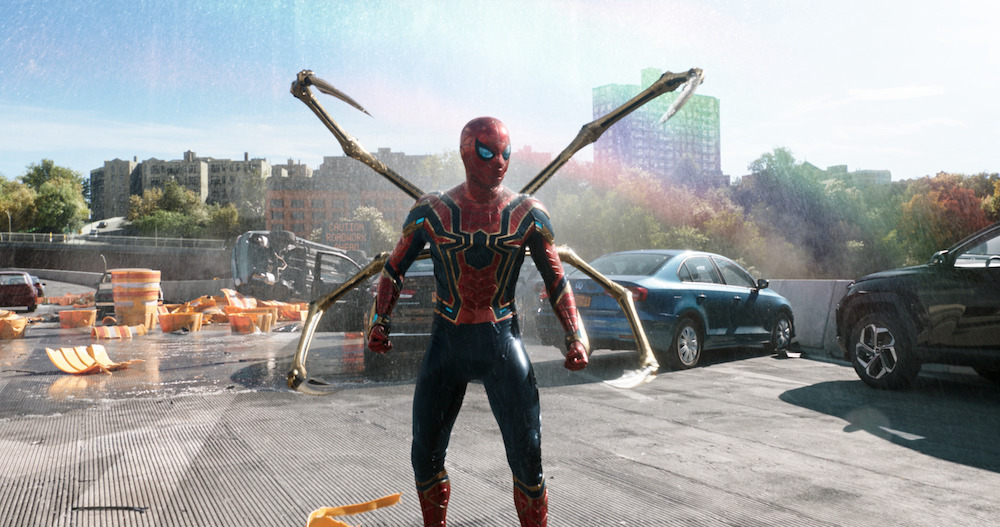 Photo © Marvel Studios, Sony Pictures
From there the tone is set: Spider-Man: No Way Home begins at the exact end of Far From Home's final scene. Quentin Beck's (Jake Gyllenhaal) machinations exposed Peter's identity to the world and made everyone think he killed Mysterio. Peter, his friends, and family now have to deal with everyone knowing who he is, including the legal troubles caused by being a teen vigilante and not a recorded Avenger. As Peter, MJ (Zendaya), and Ned (Jacob Batalon) try to focus on getting into MIT, Peter goes to Doctor Strange (Benedict Cumberbatch) for help. Strange, who's not the well-reasoned and wise sorcerer we know him to be, decides to help Peter in his reckless pursuit of making people forget that he's Spider-Man. The spell goes a bit haywire, which leads to a new problem of our MCU Peter Parker having to face the fallen foes of the previous Spidey films. Chaos and fanservice ensue.
No Way Home is the first MCU film that I feel is closer to the core of the Spider-Man character. Tom Holland does his usual thing with his performance but this time he's really given more to do and grow as Peter has to deal with some things on his own. The story is less about a mentor bailing him out. Holland seemed to like his experience from making the movie Cherry and brings some of that passion to Peter as he goes through this crucible. Also, the chemistry between Holland and Zendaya is crazy. You can feel the relationship vibes off the screen. Zendaya's MJ works well as Peter's partner who can bring him back down and make him think before acting out of fear. Jacob Batalon continues to charm as Ned who adds a third wheel feeling to the group.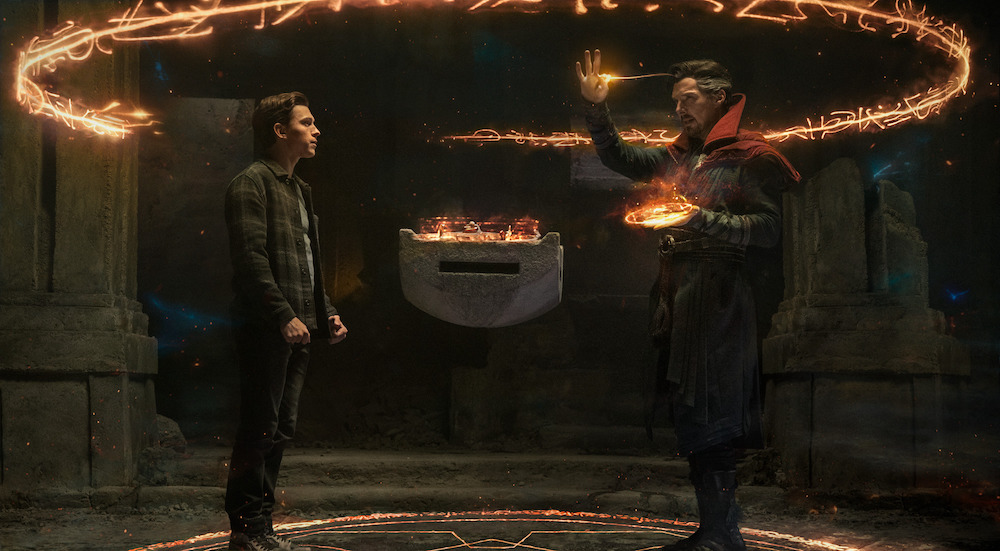 Photo © Marvel Studios, Sony Pictures
Now for the non-spoilery actors: Jamie Foxx is just having a fun time now that he can play his character Electro without the blue makeup or weird hair. He has that Foxx charisma on display. The great Alfred Molina feels like he stepped right out of Spider-Man 2 in 2004, all that dangerous tragic quality of Doc Ock is right there. He's able to balance threatening danger with comic timing as Doc Ock doesn't know who this Spider-Man is or where he is.
Then there is my guy: Willem Dafoe. Think back to many years ago when this man was acting with himself in a mirror in 2002's Spider-Man. The way he changes his face as he shifts from the genius Norman Osborn to his evil alter-ego the Green Goblin. Well, it's all back. You can feel the joy coming from Dafoe's performance as he gets to reinhabit the character who died 20 years ago on screen. He gets a second chance—much like the character did in 1998 when the comics brought him back to terrorize Peter again. Dafoe is a joy to see acting with the younger cast and with Marisa Tomei's Aunt May. This is the first film that really has given May something to do other than being Peter's attractive aunt who his mentors thirst over. Here she actually takes more of a parental role and gives him guidance. We see where Peter gets his moral and ethical bearings from, which is a welcome change from whatever he learns from Mr. Stark.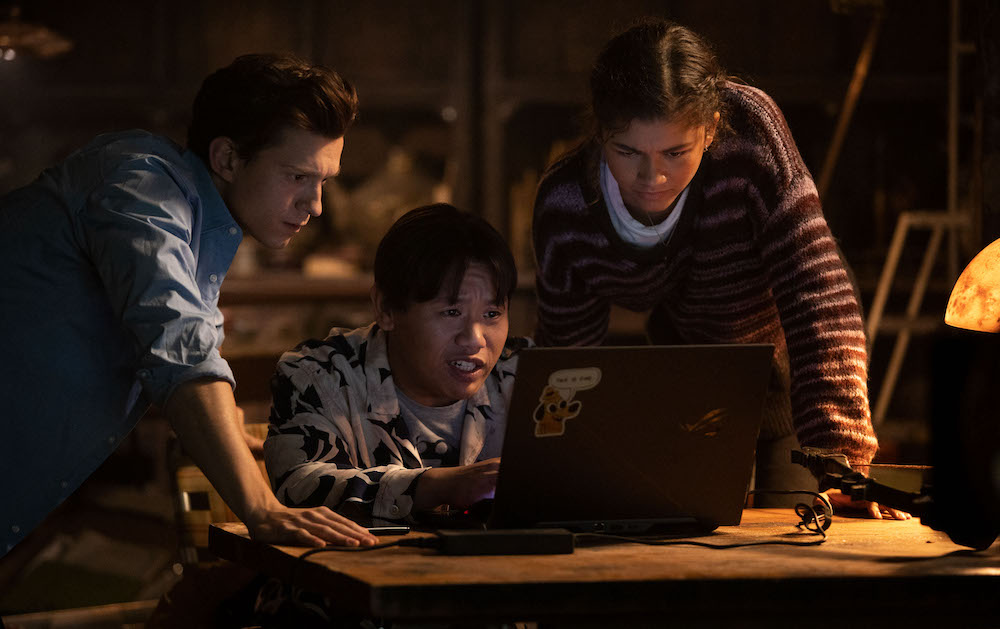 Photo © Marvel Studios, Sony Pictures
No Way Home still holds true to superhero movie tropes and structure but one thing this film does well is it has a good compelling third act. No spoilers here but it really does hold together and brings the story to a fine conclusion. You might say that's what it's supposed to do—and you'd be correct—but the reason I state this is that MCU movies usually don't do that well. Something usually falls apart or it becomes a bridge to another film or Disney+ show. But No Way Home ends the trilogy by cementing Spider-Man in the MCU in a way that feels more in line with the core of the character and his myth. And the story presents a challenge that is specific to Peter and Spider-Man. Not cleaning up Tony's mess or being his surrogate son. No Way Home is about Spider-Man, which is something I've been waiting for in movie form for over fifteen years. 
In the End: Spider-Man: No Way Home is the fitting end to the trilogy. It's a complete crowd-pleaser and the perfect way to celebrate twenty years of Spidey's cinematic adventures.