Actually: 8.5
Basically: Peter Parker just wants to go on a Eurotrip and to *just maybe* tell M.J how he feels. Haha. Nice try. 
In SPIDER-MAN: FAR FROM HOME, Peter (Tom Holland) is struggling with the loss of his friend and mentor Tony Stark. He also has to cope with people asking, "Are you the next Iron Man?" The combination of grief and being the object of expectations is wearing on him, so a trip to Europe with his classmates sounds like a chance to take a break.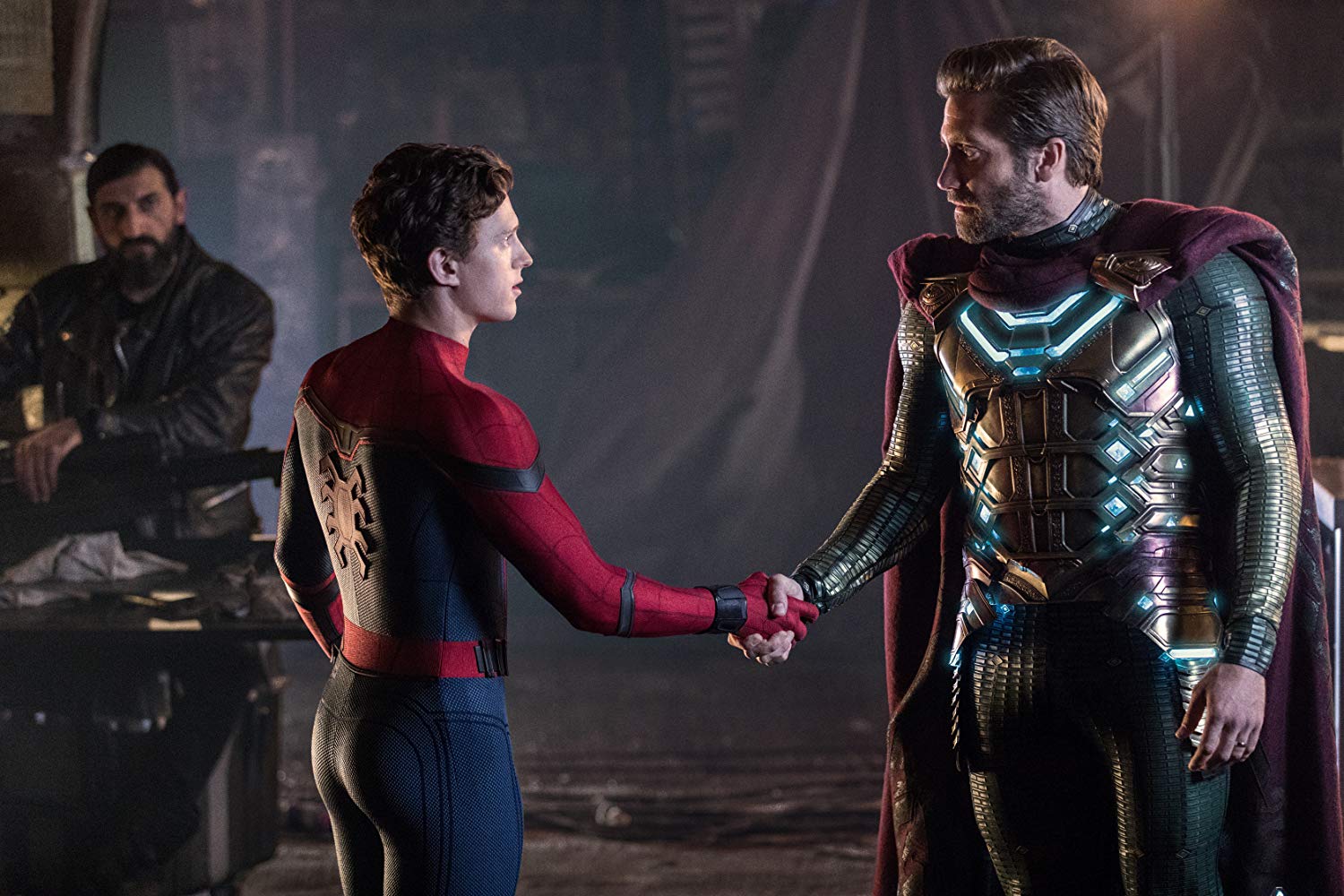 Photo © 2019 CTMG, Inc / Sony Pictures Entertainment Inc.
Unfortunately, Nick Fury (Samuel L. Jackson) has other plans for the webslinger. Although Peter ghosts Fury's phone calls, they catch up in Venice and Fury explains that "elementals" [read: earth, water, fire, and wind monsters] are rampaging across the world. Only a single, otherworldly hero named Mysterio (Jake Gyllenhaal) is around to stop them. Spider-Man is needed but Peter doesn't want the burden of saving the world. On top of it, he's been left a gift from Tony Stark—his glasses—which compounds Peter's problems. But what seems like the perfect solution… isn't.
When things go wrong—from Venice to Prague to London—Peter has to level up fast from a "friendly neighborhood Spider-Man" to be the hero that the world needs. Even if not everyone wants it that way.
Holland continues to be the best Spider-Man yet. His performance is note perfect, running the gamut from goofy adolescent to a young man struggling with responsibilities he's not ready to bear. Including watching the girl he likes being pursued by a good-looking rival. Gyllenhaal brings complexity and charm to the role of Mysterio, a character known to comic book readers but probably not to the general public. He makes the most of another terrific character from the Spider-Man canon.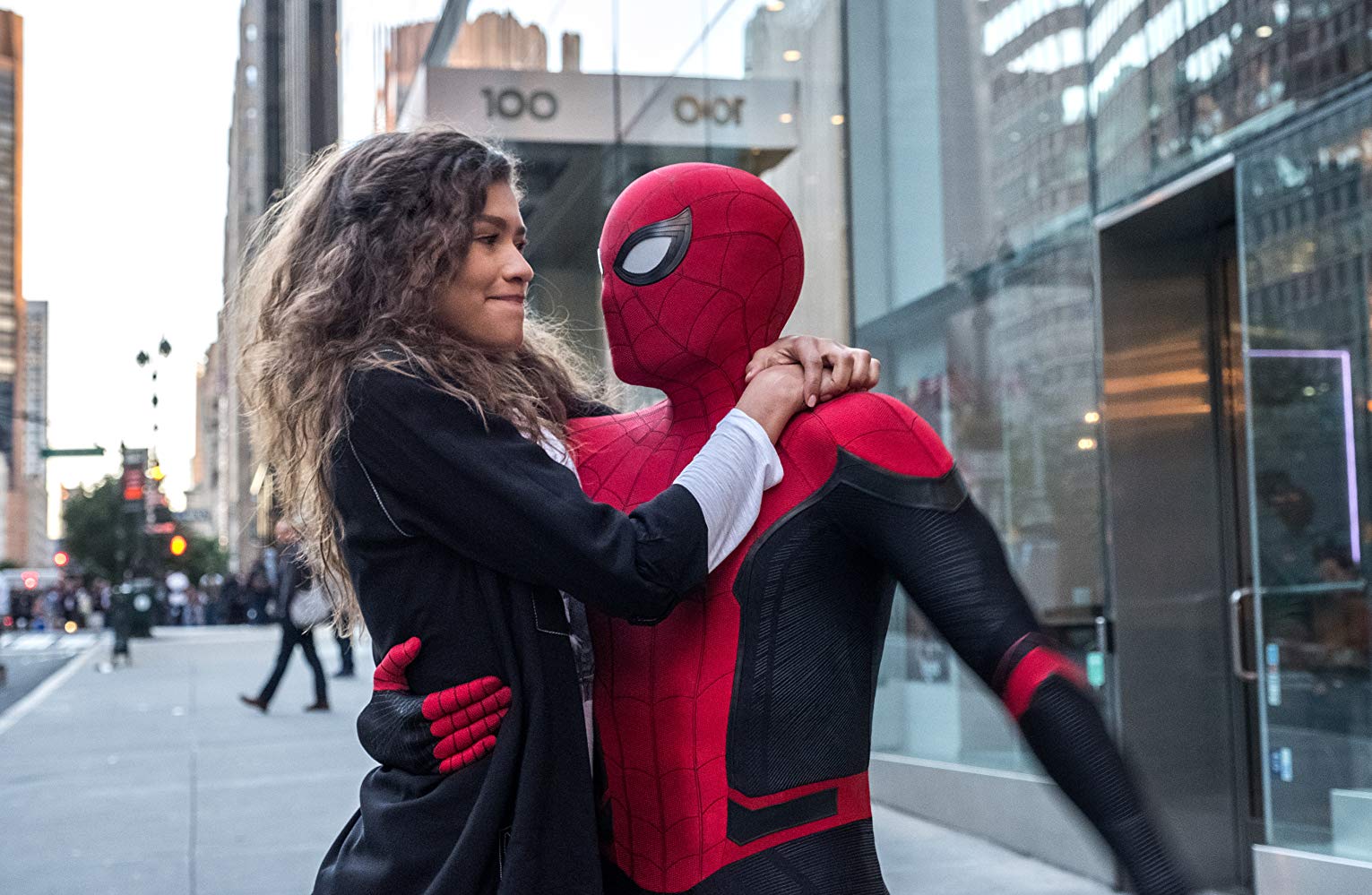 Photo © 2019 CTMG, Inc / Sony Pictures Entertainment Inc.
Zendaya steps up her game as M.J. as well, showing vulnerability and heart beneath the breezy façade she put up in SPIDER-MAN: HOMECOMING. We get a much better sense of who she is, adding to her character and setting up some great stuff ahead. Likewise, Jacob Batalon (Ned) is the best friend everyone wants, ready to lie (badly) and give advice (sometimes mistaken) but loyal and enthusiastic for whatever comes next.
The movie is definitely darker than SPIDER-MAN: HOMECOMING, with mid and post-credit scenes that will cause the audience to erupt. NOTE: It might be a good idea to preview this if you want to take little ones, because the monster battles are loud and can be a bit scary.
In the End: SPIDER-MAN: FAR FROM HOME is about "what comes next" and how hard it is to be a real hero. There are real highs and lows with challenges around every corner, but the audience will be rooting for this Peter Parker to come out on top. Recommended.