Actually: 7.5
Basically: Take one part Space Jam (1996) and mix it up with Hook (1991) and you have Space Jam: A New Legacy.
Space Jam: A New Legacy is about an alternate Earth version of LeBron James, let's call him Earth 2 LeBron. This LeBron is very much like our LeBron but, when he was a kid, he was given a serious push by his youth basketball coach to give up his childish desires—like video games and having fun—so he could focus on becoming the best basketball player in the world. LeBron had to take on the responsibility of making sure he and his mother could have a better life. Yet there is no group of friends to help him, no Maverick Carter and, of course, his family is all fictional. 
In present day, LeBron's son Dom (Cedric Joe) wants to be a video game creator but LeBron is focused on getting him to play basketball, to follow in his and his oldest son's footsteps. This conflict collides with Warner Media's new Artificial Intelligence: Warner 3000 aka Al G Rhythm (Don Cheadle), who wants LeBron to be the star of all their new movies through "computer stuff." But LeBron thinks that's wack…'cause…BASKETBALL. (This is funny because LeBron is in a Warner Bros. movie mixing with all the Warner Media stuff.)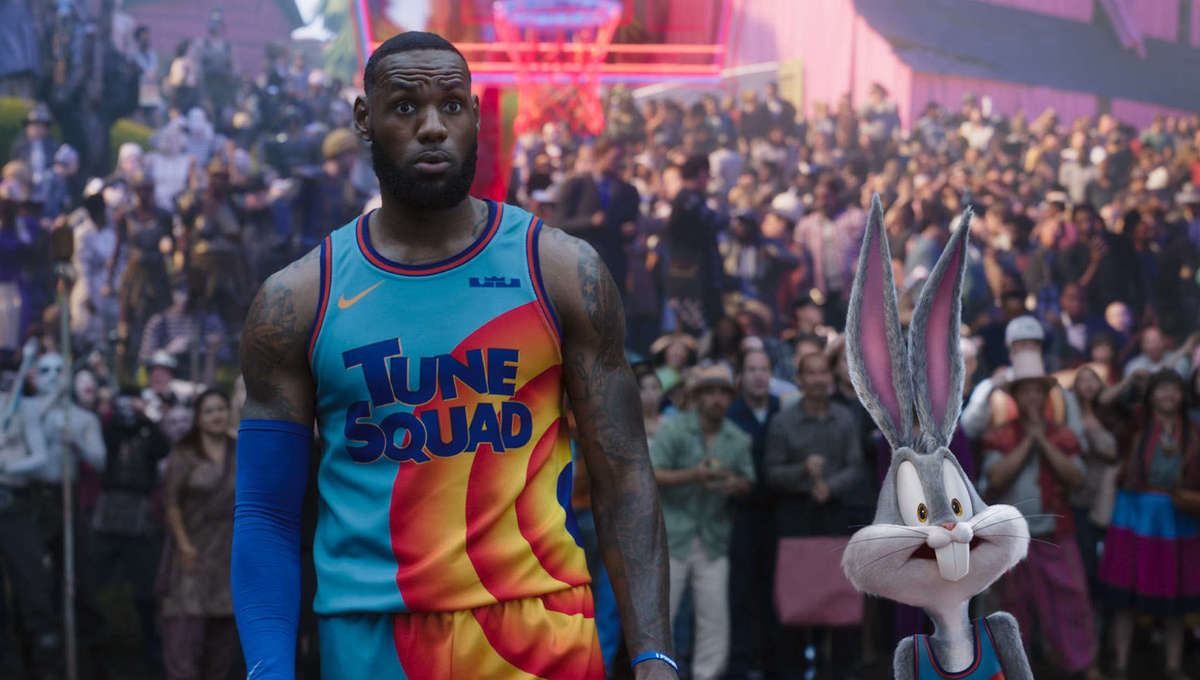 Photo © 2021 Warner Bros. Entertainment Inc.
Al G feels disrespected and decides to capture LeBron and Dom in the Server-verse. He challenges LeBron to a basketball game to save his son and himself…but if LeBron fails they'll be TRAPPED IN THE SERVER-VERSE FOREVER [[[cue epic echo]]]. LeBron is then sent to the Looney Tunes section of the Server-verse where he recruits Bugs Bunny to help him make a team. Hence a new Space Jam—in virtual space!
I might sound a bit too cynical but let me keep it a buck, I really like this movie. I've said in real life that it is made for me. I don't know or care if anyone else likes this film, it has basketball and Looney Tunes and plays with the meta-ness of our commercial, capitalist, consumerist world. LeBron is on the poster but Bugs Bunny is the true star, even more so than in the original Space Jam. Bugs wants his family back as the Looney Tunes have spread apart within the greater Warner Media landscape.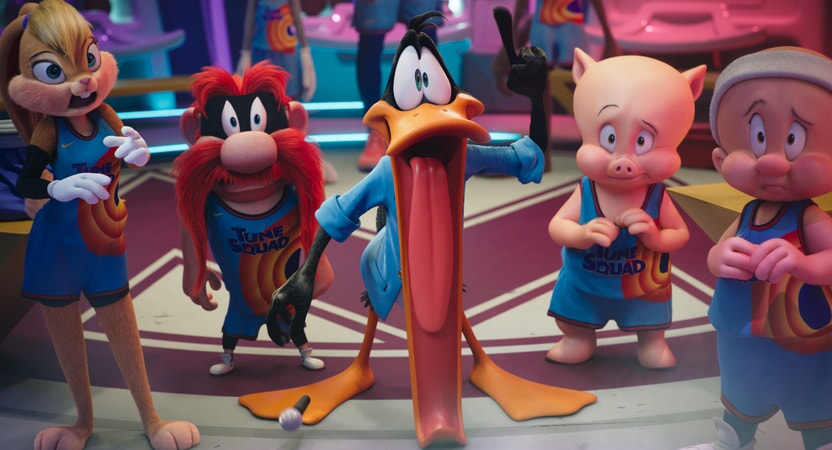 Photo © 2021 Warner Bros. Entertainment Inc.
Space Jam: A New Legacy also feels like the 1991 film Hook, where an adult Peter Pan has his son kidnapped by Captain Hook and has to find his youthful spirit to save him. In A New Legacy, LeBron needs to learn to loosen up and accept those he loves for who they are instead of who he wants them to be. 
Cheadle is in his bag here, eating up the scenery and having a ball being a cartoon of sorts. He shows off his experience acting with things that aren't there, especially compared to LeBron who you can tell is having a bit of an issue with it. Overall though LeBron is good and so is Cedric Joe as Dom. The Looney Tunes are also welcomed to see again on the big screen. The characters feel true to the way you know them and they do a good job of mixing in jokes about the movie itself and LeBron. Space Jam: A New Legacy works on a few levels, like all good cartoon comedies. 
In the End: Space Jam: A New Legacy is a fun family movie that works well to re-establish the Looney Tunes and shows what LeBron's future may be when his playing time is done.