Basically: Can the black private dick, that's a sex machine to all the chicks, who's the man that would risk his neck for his brother man, survive in a millennial world?
Samuel L. Jackson returns to the role of John Shaft. Everyone's favorite detective. Fighting crime, in a millennial time, in a tale directed by Tim Story, written by Kenya Barris and Alex Barnow. This time, however, Shaft has help from the original John Shaft (Richard Roundtree) and young upstart JJ / John Jr (Jessie Usher). Who, yes, happens to be his son. When JJ uncovers a plot so large he needs help to handle it, he turns to the man who has not been in his life for fifteen years. You guessed it. John Shaft.
This movie comes at you with the three things that make a movie great. First, chemistry. The interpersonal relationships are both hilarious and endearing. Jackson's Shaft (wow, that just happened) juxtaposed with the naivete of JJ are classic foils. The two play well off each other and give a glimpse into the gap many of us feel with past generations. It's the stuff of a fun film. Second, humor. Shaft (2019) beautifully makes fun of itself, the genre, and the aura of Shaft-ness. With jokes about being Jackson being mistaken for Laurence Fishburne to Shaft's investigation methods being compared to human right's violations, this movie makes a point of testosterone hyper-exaggeration—and really don't we all love that. Lastly, authenticity. Jackson plays this role as if he was born for it but his personality doesn't overshadow the origins of the role. He is a true heir. Having the original Shaft in the movie also helps.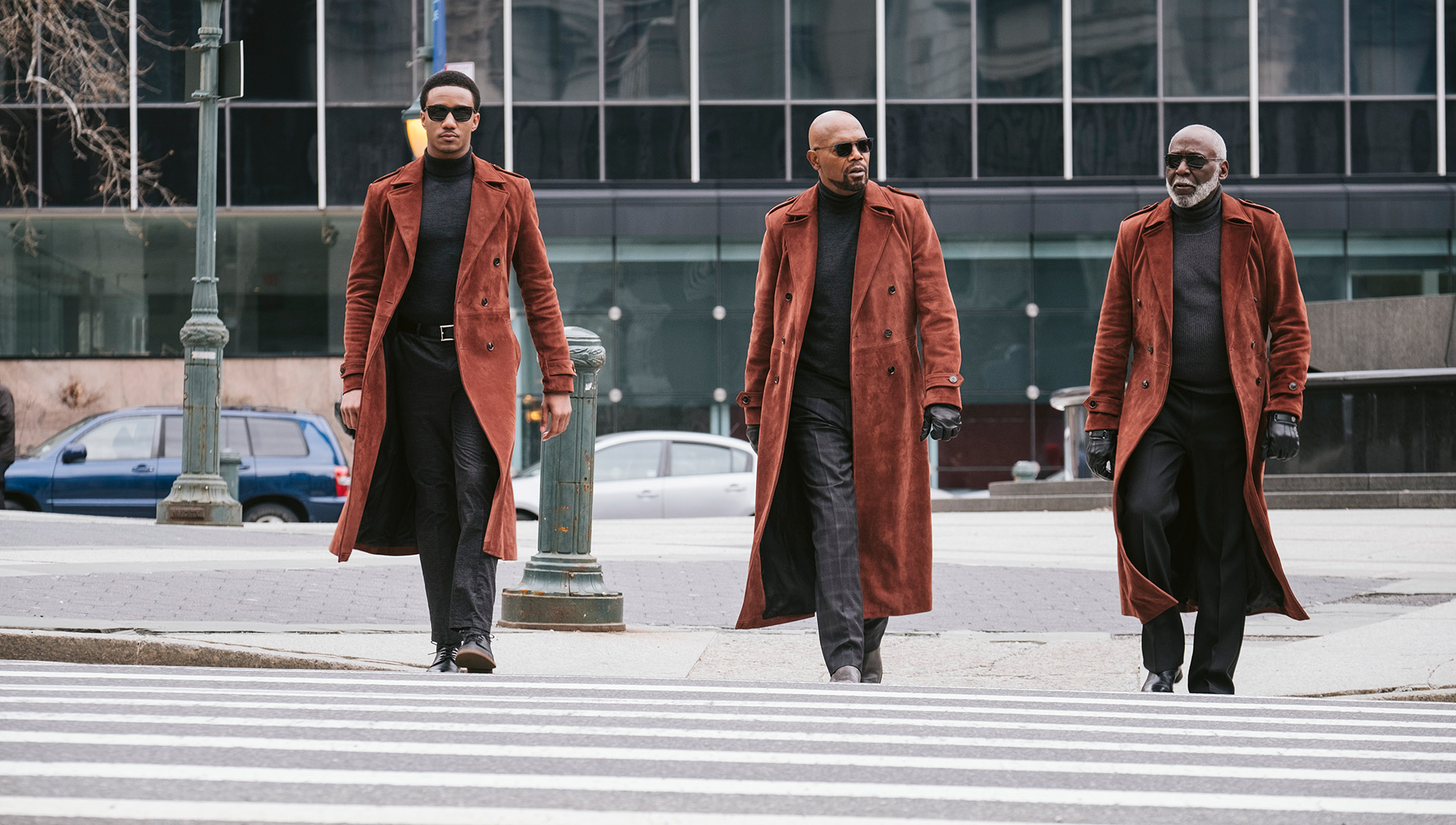 Photo: Warner Bros.
Blaxploitation can be defined as a sub-genre of action films, primarily in the 60s and 70s, that were aimed at black audiences. Featuring African-American actors in lead roles and often having anti-establishment plots, the films were frequently condemned for stereotypical characterization and glorification of violence. While those outside the community saw them as morally bankrupt and as portraying black actors in the most negative way. They provided black audiences with cinematic heroes in more honest portrayals of urban life—unseen on the silver screen prior to that time. I define it as a sub-genre of film that depicted the African-American community in a hyper stylized fashion that was unapologetically black and logistically cool.
And that is what Shaft (2019) gives us, a celebration of genre that gave light during some dark times and a respite from social strife.
With that said, I would be remiss if I didn't mention some problematic issues that run through this movie. While I will, no doubt, enjoy this movie for years to come, throwback movies like this make us recognize that toxic mentalities do more harm than we know. Shaft (2019) leans into a fair number of them. It is obvious with the humor and sense of levity, these mentalities are not meant to be taken seriously. The first of many instances is the "What a real Black Man is?" gag. The joke being that Shaft, who grew up on the street, looks down on his son, who grew up in the suburbs and has a good FICO score. This is somehow less "Real". The movie thankfully rips this myth apart but this ideology of real and fake in the African-American identity still exist .    
In the End: Grab your Afro sheen and avocado toast because the next generation of Shaft is ready to give it you.