Our Geek Girl Riot – TV Movie Ratings: B+

7.5/10 – Sherin Nicole  | 7.5/10 – Monique Woods | 7.5/10 – Alex Bear
Basically: Two genius kids travel through time to save a life—and learn science is easy, consequences are hard.
How long have you been fascinated with time travel? Does it go back to H.G Wells' The Time Machine (1960, 2002), or to the telephone booth with Bill & Ted, or (most likely) to the all-time favorite Back to the Future? Whenever your love of time travel began, you can bet that somewhere at the periphery of your mind there's a universal theory: Black people don't travel time…because slavery. Well, that's nonsense. Not only does black history outpace slavery by centuries, but our collective imagination is more clever than that. Right?
That's where co-writer/director Stefon Bristol comes in with See You Yesterday. It's a wholly imaginative, fully entertaining, and yet unflinching vision of a young pair of Flatbush geniuses, who invent time travel to win scholarships but use it to try to fix the wrongs of police brutality.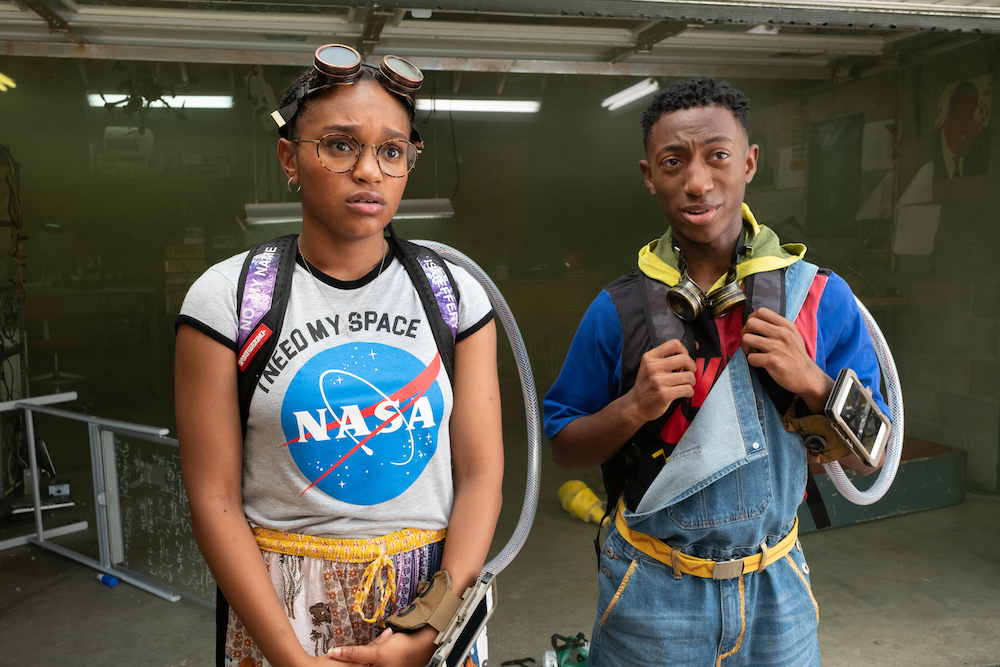 Photo: Linda Kallerüs
See You Yesterday pulls you in from the start with one of the most meta moments you'll find on film. The setting is the Bronx High School of Science. C.J. (Eden Duncan-Smith), who is reading A Brief History of Time, tries to distract her teacher—MICHAEL J. FOX—who's in the middle of reading Kindred, which is a brilliant novel on slavery and, yup, time travel. Meanwhile her partner-in-science, Sebastian (Dante Crichlow), is "borrowing" supplies to fuel their temporal displacement backpacks. All of this while their teacher pretends not to notice. See? It's so wonderfully meta. Of course we were all in.
From there SYY allows us to get to know our main characters by immersing us in their world and introducing us to their families. C.J. and Sebastian's Flatbush neighborhood is as alive with multiple cultures, music, and personalities as the real one. But Bristol stylizes his version with the warm, slightly goofy, charm that made the family friendly sci-fi movies of the 80s so much fun. You easily form an attachment to every character but you're especially drawn to the bond between C.J. and her older brother Calvin (Astro). The entire movie hinges on this relationship. As the laughs turn to tragedy and the tragedy becomes a ticking clock, the love between the two siblings transports you through it all. And you cannot look away.
When I said neither Bristol nor co-writer Fredrica Bailey flinch in telling this story. What I mean is: Bristol and Bailey plunge us into the police brutality and criminality that plague our neighborhoods with equal honesty to the familial love and excellence that uplifts them. It would've been easy to utilize a cast this charming to give us a light-hearted 80s-style adventure.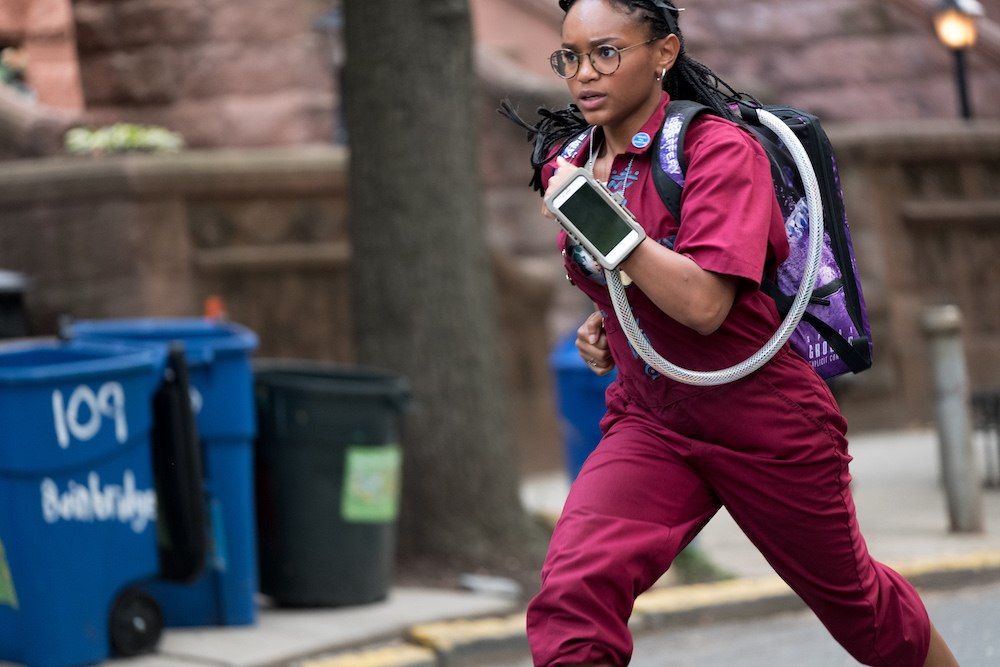 Photo: Linda Kallerüs
That would've been fine. Instead we see Calvin murdered by the police, in a case of mistaken identity, and as C.J. and Sebastian try to use time travel to save him things fall apart. Which leaves us with the ultimate question. Which theory of time travel will prevail, the one from Back to the Future when all time is malleable (with consequences) or the one from The Time Machine where a pivotal point in time cannot be changed (no matter what)? You'll be wondering this right up to the very end.
See You Yesterday contains hard lessons but the sci-fi framing allows it to deliver the truth in a poignant and accessible way for viewers of all ages. From the depths of the sense of community, to the small ways Calvin watches over C.J.—days later you'll find yourself thinking about different parts of the story, ones that might not have jumped out at you while watching. Much like the time travel element, the connections and consequences are more complicated than expected.
And the ending is going to be a gut punch.
In the End: Even though you'll question some of the logic, See You Yesterday will keep you hooked until it fades to black. Watch it and share it with the fam (if you think they can handle it).