Basically: The story of Elton John told through his music.
I guess we are in a new phase of musician biopics. Even though Rocketman was in production before Queen's Bohemian Rhapsody the two movies are still going to be compared. Rocketman also seems to be part of a wave of revisiting the 70s as the song and the decade reach their half-century anniversary. For the most part Rocketman has the standard framework of a musician biopic but this movie isn't what I expected. While it does hit all those expected notes it does it in a grand way, like when John was in his prime.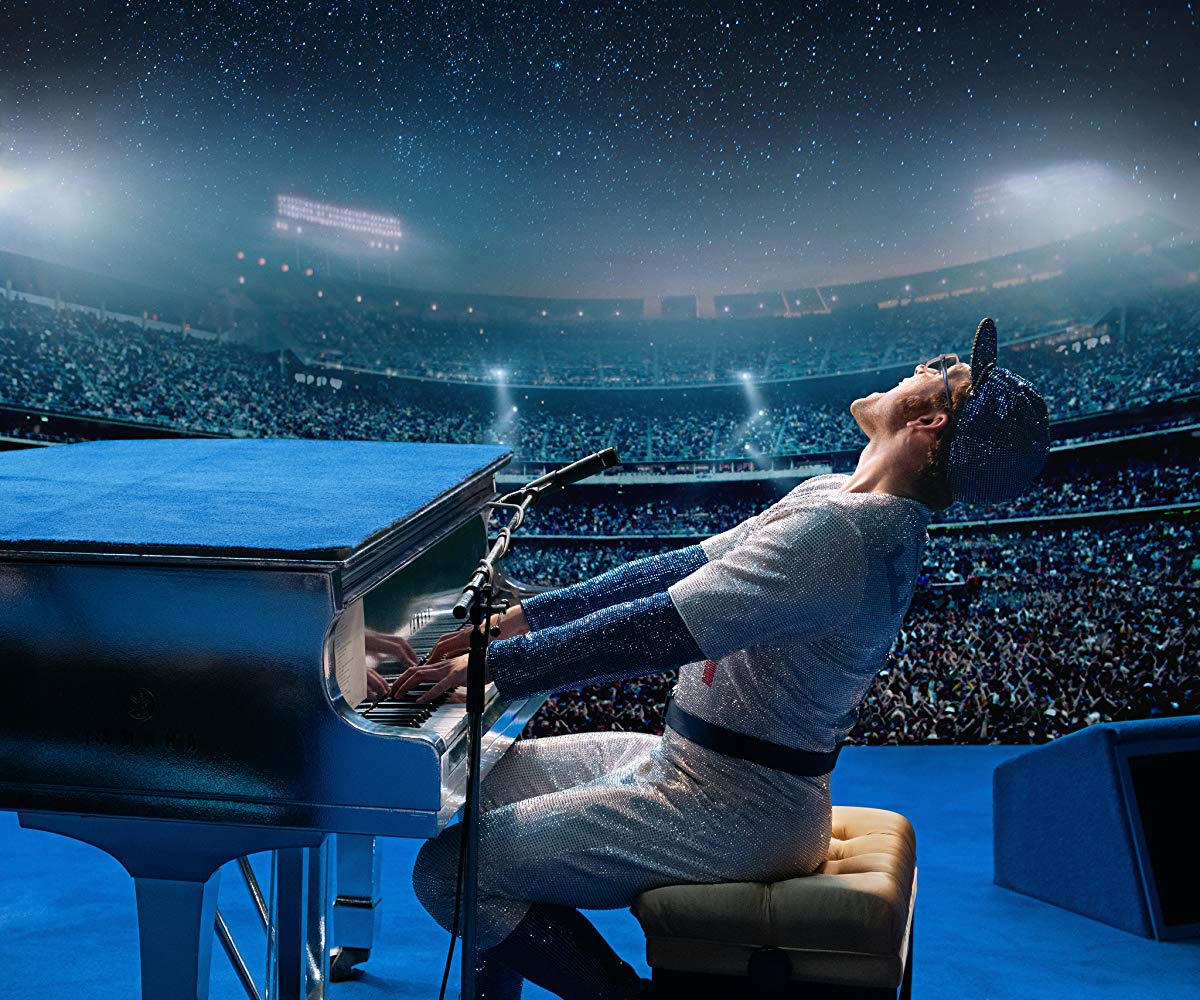 Photo Credit: David Appleby - © 2018 Paramount Pictures

The movie starts with Elton (Taron Egerton) as a young child in a troubled home. It shows how he discovers his talent for the piano, and his time at the Royal Academy of Music. From then on the movie details all the rockstar highlights you can read on the Wikipedia page of his life. It portrays the timeline mostly by using his songs and giant performance set pieces to push the story and Elton's feelings forward. This gives it a feel of a rock opera on Broadway that must exist in some parallel dimension. Every set piece is well put together and flows with the story. The film is very much from Elton's perspective—for better or for worse. This might not be what some people want but there is no real "objective" take when retelling history. Getting a story from the man himself is something to be celebrated.
Since Rocketman is about a living legend, a lot of the movie depended on who played John. There were plenty of rumors about who would take on the role over the twenty years it's been in development—like Justin Timberlake (remember that old music video where Justin played Elton?) and Tom Hardy—but Taron Egerton does a great job. I keep forgetting he can sing (most of us learned from his voice acting in Sing) but here he does it all. He dives into being Elton John with both feet, imitating his voice while also getting his look and body language down. He does a fine job performing Elton's material.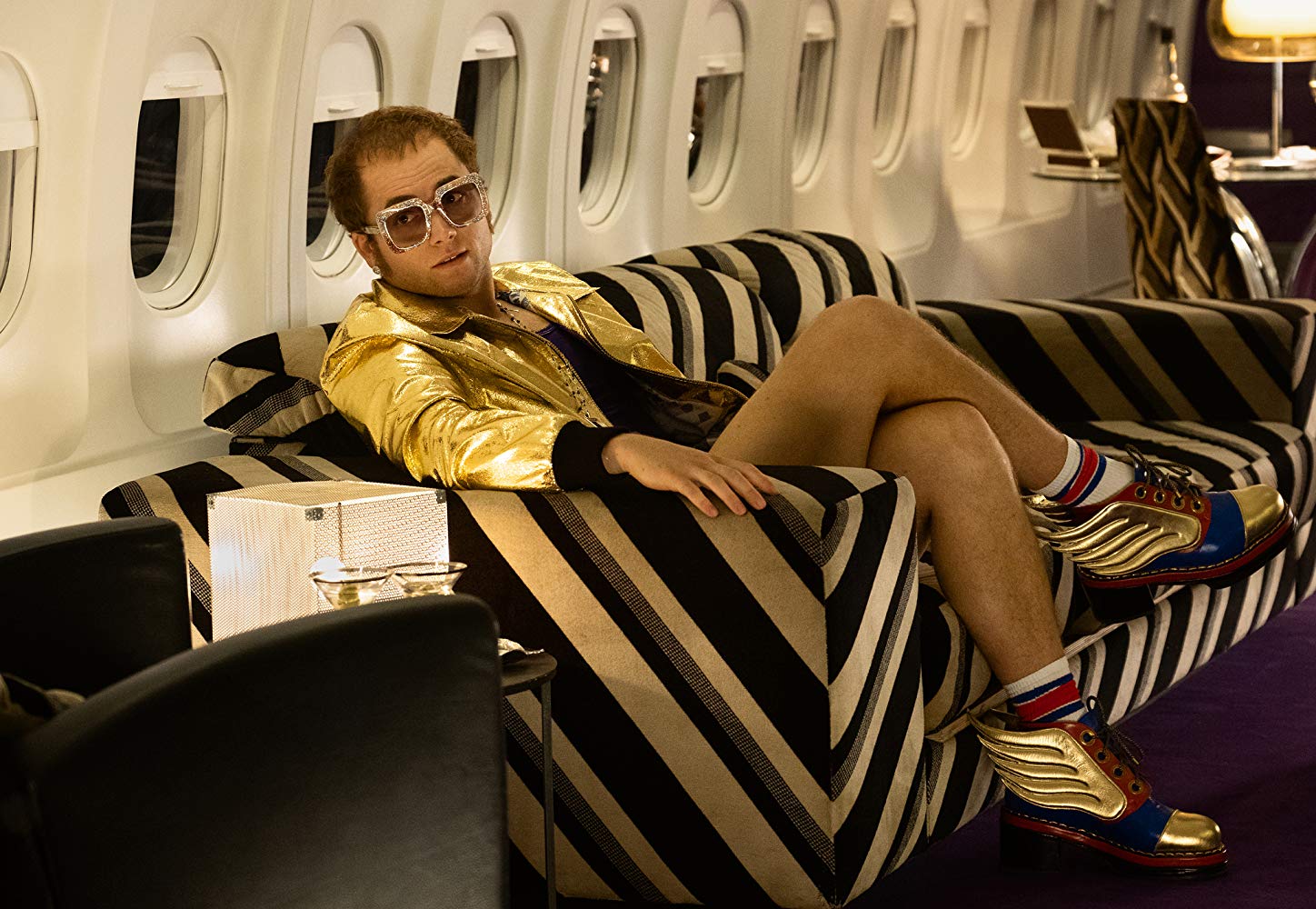 Photo Credit: David Appleby - © 2018 Paramount Pictures

As for the supporting cast, Jamie Bell is good for the limited time he's onscreen as John's writing partner Bernie Taupin. A big surprise is Richard Madden who portrays John Reid as the James Bond of music agents. It's also surprising to see "Robb Stark"* sing in a movie—this guy can do everything. Bryce Dallas Howard plays one of the best dislikable mothers I've seen in a long time. She's great at being the absolute worst. The two child actors who portray the young Elton—at 5 years old (Matthew Illesley) and then later in his early teens (Kit Connor)—do great jobs as well with singing and emoting. They help to give you a solid foundation of Reggie AKA the person he was before he became Elton.
A musical might not be for everyone and Rocketman wasn't really advertised as one in the trailer but it has moments of reality and the song and dance numbers are not full-blown RENT or West Side Story-style, which could be a negative on the opposite side. For me, Rocketman has breathed a little new life into the genre. Maybe other biopics should take some more chances like this did.
In the End: A bright and colorful telling of a rock icon's life that shows off the ups and downs in splendorific fashion.
—
* Littlefinger played the same John Reid in Bohemian Rhapsody. Maybe in another movie he can be played by another Game of Thrones actor.