Basically: Jamie Foxx stars in what should've been a DC Comics superhero movie.
If things weren't the absolute worst here in the United States we'd be deep in the late stages of Summer Movie Season. It's usually a time of the last hurrahs before the film industry shifts toward more Halloween-leaning fare and awards bait. Instead we're all stuck in the house without a single crazy big movie, looking to see what's on Netflix. Project Power is the type of movie we've been missing. It's an action flick with big set pieces, a grounded yet fantastical premise, and a few stars. Jamie Foxx leads and Joseph Gordon-Levitt provides a decent-sized supporting role. Dominique Fishback also stars—she may be a newcomer to some but has been killing it on HBO, in David Simon projects.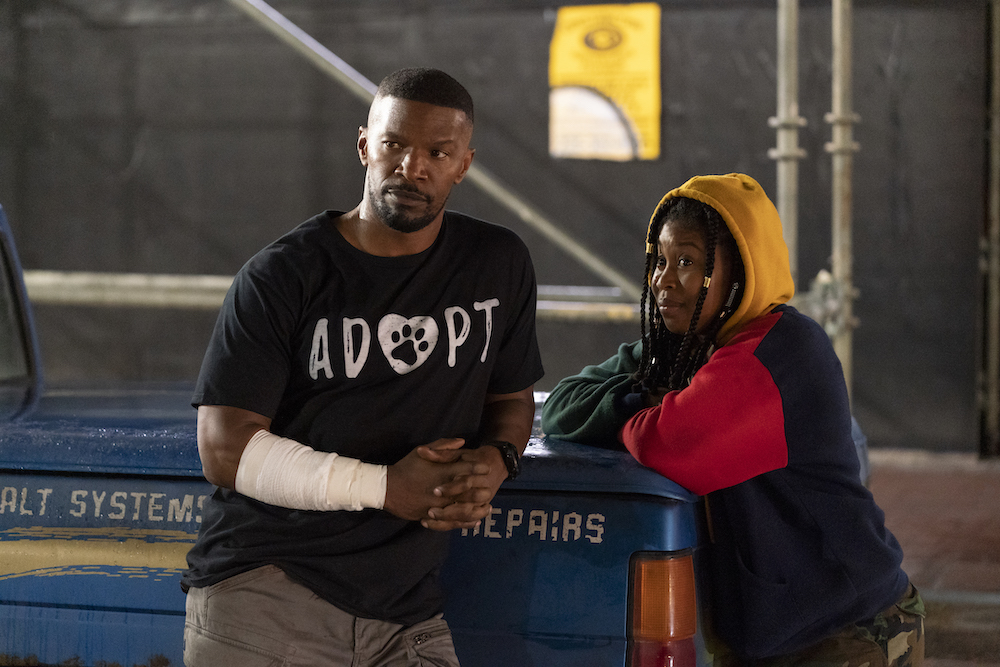 Photo credit: Skip Bolen/Netflix © 2020
Project Power takes place in New Orleans where a mysterious group has offered the city's dealers a new drug to sell. This pill can give people superpowers for a limited amount of time…with a catch: You don't know what power you'll develop until you take it. We then meet our POV character Robin (Fishback), a low-level dealer who gets into a sticky situation while selling the drug. So, local detective Frank (Levitt) comes to the rescue. You might be asking: What about Jamie Foxx? Well, he plays an ex-soldier called Art, also referenced as the Major, who's ready to shake up the whole city looking for the people behind this new drug. His character comes in to join Robin and Frank on a mission to take the supply chain down.
Project Power starts and never stops. The pacing is good and draws you in from the very beginning. This is very much a superhero-genre movie but it is told through a science fiction lens and uses the concept of superpowers and drugs well. It's not a new story for people who have read a lot of superhero comic books but, for most of the audience, this might be a fairly new thing to see. The action set pieces are very well done with interesting camera movements and effects that fit the world and don't scream GREEN SCREEN at you like some movies. 
The storytelling and worldbuilding are also handled well. The characters and their interactions move the plot forward. Foxx does a good job as a gruff and tough guy who still softens when dealing with Fishback's Robin.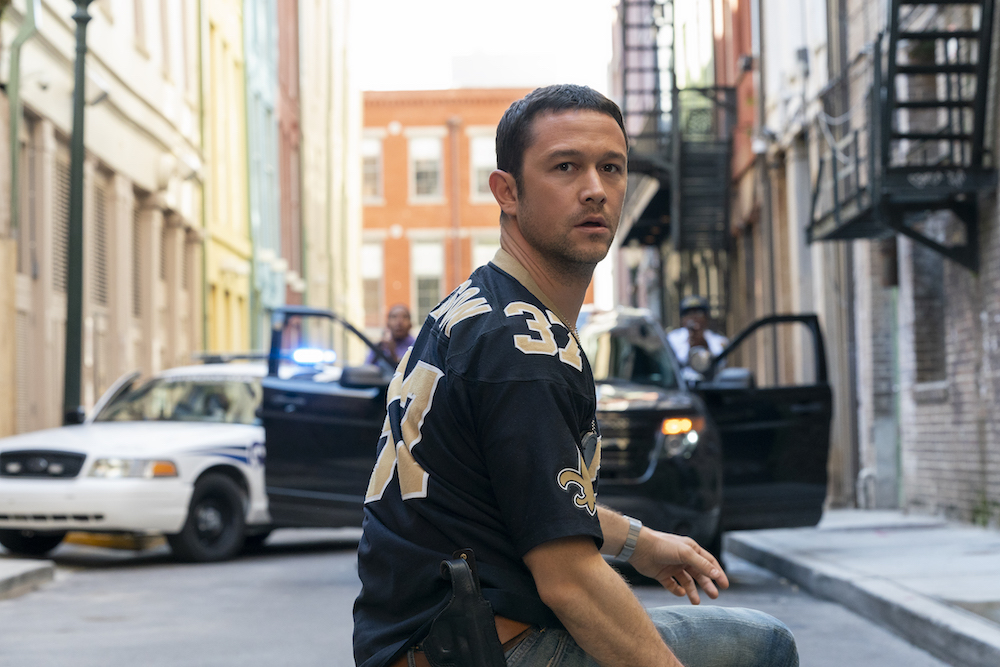 Photo credit: Skip Bolen/Netflix © 2020
Like I said, there are some DC Comics influences. Art and Robin are very much winks and nods to Batman and Robin (Robin even rides a motorbike). However, Joseph Gordon Levitt's character is a bit different. When I first saw the Project Power trailer I said, "wow, this looks like an Hourman movie"…and guess what? My guy JGL is basically a cop version of Hourman. It's not really a spoiler (his ability is shown in the trailer) but I'm totally ok with this homage. He's a detective trying to clean up the streets with a little bit of invulnerability and a little extra strength. With all the current conversations and politics surrounding policing and police brutality, watching such violence from a cop might bother you, but JGL gives a good and likable performance. In any other movie he'd be the main hero but in this one he's the B-hero (kinda like Hourman).
I can't say Project Power is flawless but it knows what it is: A summer action movie. The kind we used to live on before the Shared Universe franchise era. This could be turned into a franchise but it also just works as a standalone. You get to the end and you feel entertained and fulfilled. I wish I saw it on a big screen in a dark theater but that's not possible. So, folks, cook up some good food, sit down, and enjoy yourself with a cool concept for a few hours. 
In The End: Project Power is a good old-fashioned action romp that helps to continue a trend of good action movies on Netflix.