Basically: Lone Wolf and Cub but make it a western.
Captain Jefferson Kidd is a man out of history as well as from the pages of a novel by Paulette Jiles. The original Kidd, just as with the namesake character portrayed by Tom Hanks, was a traveling newsreader. In the western drama News of the World, Kidd earns dimes in exchange for theatrical readings from various newspapers, until the day he finds a young blonde girl who's been raised by the Kiowa (an Indigenous nation) and they become companions on the road to someplace else.
That setup gave me pause. I haven't read the book but News of the World could've gone the wrong way in its depictions of Indigenous people as antagonists to colonizers. There's certainly enough Hollywood history there to cause wariness. For the most part, writer/director Paul Greengrass and writer Luke Davies avoid the stereotypes and are balanced in showing the ills of colonialism—many of the settlers are racists or sexist in every way possible and that's real.
Photo by Bruce Talamon - © 2020 Universal Studios
The young girl (Helena Zengel) calls herself Cicada—her Kiowa name—but Kidd all but forces the name Johanna on her. That's the name she had when her first family was killed, but she doesn't remember the time before and she doesn't know who "Cho-hana" is. This is almost symbolic. The inciting incident of the film happens in the aftermath of a hanging that leaves Cicada alone for a third time. This little girl loses two families and one guardian over the course of six years and not once does she get to keep her name.
Kidd, a Civil War vet, keeps moving to stay well away from loss. He dreams of seeing "far off places" but that's just another way of running from the wars and love and obligations. In truth, he is as alone as Cicada. Perhaps that's the thread that binds them together. 
Kidd is hesitant when he decides to take Cicada to the only family she has left. He knows his solitude could be forfeit and as they travel together they move toward mutual understanding. In that way the story is a simple tale, almost a slice of life, from an old west in which going back is impossible and moving forward is fraught with danger.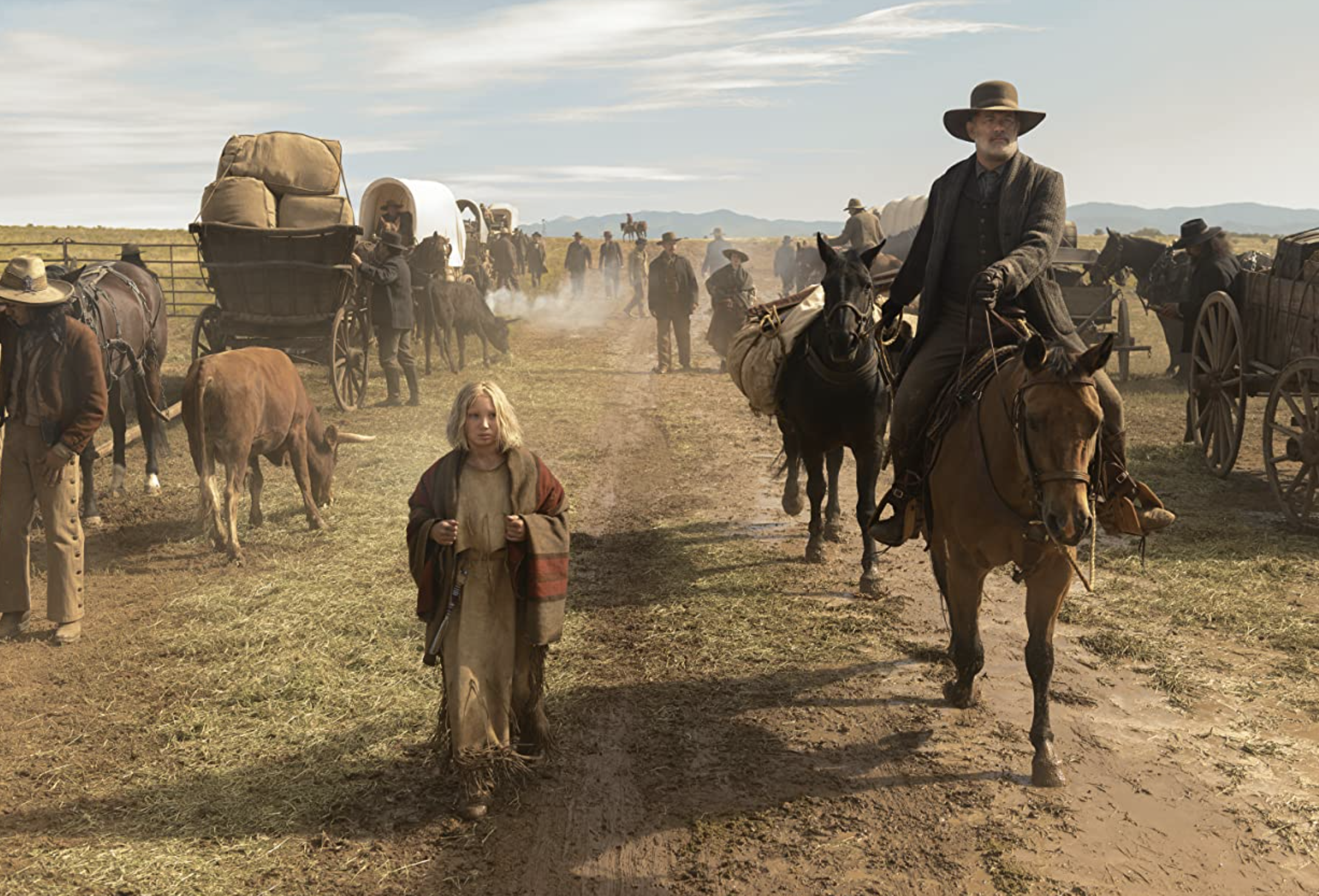 Photo by Bruce Talamon - © 2020 Universal Studios
News of the World is a western with all of the tropes intact. The bandits, the broken wagon wheels, the long stretches of land where there's nothing to do but finally listen to your traveling companion, and the sudden inescapable dangers—they're all here. In some moments, this warm gold toned film has the spark of something classic and that makes it engaging. Yet mostly it's just another western like the many I watched with my grandfather, father, or godfather without the long lasting sparkle of a True Grit (2010) or a 3 Godfathers (movies I thought of often while watching News of the World).
That's not an indictment, just a statement of fact that this film is pleasant enough but not impactful enough—even while Hanks and Zengel give it just enough charm to make it worth watching.
In the End: If you're a fan of westerns or Tom Hanks then it's an afternoon.
Want to hear more about News of the World?
Read Julian Lytle's review.