Basically: A mix between Lone Wolf and Cub with Traveling Showman in the reconstruction era of Texas. 
I was worried about News of the World when I first saw the trailer. I thought it might be a film that would play into old stereotypes that plague much of Hollywood's past, especially in the Western genre. I have to say that a lot of those fears were quelled when I got to see the film. News of the World stars Tom Hanks as Captain Jefferson Kyle Kidd, a veteran of the Civil War who goes around town to town in Texas holding events where he tells people stories from the many newspapers of the country. One day he stumbles upon what looks like an attack site and finds a young white girl who speaks the language of the Kiowa people all alone. He decides to take this girl back to her closest relatives 400 miles away. Most of this film, directed by Paul Greengrass, is focused on these two and their interaction with them learning how to communicate and his trying to protect her in this hostile post civil war world during their adventure.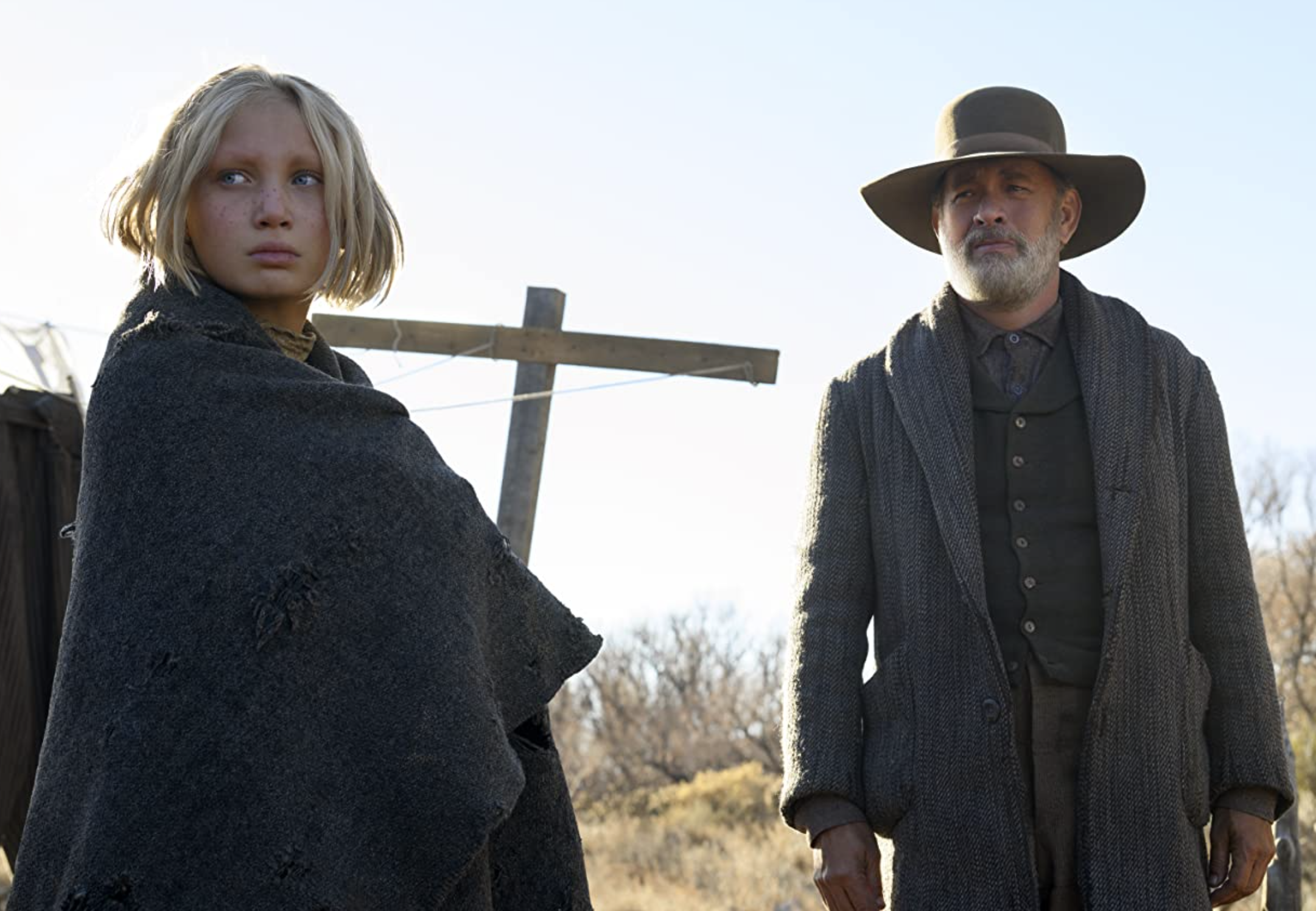 Photo by Bruce Talamon - © 2020 Universal Studios
Hanks is his usual great self with his performance. I think this is the first film I've watched with him where he's felt old and it works here with Captain Kidd. This weathered man who's seen too much and lost just as much is all in Hanks' eyes. Most of his screentime is with Helena Zengel as Johanna, the young girl he finds who does great, doing most of her lines in Kiowa language for the whole film. It feels natural to me as a layman but their performances together really work. I was really glad to see that, along with this, the Indigenous People were not the bad guys or shown to be evil like I was afraid of going by the Johanna character's appearance in the trailer. The antagonists in this film are people in the towns of Texas from exploitive capitalists, terrible men, and the lack of value of women in the story by people.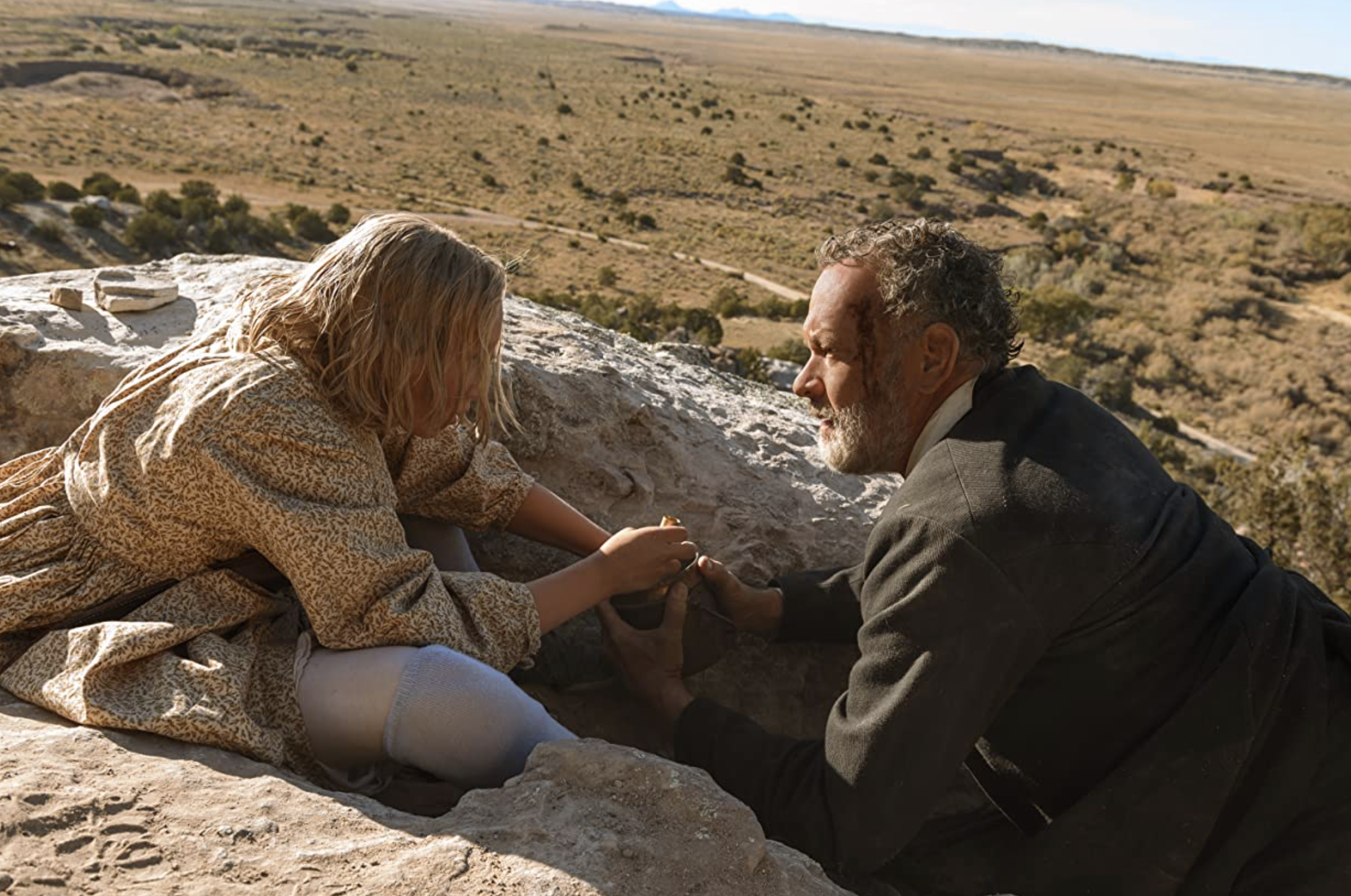 Photo by Bruce Talamon - © 2020 Universal Studios
Greengrass also does well by the direction, with a clear camera movement and yellowish tone that adds a warmness that makes the world feels hot and uncomfortable (shout out Dariusz Wolski, the cinematographer) with the right shots to hold on to the actors' faces and keeping the action clear to follow. Greengrass also brings all his skill of building tension here with a scene about an hour in that will have you sitting on the edge of your couch with worry for Captain Kidd and Johanna. One thing that feels like it could've been explored a bit more is the use of Kidd's career of telling the news to people who are too busy to keep up with it themselves. This feels like a clear correlation with the idea of the news anchor and TV news and how we as a US society look at the news in our lives. It's clear that it wasn't the focus but there is enough there that a comment is being made and it left me wanting a bit more on it.
In the End: News of the World is a good Tom Hanks movie that's more entertaining than the way it might look. It's definitely worth a watch this holiday season.
Need more reason to watch News of the World?
Read Sherin Nicole's review.