By Julian Lytle (and Sherin Nicole)
Basically: Darren Aronofsky likes to mess with our heads and this disjointed dream put onto film proves he's good at it.
mother!, oh, mother. This guy Darren Aronofsky is something. He's made a film that divides people and leaves them speechless, while leaving them with the question: What in the world is mother! about? Hmm, that's hard to say, the film starts with Jennifer Lawrence's character, Mother, waking up in bed alone. She goes to look for her husband. Javier Bardem's character, Him, appears and the two share time together. Note: The characters don't have names but looking them up on IMDb is great for some "head scratching". Throughout the opening, there's something off about…everything…and the tension builds from our understanding that something isn't right. The lead couple get a visit from an almost fragile Man, played by Ed Harris. The man seems benign but his mere presence bothers JLaw's character. She's leery of people she doesn't know and just wants to spend time with her husband. Soon after the Man's arrival, his wife, Woman, shows up further surprising JLaw's Mother character. And then things ramp up as more and more people appear. We learn Bardem's character is a famous writer with a dreaded disease called writer's block. The writer's block and the neighborhood cult vibe take things from tranquil to complete chaos, as a choice to let that first Man and Woman into their home leads to even more terrible consequences for the main couple—especially impacting Mother's psyche.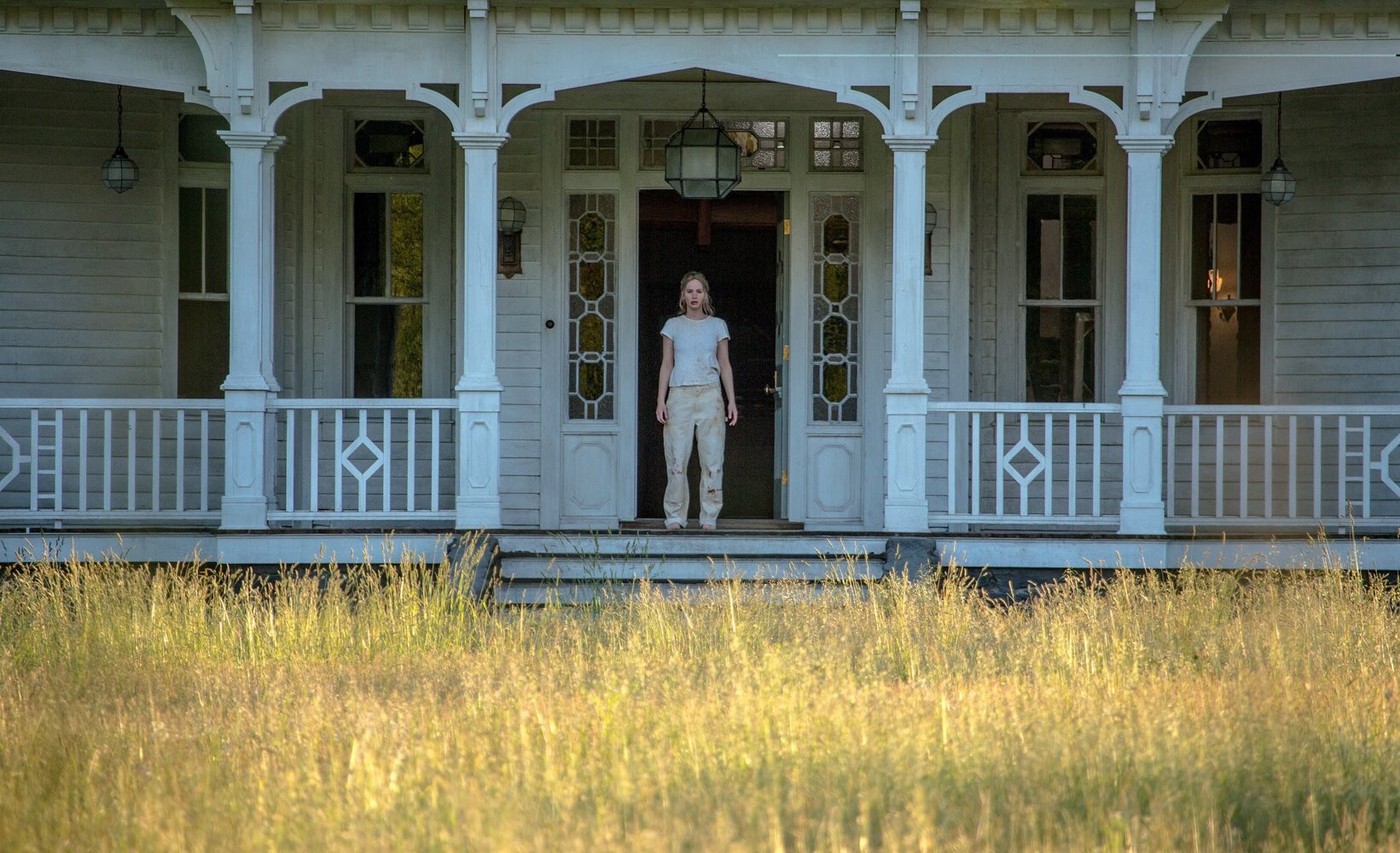 That's the best synopsis we know how to write for mother! without spoiling it (it really can't be explained, so screaming out "spoilers" is a shield). The good thing is, it's not supposed to make sense. Aronofsky has described the plotting as "dream logic" and his description is spot on—people and things appear and disappear without any explanation. The film is being marketed as some type of psychological horror, but it's not, it's very much a nightmarish fantasy, a twisted allegory of our society. The viewer has to figure out their own way through the maze of unreliable narration presented through the haze of the storytelling, but there are lots of connections to the classic stories we already know. There are tons of allusions to the Book of Genesis in the bible, mixed in with commentary on fame, the patriarchy, and gender dynamics. When you get into it mother! feels like it's digging into social media and its effects on people and relationships—the film is a starter for essays on essays on essays on its own. What's most interesting is how Aronofsky handles it all. At one point, forty-five minutes in, you'll wonder why Mother keeps letting all these randos do "whatever" in her house while she keeps passing out fades* like Valentine's day cards. But then mother! goes deeper and deeper and gets more uncomfortable, especially the sex scene (you'll know it when you see it), but in the end, as things start to wrap up it becomes more and more clear that we're seeing Aronofsky's view of humanity at this point in time, these are his beliefs about the world itself.
mother! Probably isn't for everyone, much like Aronofsky's previous films (The Wrestler, Black Swan, Noah), but Aronofsky's vision and voice are consistently compelling. Vision and voice seem to be waning as we're hit with franchise release after franchise release, and even when we're in Oscar bait season we don't see enough films that clearly, unwaveringly have something to say. mother! is about something—you can like it or not, but it'll get you talking and thinking and that's something we need more of.
In the end: Get ready to be completely confused and enthralled by mother!, wondering what you saw—either hating it or loving it but maybe just maybe wanting to instantly go watch it again.