Actually: 7.5
Basically: A Stand By Me of sorts for the times before Google existed and when MTV still played videos.
I'll be honest, I was very skeptical of Mid90s when I first heard about it. It seemed to come out of nowhere and all of a sudden all I saw was buzz from Jonah Hill about his first directorial effort in cinema. It's like: Okay, the guy who doesn't want to be seen as funny anymore now wants to be even more serious by making a movie about the 90s. I felt that way up 'til the screening. Everyone I saw were either young people who have a weird infatuation with the decade or older looking hipster guys who looked like they just listened to all the stuff on 120 minutes on MTV.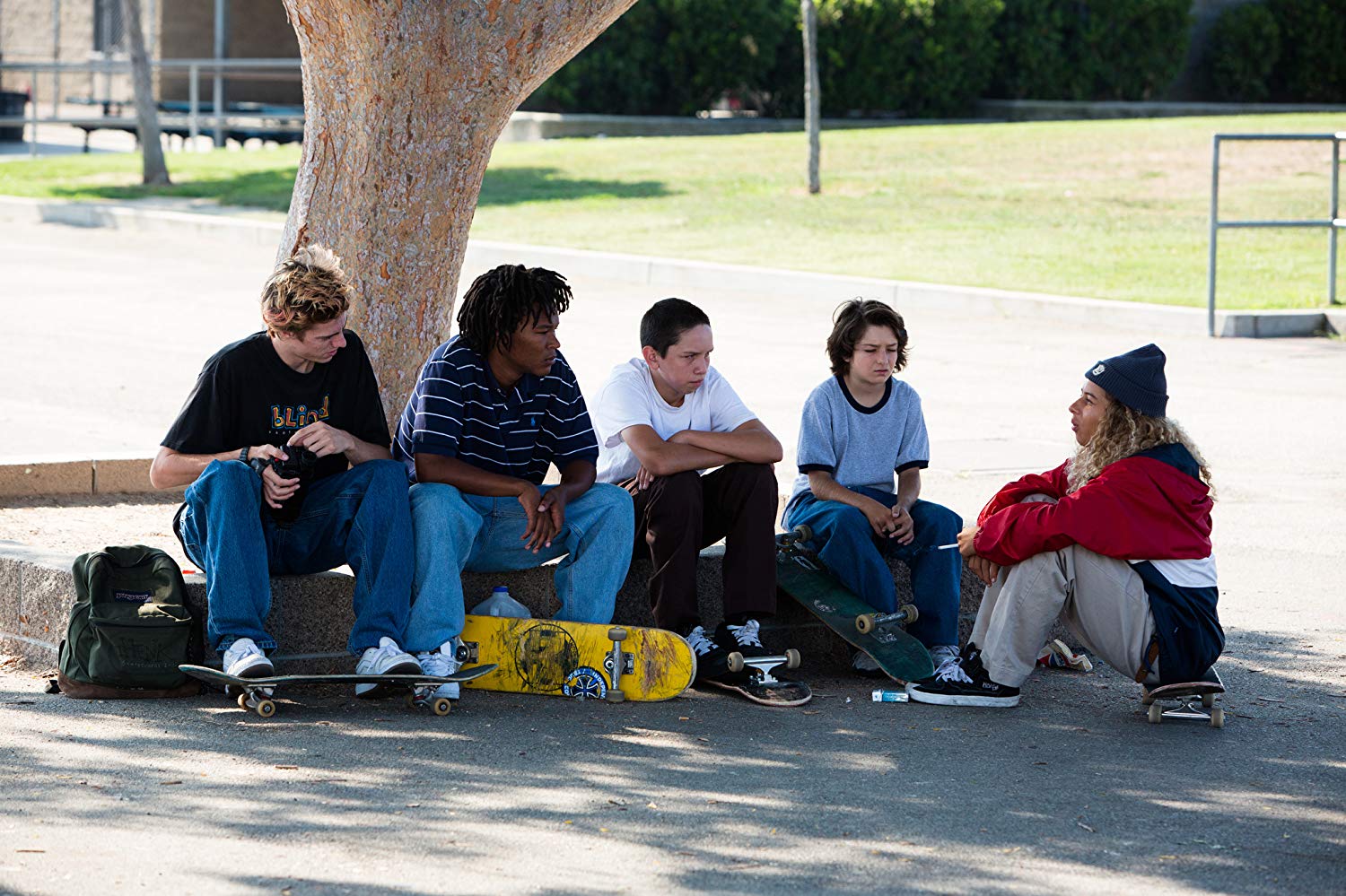 Photo by Tobin Yelland - © 2018 - A24
Well, I got something I didn't expect. Mid90s is a film about 13-year-old Stevie (Sunny Suljic), growing up in LA in, of course, the mid-90s with his abusive older brother Ian (Lucas Hedges). Ian beats the bejeezus out of Stevie all the time and their sweet but overwhelmed single mother Dabney (Katherine Waterston) is just getting by. Stevie still looks up to his older brother and follows in Ian's footsteps in loving hip-hop, but he's also looking for his own thing. He ends up hanging around a local skate shop and befriending a clique of skaters. Earning the moniker of Sunburn, Stevie tries to prove himself to lock himself into the group. He gets into skating more and more and learns how to drink, smoke, and all kinds of stuff in this one wild summer. This change in lifestyle really affects his home life and completely throws his family for a loop as he tries to figure out who he wants to be in a world of ollies and DJ Premier beats.
I didn't expect this to be a hip-hop movie nor a skater movie. It's pretty apparent from all the press but walking into it cold, with no knowledge of the premise, was quite a revelation. Hill wrote and directed Mid90s and he took a lot of care to build Stevie's story from his own experiences as a kid. Hill takes time with his characters, as the movie kind of sits and watches what these kids get into. Hill doesn't do too much with the camera and the actors seem comfortable to a point where it doesn't feel like they are acting but almost improvising.
There is a point when you think this film could go in the direction of KIDS (Larry Clark & Harmony Korine film from 1995)—which I loved as a kid but might be a bit shocking for shock's sake looking back—but that's not Mid90s. Even moments that deal with sex have a certain level of tenderness, since the main character is so young compared to his peers, who are mostly older teens. You end up really enjoying watching these kids be kids; just hanging out and skating and meeting girls and driving around being silly. Hill and the crew also show some of the trying parts of being this kid, the almost unwelcomed freedom, the abusive family members, and how that can take a toll on one's mental health.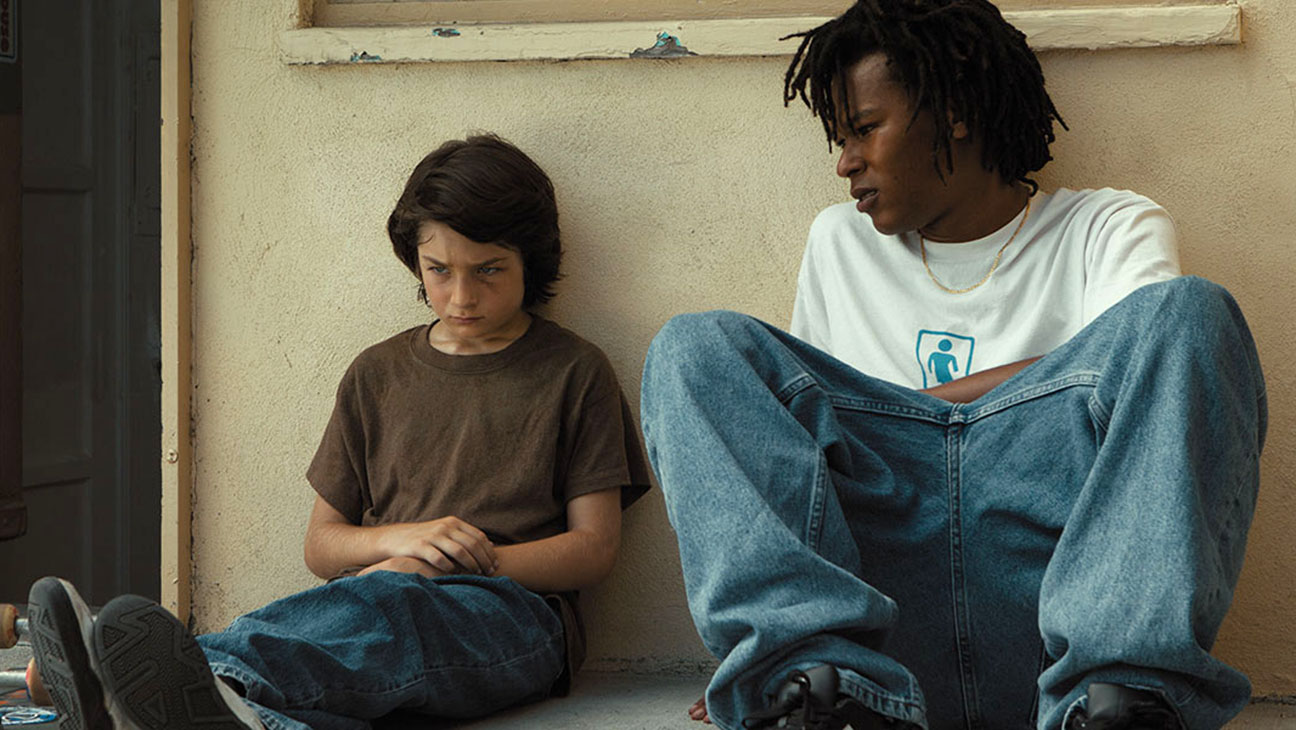 Photo by Tobin Yelland - © 2018 - A24
A lot of the film tries to show toxic masculinity in the ways the boys pressure each other into doing things they know are wrong, or how they mistreat girls, but there is one thing that really needed a bit more exploring. Stevie's older brother Ian, while there is a resolution to the arc between the two brothers, by the end it's hollow because there isn't enough in the middle. There could've been more to show why Ian acts the way he does.
Also, two of the main characters are black, Ray (Na-kel Smith) and Fuckshit (Olan Prenatt), and they have a solid B-plot but some might take offense to how much they say the n-word. It's accurate for the time but Hill is white so some viewers might feel a certain way. With his first film, Jonah Hill has put himself on the map with a great coming of age that captures the feeling of the mid 90s—not a specific year but a moment in time—and it's well worth seeing.
In The End: See it. Mid90s is a visual mixtape of Jordan playing, Tony Hawk flying, and Boom Baps kicking.