by Kat Bittner
Basically: LOVE, SIMON is a heartfelt teenage love story that's done with keeping its story "straight".
Simon Speer (Nick Robinson) has the perfect life: high school sweetheart parents (Jennifer Garner, Josh Duhamel) who still love each other, a likeable sister who is a budding Top Chef, and a sweet diverse group of friends. There's just one thing no one in his life knows. He's gay.
Everyday Simon has his routine. He picks up his two oldest friends in an idyllic Atlanta suburb, Leah (Katherine Langford, 13 Reasons Why) and Nick (Jorge Lendeborg Jr., Spider-Man: Homecoming) along with the new girl Abby (Alexandra Shipp, X-Men: Apocalypse). They pick up their iced coffees, head to school, drama and sports clubs. Just your average teenage life. Simon is somewhat content to maintain the hetero status quo until one day another closeted kid comes out on the school's gossip site. It inspires Simon to confess his own secret to his friends and thus begins an epistolary romance…until their love is threatened to be exposed before either of our shy leads are ready.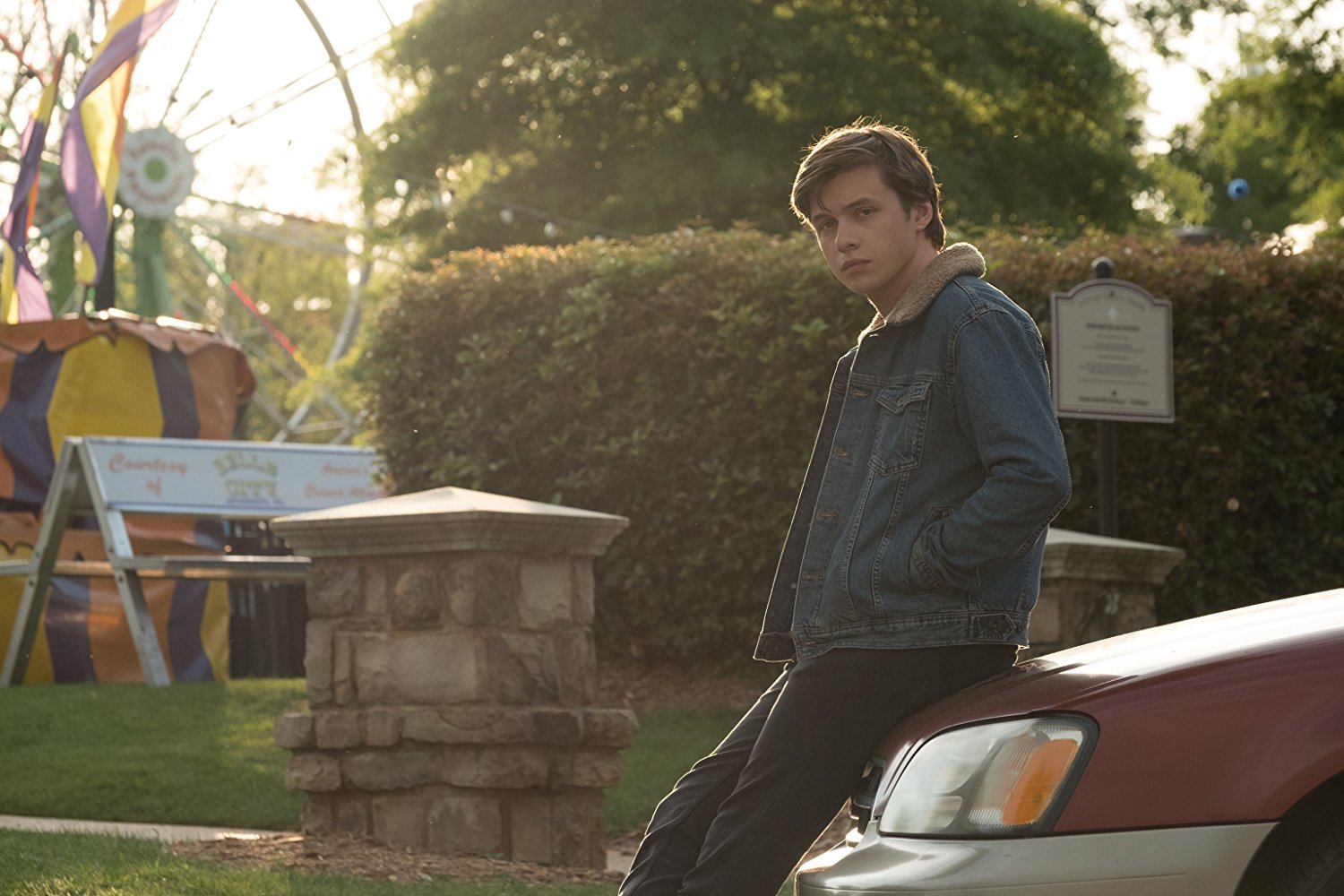 Photo Credit: Ben Rothstein - © TM & © 2017 Twentieth Century Fox Film Corporation.  
Based on the book by Becky Albertalli, Simon vs. the Homo Sapiens Agenda, LOVE, SIMON checks the teen romcom points: unrequited love for your best friend, creepy entitled bully, the house party, and the internal romantic daydreams to juxtapose with the public grand romantic gesture. The film owes much of its "John Hughes humanity" to prolific writer/producer Greg Berlanti (Dawson's Creek, Riverdale + every other DC CW show), and screenwriters Isaac Aptaker and Elizabeth Berger (This is Us; yes, you may shed tears). In an age where gay teenagers finally have screen time on TV, it is almost surprising that LOVE, SIMON is the first major studio release to feature a gay romantic lead.
The thing that's most fun about LOVE, SIMON is we, the audience, get to play a version of The Dating Game called: Guess Who's Blue? Let's meet our mystery contestants for the secret love interest! Is it Contestant Number 1? Nick, the boy next door (Keiynan Lonsdale) who invites Simon and his friends to a house party while his parents are away. Is it Contestant Number 2? Lyle, their favorite waiter at the local Waffle House (Joey Pollari). Or is it Contestant Number 3? Cal, the quiet piano player in their school production of Cabaret (Miles Dominic Heizer). While any of these likeable guys are worthy partners, if the cheers from my screening are any indication, the revelation our mystery man's true identity will leave you as satisfied as getting a heart shaped box of chocolates.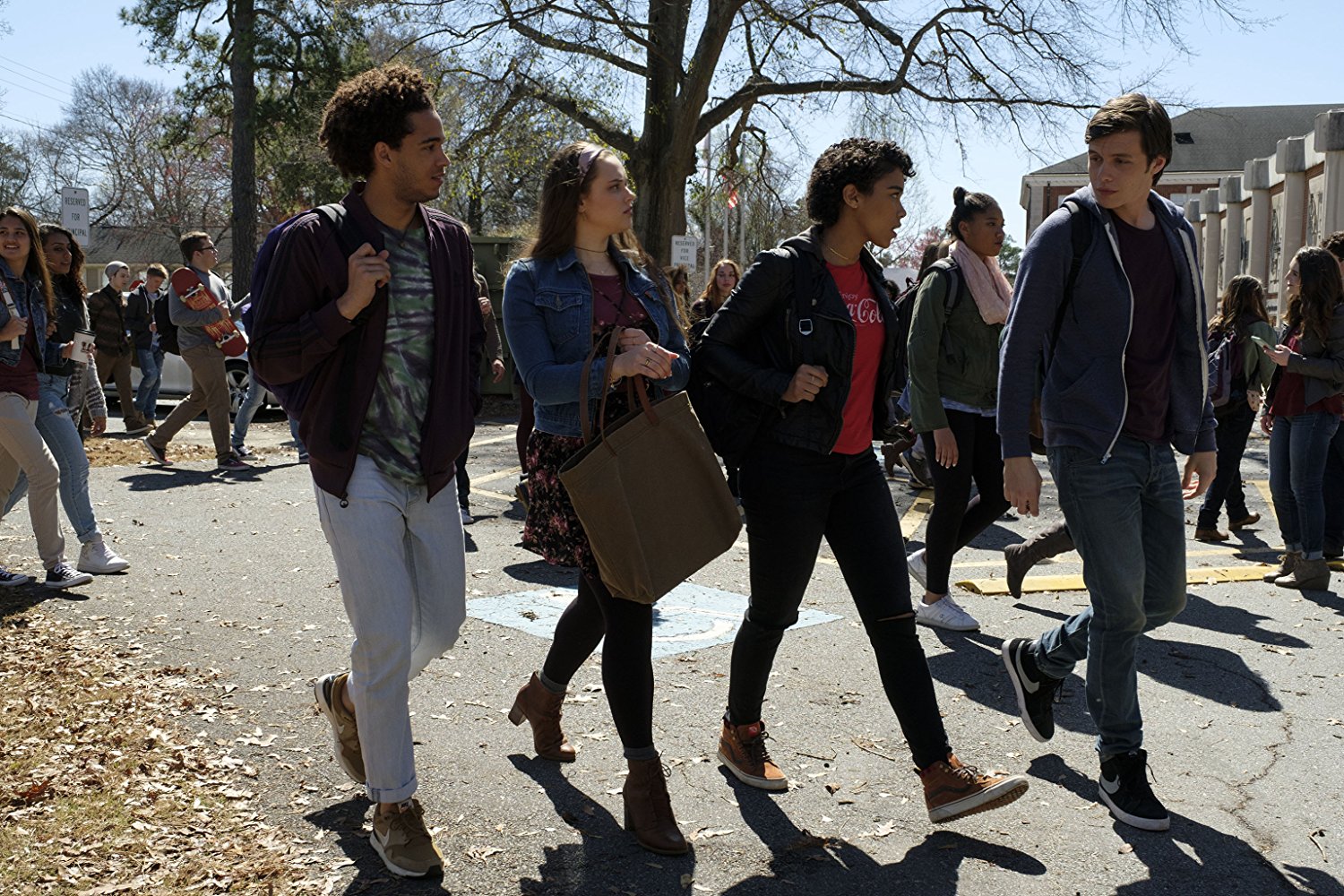 Photo Credit: Ben Rothstein - © TM & © 2017 Twentieth Century Fox Film Corporation. 
One of the best moments in the film is when Simon muses/rants about why only gay kids have to come out. The montage of his straight friends coming out to their parents is at turns hilarious and tart in its questioning of the hetero default narrative in mainstream teen love stories. That's the radical thing about the safe, but not saccharine, love story LOVE, SIMON portrays. Like all the best coming of age stories, this film turns the personal into the universal. As mainstream entertainment expands to include other narratives the default voice in teen love stories can have more than one definition. It can have all the colors of the rainbow.
In the end: See it! LOVE, SIMON is a signature teen romantic comedy that expands the definition of who the teen romantic lead can be. Not only does everyone deserve a great love story, but they deserve to see it on the big screen—preferably in the bright lights of a giant ferris wheel.