Basically: While trying to fix a mistake, Buzz Lightyear learns some powerful lessons and discovers what "…and beyond" really means.
In 1995, a boy named Andy bought a Buzz Lightyear toy and set off a chain of adventures among a mismatched band of playthings.
This is not that story. No, this is the movie *about* the character the doll is based on: Buzz Lightyear (Chris Evans), explorer, Space Ranger, and a guy trying to make up for an error in judgment years ago.
Summoned out of cryogenic sleep by an automated alarm, Buzz and his commanding officer (and best friend) Alisha Hawthorne (Uzo Aduba) pilot their colony ship (known as "the turnip" for its distinctive shape) to an unknown planet. A quick exploration reveals dangerous vines and insect life so they try to blast off—only to crash.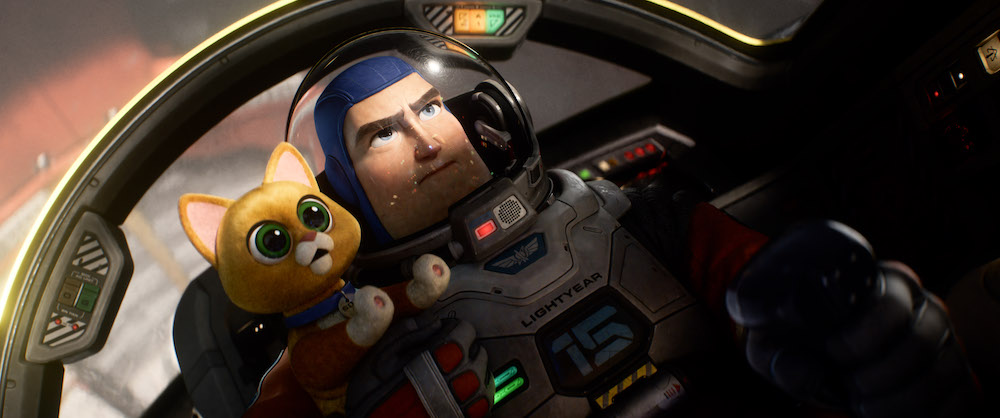 Determined to rectify this mistake, Buzz throws himself into getting everybody home, until the colony comes under attack from an alien warlord named Zurg (James Brolin). With the help of Alisha's granddaughter Izzy (Keke Palmer) and a bunch of wannabe Rangers, such as Mo (Taika Waititi), Steel (Dale Soules), Diaz (Efren Ramirez), and the skills of a cybernetic cat named Sox (Peter Sohn), things go awry in unexpected ways. But if this team can work everything out, Buzz might be able to defeat Zurg, save the colony, and get back on track. He just needs a little help…
A meditation on serendipity and dedication to an ideal at the expense of the here and now, Lightyear is a thoughtful heartfelt movie that delves deep into who the titular Space Ranger is, what he stands for, and what he must learn to be the hero he wants to be. As Pixar often does, it packs tremendous feeling into the smallest moments, amid laughs, adventure, and stellar animation.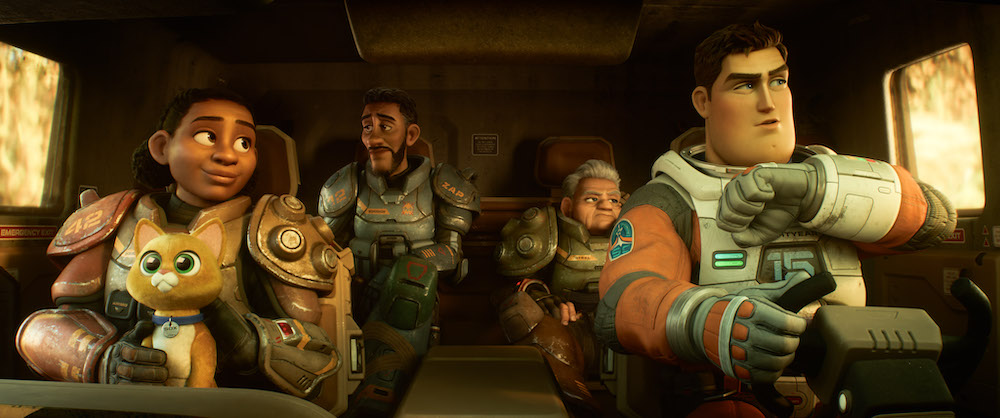 As Buzz, Chris Evans is a worthy Space Ranger—capturing Tim Allen's distinctive inflections and using his familiar catchphrases as if born to them. Aduba provides the context of a life fully lived with Buzz on the outside. Through her, we see how time moves on. And Palmer delivers a tremendous performance as the heir to a legacy that leaves her feeling overwhelmed. Finally, Brolin goes back to the role of alien warlord with wry amusement, putting new twists on what we thought we knew of Zurg.
In the End: If you liked Toy Story, well, this isn't that. It's different but it gives a whole new perspective on the fellow who declares he'll go "to infinity and beyond."