Grade: B
Basically: A documentary about the life of TV chef Julia Child.
It's weird to think about a world without people on TV cooking and showing you how to do things. I can't even imagine PBS without this type of program, they held down the PBS channels in the Washington DC area every Sunday in the 80s and 90s. There were great TV personalities like the Frugal Gourmet and Yan Can Cook, as well as Justin Wilson who'd say to the camera how he can GARONTEE something. Yet before them, the queen of cooking shows was Julia Child and her boisterous nature, with an over-six-foot frame and interesting accent, showing the world the joys of French cooking. 
Julie Cohen and Betsy West—the producers and directors of the 2018 RBG documentary—helm this fine film. Julia does a really good job of covering Julia's entire life from childhood to death. A lot of documentaries struggle with this or choose to focus on a specific period of the subject's life. But none of this film is paced slowly and it builds in drama well with her many journeys towards achieving her goals. It makes a good case in showing just how amazing Julia Child was. She was more than a lady cutting up a chicken and showing you how to roast it in under thirty minutes.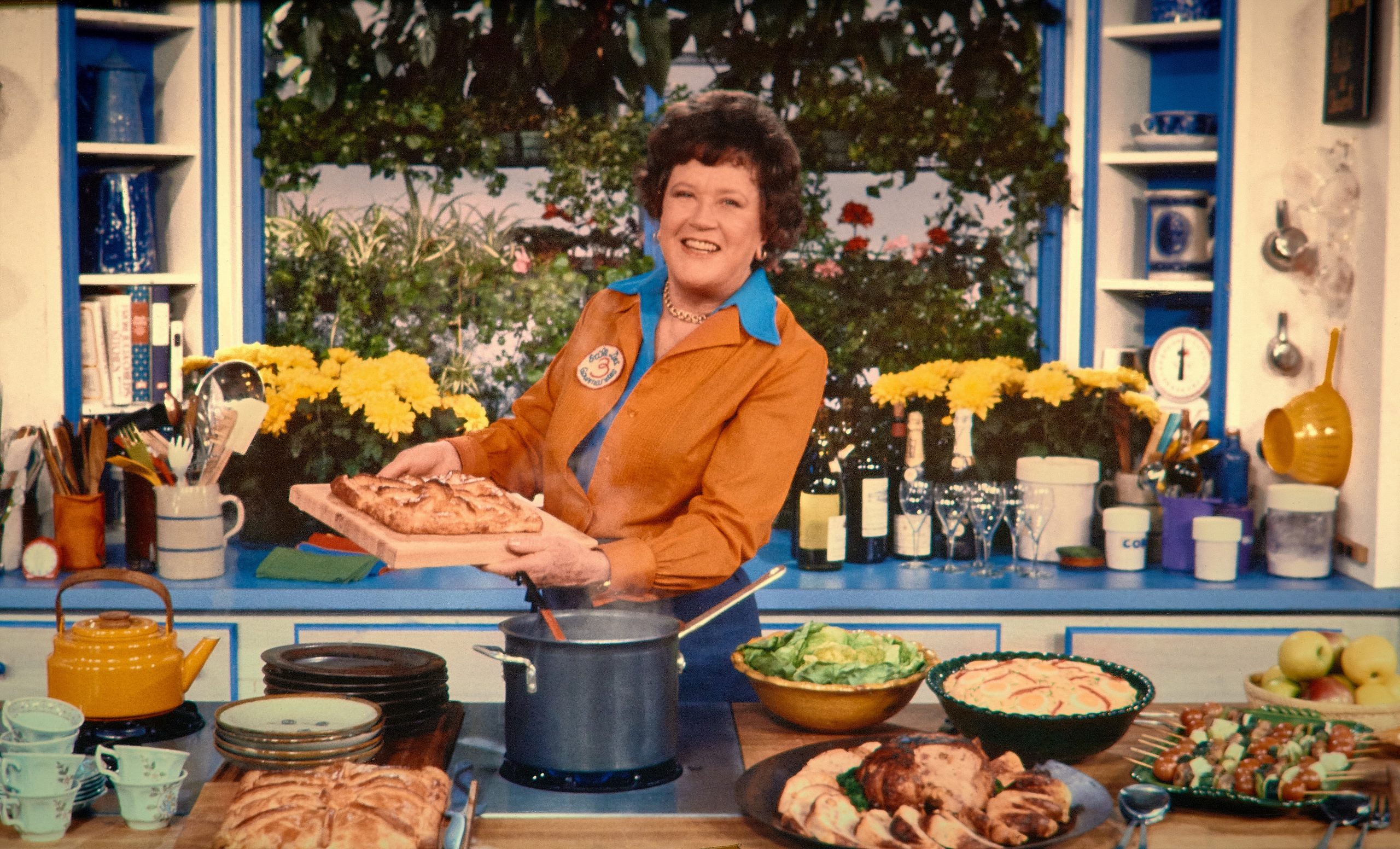 Photo courtesy of Sony Pictures Classics
The filmmakers also show that Julia was human by highlighting her connections to her family and her husband Paul. Since we've never really seen Paul on screen, we get to learn of their loving relationship and see how supportive he was of her dreams and ambitions. Those ambitions are also shown to not always be the most positive trait. It's surprising to learn about the rift between Julia and her close collaborator on her books but it portrays a level of shrewdness that shouldn't be surprising with anyone who builds an empire. 
The editing and use of pictures and materials are very well placed alongside Julia's own words from interviews and writings. It adds a nice bit of intimacy and it works unexpectedly well. The end wraps things up by taking us through the rise of cooking shows and the end of her career. It really stuck with me how cooking shows as we know them didn't exist before Julia and now they've become such a big influence on US culture. The documentary shows that, back then, the mainstream—AKA white American—really didn't have a food culture. Julia Child single-handedly improved the food culture of a whole nation for the most part. It's wild to think how badly a lot of people were eating in this country before then. Yet again, I stress that I'm talking about white American culture. Like many documentaries, this is not about Black and other ethnicities' place in the story. Even with that said, Julia was a good watch and something that can be viewed over again. 
In the End: Julia is a good documentary film about a very deserving subject. 
for a second idobi take on Julia check out
Sherin Nicole's review on AWFJ.com