Basically: Adam Sandler meets a young man in Spain and becomes a great coach and father figure to him as he tries to get him a tryout for the NBA.
Adam Sandler plays a man named Stanley Sugarman, an NBA scout for the Philadelphia 76ers. So what's a scout, huh? A scout is a person who looks for the best up-and-coming young talent to sign—going to colleges all over and scouring the world for another Dirk Nowitzki or Giannis. Stanley's life is a bunch of long days, traveling, and eating poorly—which makes him want to move from scouting to coaching. He was a great ball player in college but something happened that ended that part of his career. Rex Merrick (Robert Duvall), the (fictional) owner of the 76ers, knows what happened back then so he always looks out for Stanley and makes sure he knows he was talented.
When Stanley loses out on becoming an assistant coach, he ends up in Spain where he sees a young man named Bo (Juancho Hernangómez) playing a street ball game in Timbs. (By the way, seeing a person play basketball in Timbs is like when Goku and Piccolo get into tough fights with hella weights on to make it tougher.) Stanley talks to Bo and gets him to come back to the US with him. Unfortunately, they run into roadblocks in getting Bo on the 76ers because of Stanley's boss Vince Merrick (Ben Foster). Stanley has to figure out how to get Bo seen by the league so that this young man can be the NBA player Stanley knows he can be.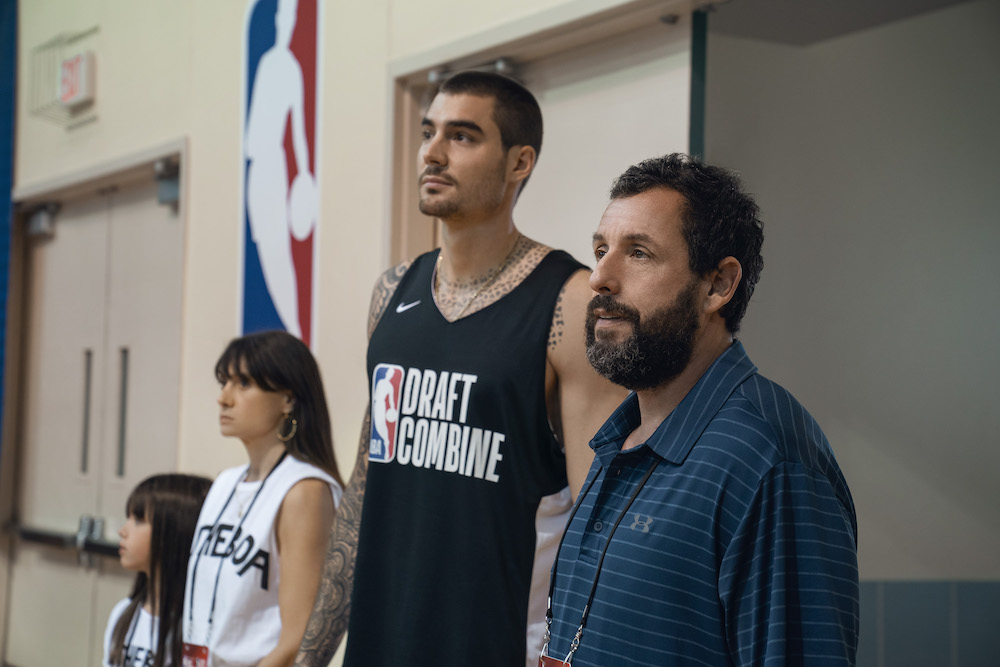 Hustle is one of those Adam Sandler films where he's really acting in something he cares about. I'm not saying he doesn't try with his Netflix comedies…but those projects always feel like paid vacations with his friends and you can see the fun they have. With that said, Hustle isn't like Punch Drunk Love or Uncut Gems either, where he's showing you how talented he is yet never actually gets the respect he (or any uber-successful comedian) deserves. Hustle actually reminds me of Spanglish in that Sandler plays a great, likable, and believable character. You know he can pull from himself in this because of his love of basketball and the NBA that grounds his whole performance.
Queen Latifah plays Stanley's wife Teresa, who he's been with since college when they were both athletes. She plays a supportive but far-from-a-pushover wife. Their relationship feels real and one that fits their Generation X age. They have a teenage daughter named Alex (Jordan Hull) who is almost out of high school. Stanley is in constant guilt over missing as much of her life as he has from traveling. It's another reason he no longer wants to be a scout and move into coaching. 
As the film progresses, Stanley becomes a father figure to Bo, who doesn't have a father of his own. Juancho Hernangómez is really good as Bo—that might sound very simple but having an athlete act doesn't always work out very well. Hernangómez is an active NBA player from Spain so he can pull from his real life for his performance. He and Sandler work well together on screen, it doesn't get tiring or boring watching them interact.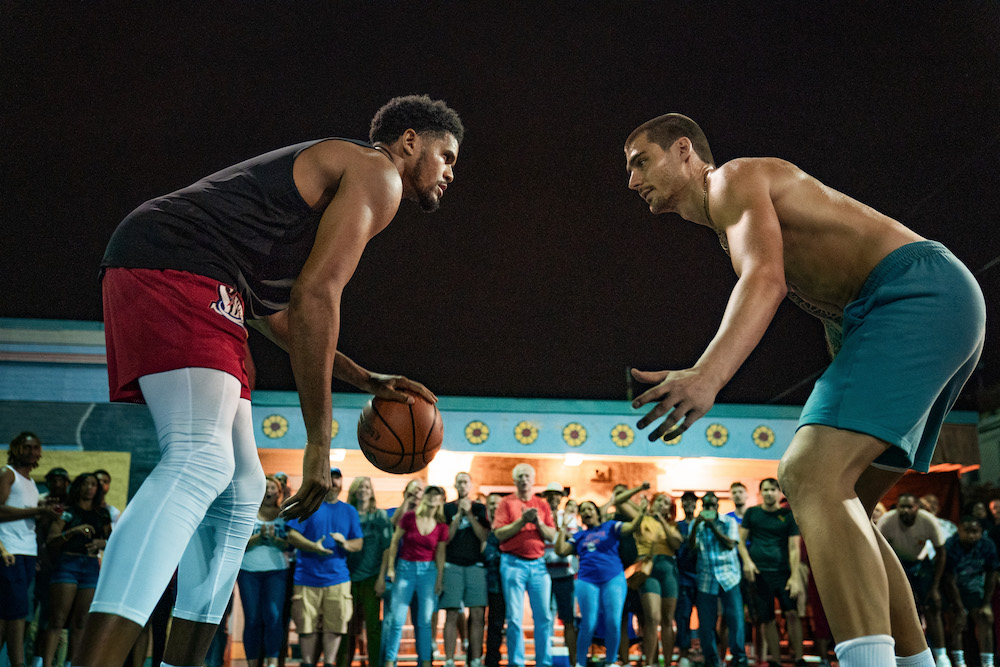 Director Jeremiah Zagar is able to do some good camera work in portraying basketball on screen. From the trash talk to the changes in momentum that can happen in a game. There is some use of documentary techniques, primarily when it focuses on the sidelines as Stanley watches Bo in games. Screenwriters Taylor Materne and Will Fetters paced the story well and didn't write the characters in a way that feels weird or unfaithful to the world they are in.
Speaking of that world, LeBron James is a producer alongside Sandler, and you can really see that effect just by how much of the NBA is in this. There are no fake teams here; it's not just a few shots of some players in a game with the actor. No, you have some NCAA guys (at the time), so many pros and legends, front office people, and coaches. I was floored. The film even features the Inside the NBA guys, sans Kenny Smith who plays Leon Rich, Stanley's best friend from college and a current sports agent.
Hustle is definitely a movie I can watch more than once and is kind of the perfect film to see in between the NBA finals this week. 
In the End: Hustle is a good sports movie and an excellent basketball movie that fans of the game and those who aren't can enjoy. Sandler is back in his acting bag here.