Grade: B+
Basically: Real-life events turned into a feature-length version of the 80s show Dynasty.
I saw House of Gucci directly after seeing The Tragedy of Macbeth. Now, you would think these two films are very different but, honestly, they share a huge theme: How unchecked ambition and feelings one is owed something can destroy a person and those around them. 
With House of Gucci, director Ridley Scott and screenwriters Becky Johnston and Roberto Bentivegna write the tale of Patrizia Reggiani (Lady Gaga), a young Italian woman who works at her father's trucking company in Italy. One night at a party she meets Maurizio Gucci (Adam Driver) and she pursues him into a relationship. His father Rodolfo (Jeremy Irons) is not too fond of her but Maurizio is in love so he marries her without his father's blessing. The cracks it causes in the father-son relationship pique the interest of Maurizio's uncle Aldo (Al Pacino) who doesn't always agree with his brother on how to run the Gucci empire. Aldo tries to groom Maurizio and take him under his wing as he ignores his own son Paolo (Jared Leto), causing more strife. Patrizia uses that strife to sow discord in the family, which leads to a very tragic outcome for all in 1995.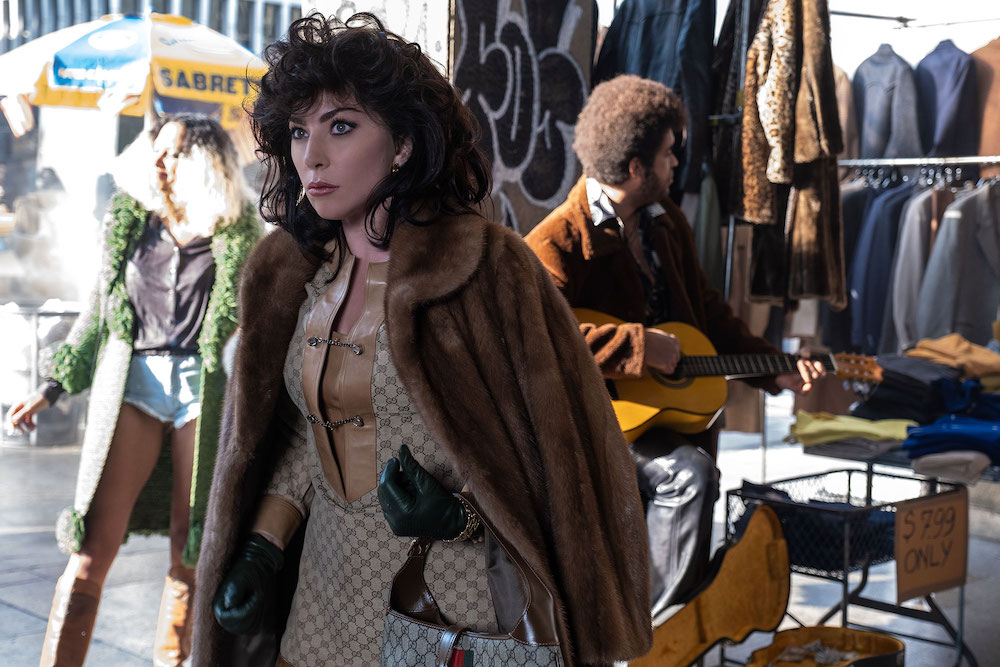 Photo: Fabio Lovino
The selling point of this film is the performances and it's something that totally pays off. House of Gucci's serious drama framing is actually quite funny. The sincerity of the characters makes the absurdity of the situations and their viewpoints hilarious at times. That being said, the laughs don't really stop the story's tragic core as the family falls apart. It's partly a generational battle as the two Gucci brothers who run the business constantly question and ignore the ideas of their children. It's also a battle about how Patrizia attacks with vigor, despite not being a Gucci—something they all remind her about, no matter what her ring says. Her beliefs and ability also get clouded with her wants and insecurities. Gaga plays this all very well, while Driver is a perfect subdued straight man. Also, there are some surprises, like Jeremy Irons, who isn't on the poster, or Salma Hayek who plays Pina, a fortune-teller who becomes Patrizia's closest confidant. 
Scott's direction is pretty reserved, the cameras stay very still with a lot of mid shots and useful close-ups. It lets the focus stay on the characters' interactions. As the action lies in the personal relationships, it's a smart decision. The color of the film reminds me of the tones used by Gucci, especially the greens, light tans of the leathers, and warmer shades. The costuming and makeup are as they should be: Amazing. Jared Leto's make-up to become Paolo is so extreme that you won't recognize Leto at all. It adds to his over-the-top performance.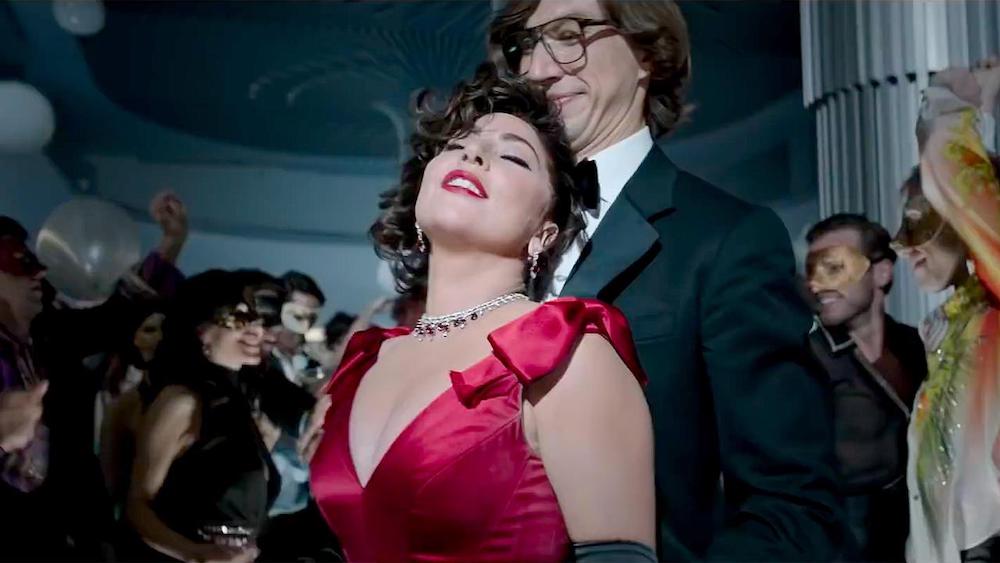 Photo courtesy of MGM / United Artists Releasing
It's also good to see Pacino play a character versus being modern Pacino in a movie. Here you get to see some depth to his character, something to really get into. Also, my guy Jack Huston kills it and I want to see him in bigger projects. He was my favorite person in Boardwalk Empire and seeing him here as Domenico De Sole with such a cool presence on screen was another welcome surprise. 
In the End: House of Gucci is a lovable, high-class, Oscar award level soap opera with all its imperfections and great high points worthy of the Gucci name.